❯
Sex Ed
Apr/06/2023
488
8 min read
A Pleasure Seeker's Nightmare: Unsafe Sex Toys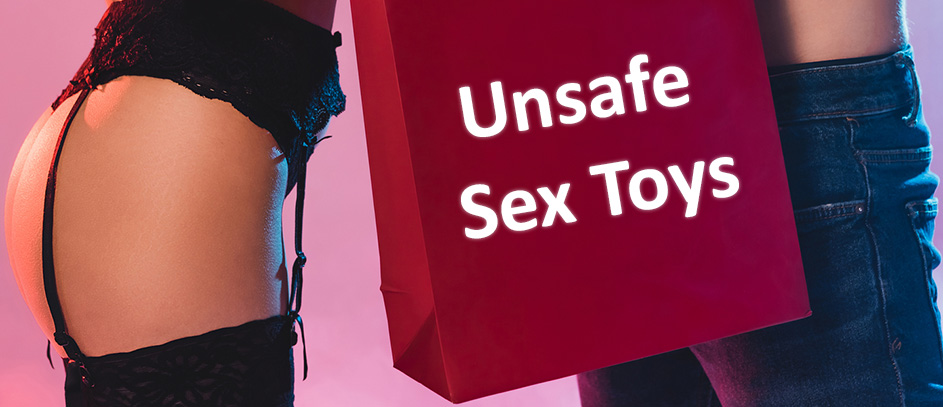 Hey there, sexy beasts! It's your favorite sex goddess, Lola Lovegood, here to dish out the dirt on the dark side of our delectable playthings. We all know I have an insatiable appetite for carnal adventures, but there's one thing that can kill my buzz faster than a broken vibrator: unsafe sex toys.
Now, I'm all about pushing the boundaries and exploring the limits of my pleasure palace, but when it comes to the toys that grace my naughty treasure chest, safety comes first. That's why I want us to dive deep into the world of toxic trinkets and perilous playthings that you should avoid at all costs. And trust me, you'll want to stay tuned – because when it comes to safe sex, it's better to be a cautious kitty than a one-way ticket holder on the express train to Ouchville.
Toxic Temptations: Unmasking Unsafe Sex Toys Lurking in Your Love Nest
I know, I know – safety isn't the sexiest topic, but it's a conversation we need to have my lustful lovelies. So, let's leave our inhibitions at the door and open our minds (and legs) to the importance of playing it safe in the bedroom, the dungeon, or wherever your kinky heart desires. After all, the pursuit of pleasure should be a thrilling and satisfying adventure, not a risky gamble with our health and well-being.
So, what makes our favorite adult gadgets dangerous?
The FDA Tango: Dancing Around the Safety Regulations
You might be shocked to learn that the FDA doesn't have a dedicated set of regulations for sex toys. That's right, my sultry safecrackers – our beloved pleasure tools fall into a gray area, much like that steamy romance novel hidden under your mattress. Sex toys are often considered "novelty items", meaning they don't undergo the same rigorous testing as a medical device or your trusty toothbrush. It's a bit of a regulatory romp if you ask me.
Furthermore, you've probably noticed that many sex toys come with the cheeky disclaimer "For Novelty Use Only". Well, my lascivious lovelies, this label is a sneaky way for manufacturers to sidestep any responsibility for the safety of their products. It's like slapping a "Handle with Care" sticker on a wild stallion – it doesn't do much to protect you from getting bucked off, now does it?
So, what does all this mean for us, the sex toy-loving populace? Well, it means we must take matters into our own hands (and other body parts) to ensure our gadgets are safe. We must research, investigate, and choose wisely to avoid those pesky unsafe sex toys that could dampen our sexy spirits.
"While I'm usually all about breaking the rules when it comes to dangerous sex toy materials, it's essential to know what's going on behind the scenes."
Naughty or Nice? Identifying the Unsafe Toys in Your Box of Tricks
My audacious adventurers, it's time to grab your magnifying glasses and don your detective hats because we're about to embark on a steamy investigation into the world of unsafe sex toys.
Porous Playthings
Porous materials have microscopic nooks and crannies that can trap bacteria, mold, and other uninvited guests. Eww! Just imagine: one minute, you're having a wild romp with your beloved toy, and the next, you're hosting a not-so-sexy party for germs. Not exactly the kind of "dirty" we're aiming for, right?
So, how do you avoid these unhygienic pleasure pirates? Simple! Keep an eye out for non-porous materials like silicone, glass, or stainless steel when shopping for your next kinky companion. Not only are these materials smooth operators, but they're also easy to clean and sanitize, ensuring your playtime stays both hot and healthy.
The Perils of Cheap Sex Toys
We all love a good bargain. But when it comes to our naughty nookie necessities, sometimes cutting corners can lead to a less-than-stellar performance between the sheets.
These frugal frisky finds can be made from low-quality materials that may break, crack, or degrade over time. And let's be honest, my luscious lovers, nobody wants their toys to crumble like a stale cookie right in the heat of the moment. Talk about a climax killer!
Moreover, these budget-friendly bedroom buddies are often made of dangerous sex toy materials, which are a big no-no for our precious bits. So, while it's true that our wallets might appreciate the allure of a cheap thrill, it's essential to remember that investing in high-quality, body-safe sex toys is an investment in our pleasure and well-being.
Toys That Can Get Lost Inside You
Toys that lack a flared base or a secure handle can easily slip out of reach, turning your passionate playtime into a frantic rescue mission. And trust me, my sultry spelunkers, this is one kind of treasure hunt you don't want to embark on.
Not only can these disappearing acts be embarrassing, but they can also lead to serious health issues if left unaddressed. Infections, injuries, and even emergency room visits may be in your future if your toy goes rogue.
✍️ Lola Lovegood recommends: To keep your sexcapades safe, sound, and strictly pleasure-focused, always opt for toys designed to stay put during your passionate pursuits. Look for flared bases, sturdy handles, or even retrieval cords on your playthings, and you'll be able to dive into the depths of desire without fear of losing anything more than your inhibitions.
The Slippery Slope of Bad Lubes
First and foremost, my lubricated lovelies, we must beware of lubes that contain ingredients that are less than kind to our delicate nether regions. Some budget lubes may include irritants, allergens, or even toxic substances that can turn your tantalizing tryst into a red, itchy nightmare. Believe me, my friends, "burning passion" should remain a metaphor, not a literal sensation!
Next, always consider the compatibility of your chosen lube with your toys and protection. Silicone-based lubes, for example, can wreak havoc on silicone toys, causing them to degrade and break down. And oil-based lubes? Well, my latex-loving lads and lasses, they can weaken condoms, transforming your night of bliss into an unplanned game of Russian roulette.
💡 PRO TIP: How can you ensure your lubricated liaisons remain safe and oh-so-satisfying? Simple! Opt for high-quality, body-safe lubes that are compatible with your toys and protection. Water-based lubes are a versatile choice that plays well with most materials, while hybrid lubes offer the best of both worlds. Just remember to check the labels and ingredients, and your slippery soirees will be nothing but smooth sailing.
Bad to the Bone(r): Identifying Dangerous Sex Toy Materials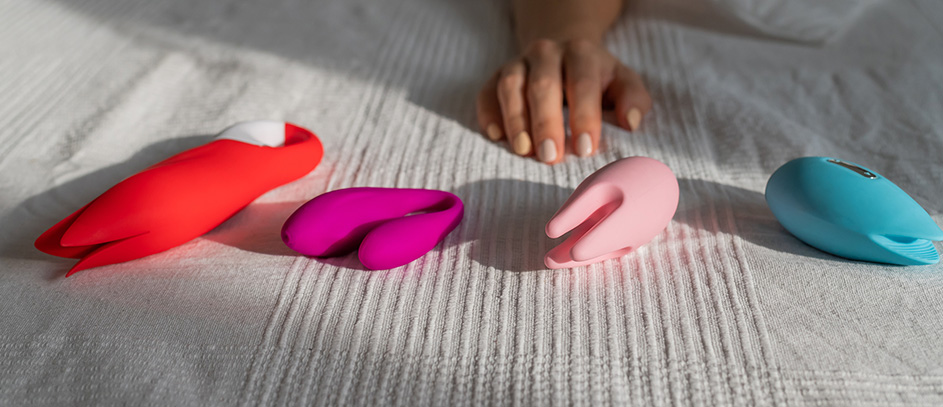 My daring deviants, we've been exploring the treacherous terrain of unsafe sex toys, and now it's time to dive deeper into the dark side of our titillating treasures. Are you ready to unmask the dangerous sex toy materials lurking in your pleasure chest? Fear not, my intrepid investigators, for I'm here to guide you on this thrilling quest!
"But where", you ask, "can we find the truth about what our naughty playthings are made of?" It's elementary, my lustful Watsons: simply check the packaging, labels, or the manufacturer's website for all the saucy secrets of your toy's composition.
Now, let's embark on this sensual sleuthing adventure and uncover the materials that may be best left outside our boudoirs!
Jelly / Jellee / Gel: These materials can be porous, harboring bacteria and increasing the risk of infections.
Phthalates: Linked to hormone disruptions, phthalates are potential health hazards and should be avoided.
BPA: Known as an endocrine disruptor, BPA can negatively impact hormonal balance and reproductive health.
VOC: Volatile organic compounds can off-gas harmful chemicals, causing irritation and potential health risks.
Phenol: A toxic substance, phenol can lead to skin irritation and other adverse health effects.
Toluene: This chemical solvent can cause headaches, dizziness, and irritation when in contact with skin or mucous membranes.
Cadmium: A heavy metal, cadmium is toxic and can pose serious health risks when present in sex toys.
Sil-a-gel / Silicon / Silica Gel: Misleading marketing can lead to confusion and the purchase of these cheap silicone versions.
Cyberskin / Neoskin / UR3 / Fanta Flesh / Futorotic / FauxFlesh: These porous materials can be challenging to clean and can harbor bacteria, increasing infection risks.
Vinyl and PVC: These materials can contain harmful additives, such as phthalates, making them potentially hazardous to your health.
TPE, TPR, SEBS, Elastomer, "silicone blends", TPR-silicone: These materials can be porous or contain questionable additives, increasing the risk of irritation or infection.
Best and Safest Materials for Your Intimate Indulgences
100% Pure Silicone: Hypoallergenic, non-porous, and easy to clean, silicone is a top choice for body-safe pleasure.
Wood: When properly sealed, wood is a natural, eco-friendly, and safe material.
Medical-Grade Stainless Steel: Non-porous, easy to sterilize, and durable.
Aluminum: Lightweight and body-safe.
Borosilicate Glass: Strong, shatter-resistant, and non-porous.
Ceramic: With proper glazing, ceramic is a body-safe, non-porous material for unique and enjoyable sensations.
Natural Stone: Smooth, cool, and non-porous.
ABS Plastic: Non-toxic and firm ABS plastic provides a safe material for your pleasure. But remember, it's porous, so clean it properly.
Lucite: Durable, non-porous, and body-safe.
Gold: As a non-reactive and non-porous material, gold brings luxury and safety to your intimate moments.
Silver: With its antimicrobial properties and non-porous nature, silver offers a body-safe and lustrous choice for pleasure.
Chlorine-Free Vinyl: Free of harmful additives, chlorine-free vinyl is a safer option for those seeking a soft and pliable material.
Curtain Call: Kissing Unsafe Sex Toys Goodbye
And there you have it, my insatiable pleasure-seekers: we've reached the end of our journey through the world of unsafe sex toys and their body-safe counterparts. As we bid adieu to this tantalizing tale, let's take our newfound knowledge and make a pledge: to seek only the most delightful, delicious, and safe playthings for our erotic escapades.
And remember: the pursuit of pleasure is a delightful dance, best performed with a partner you can trust – whether it's made of silicone, wood, or stainless steel. So, stay sexy, stay safe, and until our next adventure, my darlings!
FAQs
Now, don't get me wrong, my insatiable innovators, the idea of a machine that can deliver goods with precision and power is alluring, to say the least. However, it's important to recognize that the liquids used in these machines can pose a problem. If the substance isn't body-safe or if it's contaminated in any way, you could be inviting a host of unwelcome guests to your private pleasure party. Infections, irritation, and allergic reactions are just a few of the unsexy souvenirs you might take home from this mechanical ménage à trois.
While colored and painted glass toys can be a feast for the eyes, they can also harbor hidden dangers. Some of these vibrant vixens may be painted with materials that aren't body-safe, turning your tantalizing tryst into a toxic tango. Moreover, painted glass toys can sometimes chip or flake, leaving behind sharp edges or minuscule splinters. Ouch!