❯
Sex Ed
Apr/04/2023
578
8 min read
Saddle Up for a Wild Ride: Woman-on-Top Sex Positions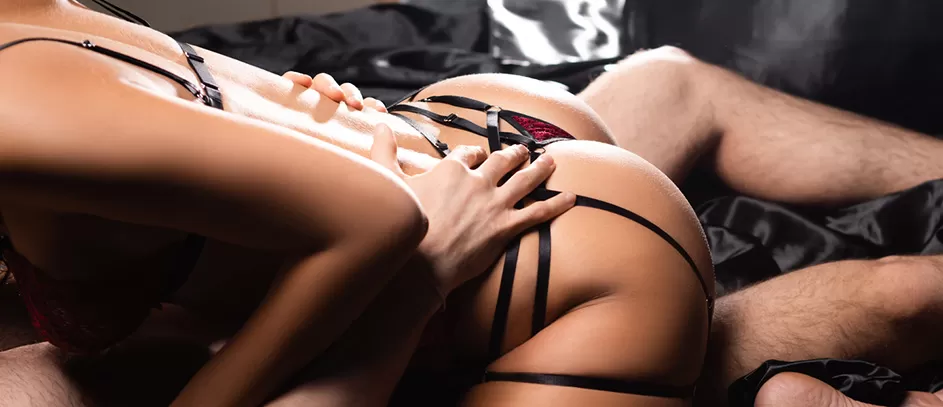 Hey, all you horny bastards! It's your girl, Lola, back with another hot topic to take your bedroom romps to the next level. Today, we're going to talk about woman-on-top sex positions – that's right, ladies, we're exploring all the ways you can ride your partner like a beast.
If you're ready to saddle up and unleash your inner vixen, then grab your cowboy hats and lube up those stirrups because we're about to embark on a wild ride that'll make you wanna holler, "Yee-haw!"
Let's Get Our Sexy Gallop On: 10 Best Woman-on-Top Sex Positions
When yours truly, Lola Lovegood, teamed up with my sinfully sexy friend Scarlett Delight (aka the Sex Toy Superslut), you better believe we cooked up some scorching hot woman-on-top sex positions! We're about to take you on a wild adventure, so hold onto your panties, babes, because things are gonna get extra steamy!
"Let's dive deep into the sultry, orgasmic, and downright intoxicating cowgirl sex position and its thrilling variations."
1. Cowgirl
It's time to take the reins in the bedroom with the classic cowgirl sex position. As you straddle your partner and ride them into ecstasy, you're in full control of the depth, pace, and angle – making your pleasure the star of the show.
The eye contact in this position is hotter than a desert sun, and you can lean in for a sultry smooch or a little dirty talk. Or you can give your partner a front-row seat to your tantalizing ta-tas, squeezing them together for an extra visual treat that'll have them bucking like a bronco.
Also, the cowgirl sex position is sheer perfection because you can flick your love button while you ride. And if you're craving some extra naughtiness, your partner can reach around and tease your backdoor for a wild and sexy rodeo ride.
💡 PRO TIP: For a spicy twist, switch to the Cowgirl's Helper position. You'll be on top, kneeling and using your partner's chest as a springboard to slide up and down those sexy thighs. But here's the added benefit - your partner lends a helping hand (or two) by taking some weight off your legs and holding your thighs or hips while meeting your thrusts halfway. This makes it easier to reach that toe-curling climax without feeling like you've run a marathon.
2. Lazy Man
Set the stage with your partner lounging on the bed, their back propped up by plush pillows and legs stretched out. Seductively straddle their waist, and plant your feet firmly on the bed. As you bend those sexy knees, use one hand to guide their throbbing member or trusty strap-on inside you like a sultry conductor leading an erotic symphony.
This position puts you in the driver's seat, babes! It's a fab way to amp up the game, allowing you to oversee the tempo, depth, and angle with wicked abandon. Your partner will be absolutely mesmerized by the view of their love wand (or plastic pal) gliding in and out of you. This position offers an irresistible visual and physical treat for both of you naughty lovebirds.
3. Lotus
Your partner should sit down cross-legged like a sexy Buddha while you sit on their lap, turned toward them. Envelop their back with your legs in a steamy hug, and let them enter you as you grind against their pelvis.
In this oh-so-close position, you'll experience an emotional and physical intimacy that'll leave you breathless. But don't be fooled, my darlings, this isn't just about lovey-dovey snuggles – you can still call the shots! Also, you can use your partner's body for leverage to move up and down, leaning back for an extra thrill.
4. Reverse Cowgirl Sex Position
It's time to turn the tables (or rather, your sexy selves) with the reverse cowgirl sex position – a sizzling twist on the classic.
In this steamy scenario, your partner is on their back while you straddle them, but this time, you'll face their feet. Oh, the naughtiness! Just like its sister position, the reverse cowgirl sex position lets you take the reins, controlling the pace and angle of those heavenly thrusts.
But wait, there's more! Have your partner bend their knees to create a tantalizing surface for you to rub your love button against during your erotic ride. Talk about hitting the jackpot, am I right?
✍️ Lola Lovegood recommends: For an extra dose of pleasure, reach down and make some space for your favorite buzzing buddy to join the party, stimulating your clitoris like there is no tomorrow. Trust me, adding a vibrator to the mix will have you riding the waves of ecstasy faster than you can say Oh, Lola!.
5. Amazon
Have your partner lie on their back while drawing their knees up to their chest like they are getting ready for a sexy workout. Next, assume a kneeling or squatting position with your legs on either side of theirs. Rest your booty on their thighs, and let their legs envelop you like a sultry snake. For extra support, place your arms on their knees and prepare for liftoff!
The Amazon is about bouncing, baby! Thanks to your partner's bent knees, you'll find it easy to hop on and off like a sex-crazed kangaroo. So embrace your inner wild child and bounce your way to orgasmic paradise.
6. Hovering Butterfly
Oh, my frisky friends, are you ready to spread your wings and soar to new heights of pleasure? Then straddle your partner's head like a sultry equestrienne, placing your knees at their ears while you hold onto a wall or headboard for support.
Not only does this position serve up an absolutely scrumptious way to indulge in oral delights, but it also puts you in the driver's seat, controlling your partner's pressure and movement. Have your partner hold their tongue firm as you work your hips to your heart's content, teasing and pleasing yourself.
7. The Om
Prepare to slow down, tune in, and find your erotic Zen with The Om – one of the delightfully intimate woman-on-top sex positions that'll make your heart and loins sing.
Have your partner sit cross-legged (pretzel-style) while you take a seat facing them. Then, wrap your legs around their lower back and embrace each other like the sensual lovebirds you are, grinding against their pubic bone for some sweet clitoral stimulation.
The Om is all about slowing things down for a more intimate, sensual experience. Instead of wild thrusting, try rocking your hips – not only will it tickle your clit, but it'll also build up to an epic climax for both of you.
8. Jugghead
Jugghead is a gravity-defying sex position that'll have your partner seeing stars ( not just the ones in your eyes)!
In this exhilarating escapade, your partner reclines on the floor with their legs propped up on a sofa or chair, lifting their hips like a sexy seesaw. Your mission, if you choose to accept it, is to ride them while facing them. You have the option to either support yourself with your arms and lean over your partner or sit up.
The secret sauce to this position is finding the perfect furniture because it might feel more like a clumsy dance than a sultry tango if it's too short or tall. But beware, my daring dames. The Jugghead can cause a little head rush for your partner, so don't be shy to change positions if they start seeing double!
9. Thigh Tide
Thigh Tide might look like the Reverse Cowgirl's saucy cousin, but it's got a twist that makes it a must-try adventure. To get into this steamy position, straddle your partner as they lie down, facing away from them. Instead of keeping their legs straight, they'll bend one knee like a naughty nautical beacon, and you'll straddle their thigh like the sexy sea captain you are. As you ride them, grind your clitoris against their thigh for a tidal wave of ecstasy.
Need more leverage to rock the boat? Grab their knee or leg with your hand and let your hips do the talking. So, my sultry sailors, it's time to unleash your inner mermaid and conquer the Thigh Tide – a playful, bold, and oh-so-Lola sex position that'll have you making waves in the bedroom!
10. The Spider
Are you ready to weave a web of seduction and get caught up in a tangled embrace? Introducing The Spider – one of the bold and playful woman-on-top sex positions that'll have you both crawling with desire!
To spin this web of ecstasy, both of you sit on the bed facing each other, legs entwined like love-struck serpents and use your arms to support your backs. Now, move together and slide onto their love wand. Your hips will nestle between their spread legs, knees bent, and feet flat on the bed, outside their hips. Rock back and forth, creating a hypnotic rhythm that'll have you both spellbound.
From this bewitching vantage point, you can savor every sultry moment, watching the sexy action unfold. And if you're feeling adventurous, try draping your legs over your partner's shoulders, making it easier to thrust and swirl your hips like a seductive sorceress.
Riding Off into the Sunset: The Grand Climax
Well, my darling pleasure-seekers, it's time to dismount and bid adieu to our sizzling journey through the tantalizing world of woman-on-top sex positions. We've saddled up and explored uncharted territories, conquered sultry peaks, and dived into the depths of desire – all with a cheeky grin and a wink!
As you venture forth, armed with your newfound arsenal of positions, remember that the power of pleasure lies in your hands (and hips!). Thus, let your wild side run free and take the reins with these woman-on-top sex positions that'll leave your partner begging for more.
And while we part ways for now, always remember that life's too short for vanilla sex. So, saddle up, ride with abandon, and never forget that the world is your pleasure playground. Until next time, my lusty lovelies, stay bold, stay playful, and most importantly – stay on top! *wink*
FAQs
Oh, honey, the secret to a sultry switch-up lies in confidence and a little bit of cheekiness! Don't be afraid to take charge and let your inner vixen shine. Slowly tease your partner as you change positions – maybe give them a seductive glance or a naughty nibble.
For woman-on-top positions, a trusty vibrator can work wonders on your clitoris while you ride your partner. Want to spice things up a notch? Try a vibrating cock ring for some extra buzz that'll send both of you soaring. And if you're craving more support, sex pillows or wedges can give you that extra lift, making it easier to hit all the right spots.