❯
Sex Ed
Apr/10/2023
796
8 min read
Kinky Calamities: A Peek Into the Weirdest Sex Accidents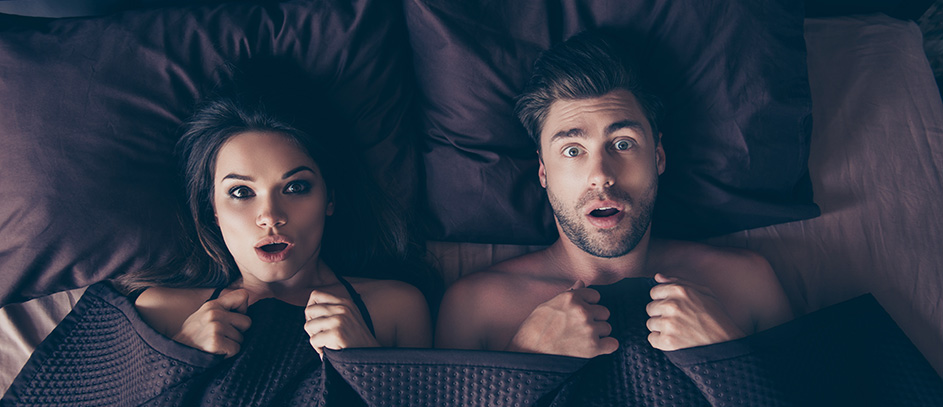 Hey there, you insatiable sex fiends! The Queen is back with another titillating tale of sexual misadventures. Today, we're going to explore the world of weird sex accidents – you know, those moments when getting freaky takes a wild turn, and your naughty night becomes an unforgettable story.
So, prepare to be both amused and amazed as we delve into the craziest, most jaw-dropping tales of lust gone awry. These 10 weirdest sex injuries will have you laughing, cringing, and maybe even blushing a bit. And who knows, you might even learn a thing or two about how to avoid your own bizarre sex injuries.
1. Oh, Snap!
"Let's dive headfirst into the world of weird sex accidents with a story that'll have you gripping your goodies with both hands."
Now, picture this: a steamy night of passion between a man and his new flame, their bodies entwined and lost in the throes of ecstasy. Suddenly, there's a snap that would make even the boldest of lovers shudder. This 47-year-old Casanova experienced a penile fracture mid-romp, yet somehow, he managed to keep going like a true champ! Talk about dedication to pleasure!
Our hero didn't feel the full effects of his weird sex accident until 12 hours later, but let's just say his manhood had a very, very rough night. For those unfamiliar with the excruciating phenomenon, a penile fracture occurs when an erect penis meets a force it just can't handle. A little too much bump and grind can lead to a bend, pressure overload, and, ultimately, a rupture in the tubes that make the magic happen.
2. Bra Bloopers
Here's another naughty tale that'll leave you chuckling and aching in sympathy. This time, we're unhooking the mysteries behind the weirdest sex injuries that happen when bras and blokes collide.
Gents, we understand: unclasping a bra can feel like cracking the Da Vinci Code, especially when you're hot and heavy and in the heat of passion. But who knew such a seemingly innocent task could land you in the hospital with broken fingers and damaged ligaments? Well, hold onto your boxers, boys, because this is no laughing matter – except, of course, when it's recounted by yours truly! *wink*
In one such case, a dashing 27-year-old lad, fueled by alcohol and desire, ended up in the ER after a night of fun and frolic with a gorgeous gal. Our clumsy Loverboy managed to trap his left middle finger between the double straps of the lovely lady's bra while attempting to release the twins.
💡 PRO TIP: When it comes to bedroom antics, sometimes the simplest of tasks can lead to bizarre sex injuries. So boys, maybe take a minute to practice your bra-unhooking skills - you never know when it might save you a trip to the hospital and some serious embarrassment!
3. When Love Gets a Little Too Attached
You know that feeling when you just can't bear to let your lover go? Well, for one Italian couple, that sentiment became all too real. It went like this: a hot rendezvous in the sea, waves crashing around them, bodies entwined in ecstasy. But when the tide of passion receded, they found themselves stuck – and I mean really stuck – in a rather compromising position.
That's right, my lusty friends: the gentleman's love muscle couldn't break free from the grip of his lady's velvet vise due to some serious suction action. And just when you thought it couldn't get any more awkward, they had to call in a doctor – who, despite their best efforts, couldn't separate the amorous duo. Off to the hospital they went, still very much joined at the hip.
This bizarre predicament, known as penis captivus, occurs when a woman's pelvic floor muscles don't relax after contracting during orgasm. Combine that with an even more engorged love rod, and you've got yourself one seriously unyielding situation.
4. Eyes Wide Shut
Oh, my saucy seductresses and fearless fornicators! Prepare to feast your eyes on a tale that proves love is indeed blind, at least when it comes to weird sex accidents.
Imagine this: a sizzling night of passion, bodies entwined, and the sweet release of an earth-shattering climax. Sounds heavenly, right? Well, for one unfortunate man from Southampton, England, the heavens came crashing down when his orgasm led to a burst blood vessel in his eye and temporary vision loss. Talk about going out with a bang!
This 29-year-old stud stumbled to the hospital with impaired vision in his left eye, only to discover that his eye-popping romp the night before had left him with a hemorrhage caused by a pressure build-up during his grand finale.
✍️ Lola Lovegood recommends: Some men are more prone to holding their breath to delay their climactic moment, which can put them at greater risk for this eye-opening injury. So, my daring deviants, let this tale of bizarre sex injuries serve as a reminder to breathe, relax, and enjoy the ride - after all, you wouldn't want your love life to leave you seeing red!
5. Pucker Up for Peril
Brace yourselves for a story of smooches, deafening desire, and one of the weirdest sex injuries you'll ever hear.
A young woman from Guangdong province in southern China found herself in a bizarre predicament when a passionate farewell kiss with her beau left her temporarily deaf. Rushing to the hospital with sudden hearing loss, she discovered that the intense smooch had reduced the pressure in her mouth, yanking her eardrum out and causing an ear-shattering breakdown.
6. Kiss of Death
Love bites – those naughty little marks that you might sneak onto your lover's neck or shoulder – may seem like harmless fun, but they can sometimes take a turn for the worse. In fact, these seemingly innocuous hickeys can pack a deadly punch.
Take the tragic case of 17-year-old Julio Macias Gonzalez from Mexico City. After a steamy session with his girlfriend, during which she planted a passionate hickey on his neck, Julio suffered a fatal stroke caused by a blood clot. As much as it pains me to say it, this love bite sealed his fate.
7. Fire Down Below
Have you ever wondered what happens when you mix a bit of hot sauce with oral pleasure? One woman found out the hard way, as her partner's fiery meal led to a burning sensation in her nether regions. The hot sauce her lover consumed before going down on her left mild burns on her vulva. Ouch!
So, my insatiable, adventurous friends, let this sizzling story of weird sex accidents be a reminder to think twice before mixing your culinary and carnal cravings. After all, you wouldn't want your fiery passion to turn into a literal burning sensation.
8. When Wedding Bands and Erections Collide
Ah, my ravenous rebels and kinky comrades. Let me share a bizarre tale of love, marriage, and a very unfortunate choice of penis accessory. Brace yourselves for a story of weird sex accidents that'll have you thinking twice before slipping a ring on that special… finger.
Our protagonist, a man struggling with erectile dysfunction, searched the Internet for a solution and stumbled upon the idea of using a ring to maintain his erection. Now, there are specially designed rings for this purpose, but our daring friend decided to use his wedding band as a makeshift tool. Little did he know, this metal symbol of commitment would become a painfully intimate encounter.
All in all, the wedding ring blocked blood flow from the man's engorged member, causing it to become swollen and "borderline necrotic". But fear not, my passionate pals, for the ER doctors came to the rescue, wielding a diamond-tip saw blade to remove the stubborn band.
9. An Unwanted Urethral Guest
As we venture further into the realm of weird sex accidents, we find a story of a man whose solo forest frolic took a scaly turn.
Picture this: a man indulging in some self-pleasure amidst the serenity of a forest. But what began as a moment of blissful self-exploration soon turned into a horrifying trip to the ER. Complaining of a burning, swollen penis and an inability to pee, the man revealed the shocking truth: a legless lizard had made its way into his urethra. Despite the doctors' best efforts, the poor reptile didn't survive its removal.
Now, instances of foreign objects in the urinary tract are scarce but oh-so-real. From pens to wires and even the occasional slithery snake, our wild curiosity and "exotic impulses" can steer us down a path of truly peculiar predicaments.
10. Brace Yourself
There's an embarrassing tale of a college freshman who stumbled into the ER sporting a severely swollen and, let's say, "angry-looking" penis. A few little abrasions on his manhood's shaft raised some eyebrows, but the truth didn't come out until our brave patient spilled the beans.
Turns out, this eager beaver had indulged in a bit of oral delight with another freshman – who just so happened to be wearing braces! Yup, those pesky metal wires turned a pleasure cruise into a painful disaster, cutting open his penis and allowing trapped food, germs, and bacteria to party on down in his wounds.
Don't worry, my lustful lovelies, our college Casanova recovered after a round of antibiotics.
The Climax Chronicles: Rounding Up the Most Scandalous Sexytime Mishaps
And there you have it, my insatiable pleasure-seekers – the end of our ride through the realm of weird sex accidents! We've laughed, we've cringed, and we've learned that sometimes, the pursuit of pleasure can lead to some seriously awkward situations.
But don't let these tales of tantalizing turmoil dampen your adventurous spirit! Just remember to play it safe, keep your wits about you, and never forget that sometimes, the best stories come from the craziest mishaps.
Stay kinky, and until next time, this is your one and only Lola Lovegood signing off!
FAQs
Oh, my deliciously daring deviants! If you experience a weird sex accident or injury, the first thing you should do is not panic. Go see a doctor if you need to, and don't be embarrassed to tell them what happened. Trust me, they've heard it all. And if it's something minor, like a bruise or a sore muscle, grab some ice, take a hot bath, and give your body some TLC.
Well, weird sex accidents can happen during any type of sexual activity, really. Whether it's some good old-fashioned missionary or some wild, acrobatic position, it's important to be safe, communicate with your partner(s), and listen to your body. And, of course, don't forget to have fun and let your freak flag fly!