❯
Sex Ed
Oct/18/2023
Last Update: October 18, 2023
222
7 min read
Txt Me Maybe? 10 Saucy Games to Make Your Crush Dripping With Curiosity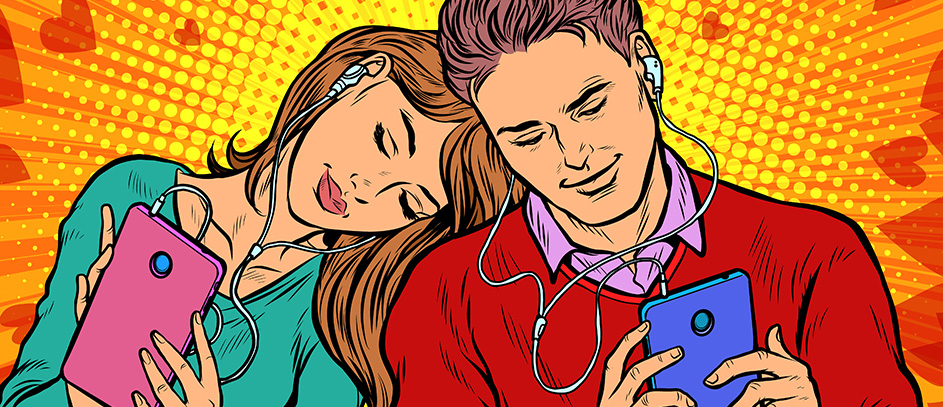 Hey, hot stuff! Remember the days when batting an eyelash or sending a coy smile across the room would do the trick? Yawn!
Now, let's get one thing straight – or bent, whichever tickles your fancy – the world's gone digital, and so should your game. Why wait to see someone face-to-face when you can send a flirty little text that makes them think of… you know, things? (Wink)
Alright, sugarplum, let's shimmy into this digital tango and ensure every beep and vibration packs a punch, shall we?
Digital Whispers: Fanning the Flames With Just a Tap and a Typo
Listen up, my sassy sweethearts! Ready to peel back the curtain on this tantalizing tech tease?
In our lightning-fast digital era, our fingertips are busy bees, fluttering from one letter to the next, sending zesty zingers zooming right into someone's… oh-so-eager DMs. And why the heck not? It's a rollicking good time, toeing the line between cheeky and "whoa, Nelly!"
Ever had that heart-skip-a-beat moment spotting those ellipses bubbling up, promising a spicy slice of text pie? Hold onto your knickers because, honey, texting's become the saucy appetizer before the main course. Yep, I said it! It's all in the build-up, the electric charge of what might come next… the thrill of the chase!
We're all about working those thumbs overtime, firing off zingers that'd make even the coldest heart melt. Picture it: a titillating tango of texts, each word weaving a sultry dance that keeps things red-hot, even if you're oceans apart or cheekily peeking from behind the coffee shop window.
I mean, come on! Why blend in when your messages could light up their world, be it dawn or dusk?
Game 1: Emoji Charades: Unlock Their Wildest Thoughts
Alright, hot stuff, here's the lowdown: You sling a steamy emoji cocktail their way, and they'll be scratching their heads, trying to decode your risqué riddle. 🍆🍑🍒 It's like a game of charades on steroids – with a twist that'll have you tied up in knots and hankering for more! 😉🥨The aim? To be as saucy, sneaky, and oh-so-suggestive as possible.
You'd be amazed how an innocent 🍦 or a seemingly straightforward 🚀 can get pulses racing and cheeks, well… blushing!
Game 2: Guess the Movie: Set the Scene for a Sexy Evening
Roll out the red carpet 'cause we're diving headfirst into the glitzy, glam world of cinema seduction! So, here's the dealio: you send over a sultry movie line, something that'll make them go, "Ooh, where's that from?". Maybe toss 'em a classic like, "I'll have what she's having". 😏 You catch my drift?
But why stop at classics? Let your imagination run wild and craft your own, possibly-more-sensual movie line.
The best part? Once they guess it – or surrender to your cinematic prowess – suggest watching it together. Lights dimmed, wine poured, and perhaps just a few strategic pauses to… reenact scenes?
Game 3: Truth or Dare: Revealing Secrets & Desires, One Text at a Time
Hold onto your panties, my lascivious lovelies, because we're diving deep with this classic! The rules? Simple: "Truth" gets you a juicy confession, and "Dare" is all about… well, daring exploits that'd make even me blush!
But here's the twist: keep it all digital. Dare them to send that naughty selfie or spill their steamiest fantasy. And when it's your turn? Be bold, be brave, and maybe be a tad bare!
With each daring text, you're pulling back layers, revealing a delicious world of hidden secrets and desires. So, ready to play and lay it all out?
Game 4: Would You Rather: Tantalizing Choices & Tempting Teases
Oh, honeybuns, do I have a treat for you! 'Would You Rather' is the ultimate game of seductive scenarios.
Pose two deliciously naughty options, and watch your crush squirm with delight… and maybe a hint of indecision. "Would you rather receive a secret love note or a cheeky pic in the middle of your workday?" The key? Make the choices equally tempting.
It's a delightful dance between desire and decision, each round naughtier than the last. And who knows? Today's hypotheticals might just become tomorrow's reality. Ready to pose, propose, and possibly… partake?
"In the tantalizing tango of texts, it's not just about the steps you take, but the seductive sway you bring to each move."
Game 5: Never Have I Ever: Dishing the Dirt & Desires, One Secret at a Time
"Never Have I Ever" is the digital confessional where you and your crush spill the beans on your naughtiest non-adventures. Every "done it" confession might just earn a sassy virtual point… or a saucy dare if you're feeling bold. "Never have I ever flirted with someone while writing a sex blog…". Oops, guilty as charged! (wink)
This game is all about discovery, surprise, and perhaps a touch of delightful depravity. Ready to expose and be exposed?
Game 6: 20 Questions: Probing Minds Want to Know… And So Do I!
"20 Questions" is where curiosity meets sensuality. Think of something… naughty, nice, or deliciously in-between, and let them probe away.
But here's the zesty twist: the juicier the secret, the better the game. "Is it something you wear? Something you… eat? Or perhaps… something you ride?" Wink.
It's all about teasing and tempting till they uncover your sizzling secret. Can they guess it within 20 questions? Challenge accepted!
Game 7: Two Truths & a Lie: Sifting the Steamy From the Sneaky, Babe
Ever played "Two Truths & a Lie"? It's like a racy rendezvous between honesty and some cheeky trickery. "Moonlit skinny-dipping? Owning a heart-shaped whip? Never planted one on a gal?" Which one smells fishy to you?
So, lovelies, are you ready to dish out your deepest desires and throw in a spicy curveball? Let the guessing games begin!
Game 8: The Abbreviation Game: Going From "OMG" to "OMG-Is-That-Even-Allowed?" Real Quick!
Hey, you saucy minxes! Hold onto your knickers, 'cause things are about to get spicy with "The Abbreviation Game!"
You know the saying, "the devil's in the details"? Well, here, every sneaky letter is dripping with devilish delight and oodles of oomph. Short 'n sweet but oh-so-naughty. Let's see just how creative those wicked minds can get, shall we? (wink)
It ain't just about being concise; it's about being cunning, a tad naughty, and sprinkling in that good ol' dirty imagination. And as they try to decode your naughty notes, you'll both be LOL-ing in steamy anticipation. So, kittens, are you ready to TUTD (Turn Up The Desire)?
✍️ Lola Lovegood recommends: Beware the notorious autocorrect, changing 'duck' into... well, you know. Always, and I mean always, give your message a saucy once-over before hitting send.
Game 9: Question by Number: Pick a Digit, Unveil a Desire!
Attention, my flirty mathematicians! Let's bring some numerical naughtiness into play with "Question by Number".
Here's the sumptuous setup: create a sultry list of questions, number them, and let your crush pick a tempting total. "Choose 1 to 10" might have them landing on "7. Where's the most risqué place you've ever wanted to make out?". Every digit is a daring dive into their fantasies. So, sweethearts, ready to count your way into their… heart (and maybe more)?
Game 10: Strip Trivia: Lose a Question, Lose a Layer… Are You Game?
Ready to mix some gray matter with a little strip matter? Enter "Strip Trivia", where every wrong answer is an invitation to peel off a piece of clothing.
Snap a pic of that tie coming undone or those socks (the last thing to go, of course) being slipped off. Knowledge has never been this naughty, has it? But remember, honeys, it's all in fun. Win or lose, it's about the tease, not the total nudity. So, dare to bare… your intellect?
💡 PRO TIP: Not everyone's up for 'Strip Trivia' on a Tuesday. Feel out their comfort level, honey. Consent, even in cheeky chats, is pure gold.
Ready, Set, Text! Time to Make Your Crush Crave More
Darlings, it's been a ride – a saucy, textual joyride, that is! Armed with these spicy games and tips, you're set to make those chats as steamy as a summer's day… or night. (wink) Remember, the key isn't just in the words you choose but the naughty nuances you thread in.
Dive headfirst, play it fast and loose, but, for heaven's sake, relish in the electrifying chase. So, fire up those keyboards, toss out a cheeky wink, and let the sparks fly! Who knows? Maybe, just maybe, that next message you type will have them all hot and bothered… itching for another tease.
FAQs
Sweetie pie, everyone starts somewhere! Remember, it's all about fun and connection. My golden rule? Keep it lighthearted and genuine. And if you trip up? Just laugh it off. The beauty is in the journey, not just the destination!
Good heavens! While some of these games are all in good fun, others can get a bit, let's say, risqué. It's like knowing when to wear a cocktail dress or a tee. Keep it classy in professional settings and save the spicy stuff for after hours. Safety (and appropriateness) first!
Sweet cheeks, inspiration is everywhere! Watch a romantic flick, read a sassy book or even eavesdrop on a flirty convo at the cafe. Jot down phrases or ideas that tickle your fancy. And hey, when all else fails, wing it! Sometimes, the spontaneous texts are the ones that really set hearts aflutter.