❯
Sex Ed
Aug/24/2023
Last Update: August 24, 2023
152
8 min read
Keep It Out, Darling! 10 Cringe-Worthy Substitutes for Toys You Should Avoid Like the Plague!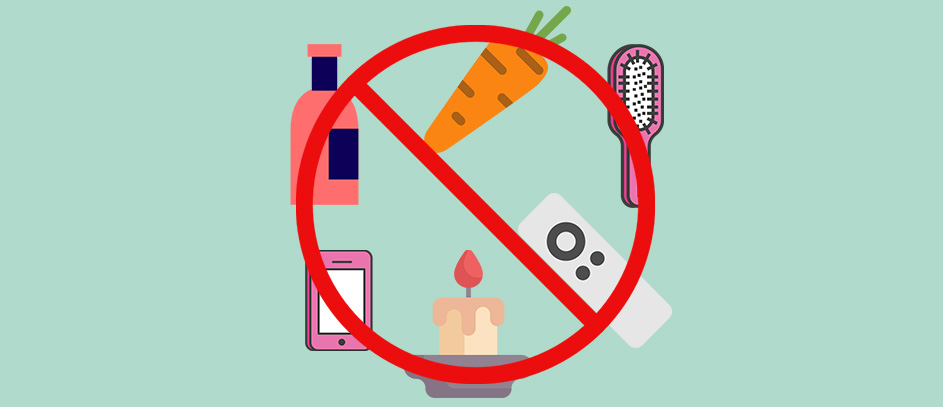 Darlings, gather 'round, because Lola's about to spill some piping hot tea! Our lustful brains can sometimes cook up some interesting ideas when we're hot and bothered. We've all heard those ER stories where people just couldn't keep their hands off household items. So, today, let's talk about items you should not use as sex toys.
I mean, honey, desperation breeds innovation, but don't let your horny-horny brain do all the thinking. Just because it's long, thick, or buzzes doesn't mean it belongs up your lady bits or man cave! Stick around to find out the 10 insane things you'd wish you never knew people shoved into their private treasure chests!
The 'What-the-Hell' List
No.1: Veggies – Don't Turn Your Hoo-Ha Into a Salad Bar!
Alright, let's romaine calm and talk veggies. Carrots, cucumbers, zucchinis: I know they're tempting, but these are things you should not use as sex toys. Your nether regions shouldn't be a farm-to-table experience!
Think of the pesticides! And don't get me started on the shapes – not all curves are created equal! So, keep your garden variety out of your panties.
No.2: Hairbrush – For Tangles and Knots, Not Twists and O's!
Ah, hairbrush – the noble steed of horny teenage days. But darlings, these are objects that shouldn't be used as sex toys. The last thing you need is to explain why you can't sit properly during your next family dinner.
Plus, bristles and bristly bits don't mix! Stick to smoothing your tresses, not pleasing your… ahem, you get the drift.
No.3: Glass Bottles – Don't Make Your Bits a Recycling Bin!
Glass bottles might look like they're auditioning for a sexy time, but they're things you should not use as sex toys. Those curves might beckon, but hun, your private parts aren't looking to recycle!
Think of the horror if it goes from wine o'clock to 911! Your treasure trove deserves gold, not broken glass, baby!
No.4: Your Phone – Ghost Those Vibrations, Sweetie!
Ring, ring – is your pleasure calling? Well, don't answer with your phone, hun! These smart little devils are things that shouldn't be used as sex toys.
Your phone's vibrations might get your heart racing, but don't let them race to your intimate spots. Plus, who wants an accidental selfie mid-action? Keep those gadgets for swiping right, not swiping down, darlings!
No.5: Candles – Wax On, Wax Off, But Not in There!
Candles may be slim and sexy, but they're things you should not use as sex toys. Sure, a little wax play might light your fire, but shoving a candle where the sun doesn't shine is a surefire way to douse the flames. Keep the wax for setting the ambiance, and don't go all Karate Kid on your precious bits!
No.6: Silicone Sealant Tubes – Keep That Caulk in Your Toolbox!
Silicone sealant tubes are also one of the things that shouldn't be used as sex toys. I know, I know, you're looking to fill some gaps, but using caulk to do it is just nuts and bolts wrong!
Your love cave isn't a DIY project that needs sealing. Save the silicone for the bathroom cracks, and keep that caulk where it belongs – in your toolbox!
No.7: The Remote Control – Netflix and NO, Darling!
The remote control may be your gateway to endless pleasure on screen, but it's one of those things you should not use as sex toys. Resist the urge to flip through your love channels with the same tool you use for channel surfing. Nothing kills the mood like accidentally switching to the news while you're deep in "exploration".
"When it comes to loving yourself, don't rummage through the kitchen or garage – be a pleasure connoisseur and invest in sex toys; your bits and bobs deserve nothing but five-star luxury, darling!"
No.8: Lotions & Creams – Skin Food, Not Vajayjay Buffet!
Pump the brakes – lotions and creams are products that shouldn't be used as sex toys. They might butter up your skin, but your lady bits don't need a five-course meal of moisturizers. Your sacred temple is not an all-you-can-eat extravaganza! So slather your skin, but keep your inner goddess on a strict diet!
No.9: Vacuum Cleaner – Suck It Up, But Not Like This!
Hold on to your panties, dearies, because we're talking suction! Now, don't get me wrong, a little sucking never hurt anyone, but let's draw the line at vacuum cleaners as the things you should not use as sex toys.
A little oral delight is one thing, but you don't want your privates going up against Hoover or Dyson. Leave the sucking to the pros, not the pros' tools!
No.10: Pie – Keep The Dessert Out of Your Dessert, Sweetie!
Pies are sweet, savory, and scrumptious, but darlings, they are delights you should not use as sex toys. So let's not get them mixed up with our own delicious treats.
The only pie that should be getting attention down there is the one that comes naturally! Keep the crusts and fillings on your plate, not in your panties!
Honorable Mentions: The OH-NO's You Gotta Steer Clear of, Love Bugs!
Let's dish out some lightning-round tips to keep your privates from becoming public nightmares. Lola is here to ensure that your treasure doesn't turn into trash! wink
1. Fingers with Grime Time Claws
Baby dolls, if your nails resemble Freddy Krueger's, let's not make Nightmare on Vag Street a reality. Long and dirty nails are a breeding ground for bacteria. You're aiming for orgasms, not ER visits, so trim those talons and wash up!
2. Rear Admirals Without a Flare
Never embark on the booty journey without a proper flare base. Don't let your toy go MIA in the Bermuda Triangle. The backdoor is a one-way road, honey, and you don't want a search and rescue mission down under!
3. Knife Handles – A Cut Above… NOT!
Whoa, Edward Scissorhands, let's holster those blades! A knife handle might look tempting, but sweetcheeks, let's not mix slicing with pleasure. We're aiming for sexual bliss, not a horror flick. So, keep the cutlery for your dinner date, not your midnight date.
4. Wooden Wonders – Splinters in the Wind
C'mon love, leave the trees in the forest! Wooden spoons or sticks might seem earthy and organic but believe me, splinters are NOT the kind of wood you want down there. You don't want to play doctor extracting timber from your timber.
5. Soap – Slippery When Wet, But Nah!
Soap's great in the tub but as a sexy companion? Slippery sabotage! It's drying and irritating – the antithesis of pleasure! So save the soap for lathering up and singing in the shower, not for taking your bits to Itchy Town.
Time to Ditch the Desperation and Invest in a Pleasure Treasure Chest!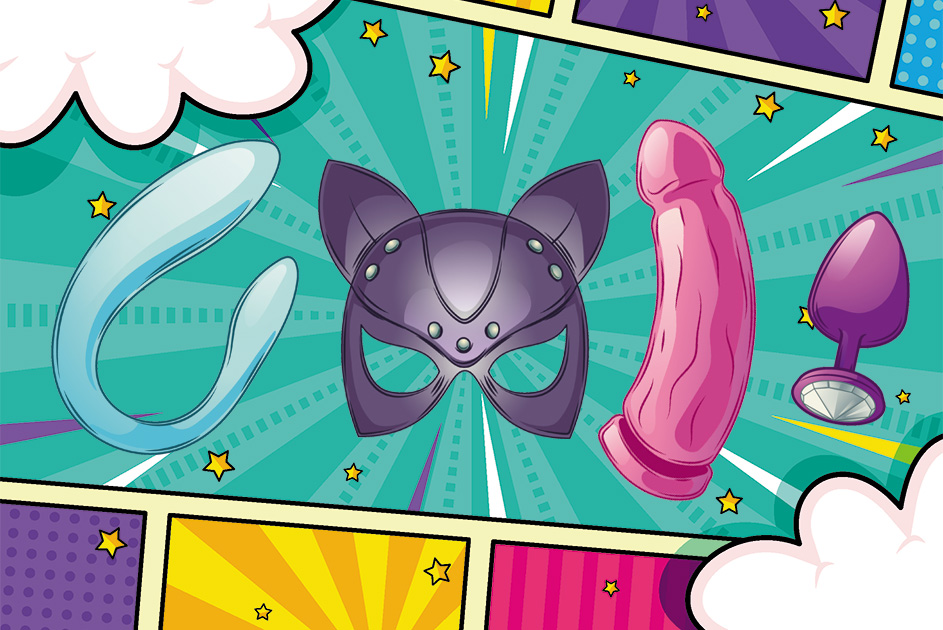 Alright, my fellow kinksters, we've cackled through the horrors of the makeshift masturbation hall of shame, now let's slip into something more sensational. It's time to say bye-bye to desperation and hello to delectation! So, buckle up, unbutton, and get ready for a guided tour of Lola's Pleasure Treasure Chest! wink
1. Vibrators – The Magic Wands That Won't Disappoint!
Oh honey, forget abracadabra, the magic happens when you whip out a righteous vibrator! These babies come in all shapes, sizes, and wiggles. From the humble bullet to the mighty rabbit, there's a magical stick ready to tickle your fancy. And let me tell you, Harry Potter's wand ain't got nothing on these spellbinding gadgets.
2. Dildos – The Trusty Steeds!
Giddy up, darlings! When it comes to the classic, nothing beats a gallant dildo. Like a knight in shining silicone, a dildo doesn't need batteries to save the day.
Whether you like it realistic or you fancy a unicorn horn, this trusty steed will take you to your fantasy kingdom over and over again.
3. Butt Plugs – Your Booty's Best Bud!
Let's talk tushie treasures, sweet cheeks. Butt plugs are the ultimate bff for your backdoor. Whether you're a newbie to the anal avenue or the mayor of booty boulevard, there's a plug to snugly hug your rump. Diamond-studded, tails, or just plain jiggly – I dare you not to fall in love with your butt all over again.
✍️ Lola Lovegood recommends: Jump aboard the SS Ecstasy with Captain Lola's handpicked treasure trove of pleasure-makers! First up, the LELO Ora 3 for clitoral bliss - it'll have you moaning sea shanties in no time. For those wanting to venture into the unexplored caves, the Lovehoney Desire is a must. Lastly, for the cock-sure lads, the Tenga Flip Zero will make you flip out with pleasure.
4. Bondage Gear – Fifty Shades Your Way
Unleash your inner Christian or Anastasia, and take a walk on the wild side, kittens. Handcuffs, ropes, blindfolds – oh my! With a little bondage gear, you can explore an erotic playground of power, surrender, and ecstasy. Just remember, the safeword is "MORE"! (But seriously, have a safeword).
And there you have it, my insatiable sexlings! Ditch those DIY disasters and invest in toys that'll make your toes curl and your heart race. Build that treasure chest, and embark on a bootylicious voyage that will have you discovering uncharted waters of ecstasy. Pleasure ahoy!
💡 PRO TIP: After riding that pleasure wave, don't just toss your toy aside like yesterday's news. Romance that little gem by giving it a good ol' cleaning. It's like an afterparty for your toys! Keep those bad boys squeaky clean, and they'll thank you with uninterrupted service.
Love Yourself, But Love Yourself Right!
Alright, my kinky kittens, we've had our share of giggles and gags while exploring the no-no land of things you should not use as sex toys. Be as wild as a stallion, but don't forget to put on the safety belt! Your hot pocket deserves the royal treatment, so don't skimp on quality for your queenly bits. Treat 'em like the crown jewels they are!
Remember, the sexier and safer you play, the more love stories your vajayjay or magic stick will live to tell. Adios, and stay slippery when wet, but in the right way! wink
FAQs
Some household divas can, in fact, join the party. Electric toothbrushes with a condom on, a clean handle of a makeup brush, or even that cucumber (but please, use a condom on it!). But darling, remember, just because you can, doesn't mean you should. So be cautious, and never use anything that can get stuck, break, or throw your precious bits outta whack.
First, don't panic! Rinse gently with warm water, no soap. If the pain persists, it's time to chat with a healthcare pro – no need to be shy; they've heard it all. And next time? Slap a condom on that cuke, or better yet, treat yourself to a luscious, body-safe dildo!