❯
Sex Ed
Mar/13/2023
506
3 min read
Don't Let Your Toys Fizzle Out: How to Keep Them Sparking Joy in the Bedroom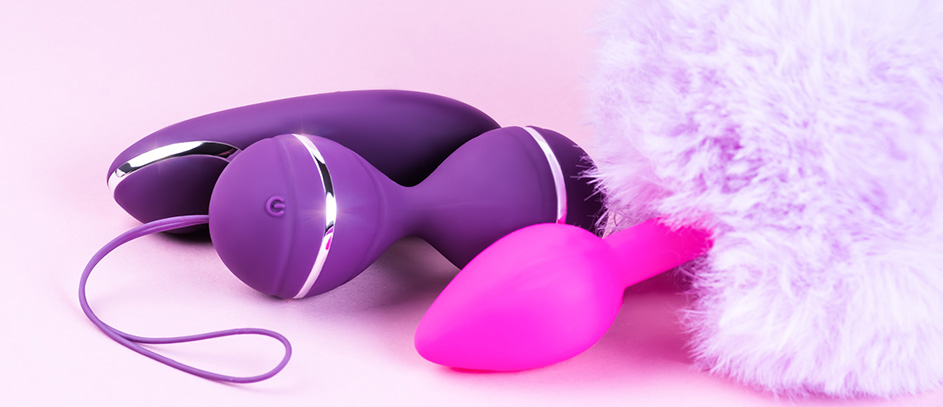 Welcome, welcome, lovely people! Lola Lovegood here, your favorite sex-positive writer and all-around naughty girl. Today, I'm here to talk about something near and dear to all of our hearts: sex toys.
Let's be real, we all have our favorites. Maybe it's a trusty dildo that always hits the spot or a vibrator that's been with you through thick and thin. Whatever the toy, it's important to take care of it. After all, our toys give us so much pleasure – the least we can do is show them a little love in return.
That's why I'm gonna share with you, lovely darlings, my top tips on how to make your sex toys last longer. Trust me, with a little TLC, your gadgets can keep on bringing you pleasure for years to come.
So, let's get started, shall we?
The Material World: Knowing Your Toy's Stuff Matters for Long-Lasting Fun
Of course, there are tons of toys out there, but we'll focus on dildos, vibrators, beads, and other toys you tend to place inside your respective holes. Because honestly, that's where the real fun is!
Now, you can find these toys in all sorts of materials, but we can divide them into two main types: porous and nonporous. Nonporous sex toys are gadgets you can safely share with others since bacteria can't penetrate their surfaces. Think materials like stainless steel, Pyrex, glass, and silicone.
Contrastingly, porous adult toys are made from materials like neoprene, nylon, jelly rubber, elastomer, cyberskin, and hard plastic. These materials are more absorbent, which means they can trap bacteria and other nasties.
But now you must be wondering, "How in the world am I supposed to know what my little bed buddy is made of"? It's actually quite simple – just check the box or the manufacturer's web page. And once you know, it's time to get cleaning!
Play Hard, but Clean Harder: How to Keep Your Toys Alive Longer
I know it's not the most exciting topic, but trust me when I say that a little bit of effort goes a long way when it comes to maintaining your playthings. Plus, who wants to play with a dirty toy? After all, these are the things that go inside your favorite orifices, and you probably want them in decent shape when doing so. So, here are some basic tips on how to make your sex toys last longer.
"I know it's not the most exciting topic, but trust me when I say that a little bit of effort goes a long way when it comes to maintaining your playthings. Plus, who wants to play with a dirty toy?"
Your Toys Deserve a Bubble Bath After Every Use
Ah, yes, the question all of us ponder when feeling a little lazy post-orgasm: to wash or not to wash? Let me tell you, my friends, cleaning your toys after every use is non-negotiable. If you want them to last as long as possible, you gotta take care of them.
That means washing your bedroom gadget after every use, even if you're the only one using it. That way, you'll avoid any nasty bacterial contamination that can occur if you let them go unwashed.
So grab some gentle soap or specialty toy cleaner and get scrubbing! And don't forget to dry them thoroughly to avoid pesky mold or mildew buildup. After all, clean toys = pleasurable playtime = happy you.
No More Dirty Little Secrets: How to Clean Different Materials
Remember the different materials we talked about before? Yup, every one of them has a different beauty regime you must follow. So, here's how to keep your toys alive longer by properly cleaning specific materials.
Glass toys are oh-so-chic, but be gentle. Wash them with soap and water, and avoid exposing them to extreme temperatures (no dishwashers, please!).
Silicone is a versatile material that can be washed with soap and water, tossed in the dishwasher (top rack only!), or even boiled for good disinfecting.
Give your steel toys a good 10-minute boil, soak them in bleach and water (just remember to rinse thoroughly!), or simply pop them in the dishwasher.
Pyrex is heat-resistant glass, which means you can boil it, put it in the dishwasher, or wash it by hand. Easy peasy!
As for porous toys, they're a bit trickier. Most should be washed with warm water and soap, but avoid extreme temperatures that could warp the material.
Wet and Wild Is Not Always a Good Idea
Here's the thing: just because a toy claims to be waterproof doesn't mean it actually is. So, if you want to learn how to keep your toys alive longer, be wary of trusting those splashproof promises, especially if you don't know the brand.
Simply put, if you're playing with toys that buzz or need batteries, ditch the submerging. Instead, grab a warm washcloth with some gentle soap and give your toy a good wipe-down. That is all you need to keep your buzzing buddy in good shape.
From Bedside Table to Toybox: Store Your Toys Like a Pro
You don't want to just chuck them willy-nilly in your bedside drawer and hope for the best. You never know what kind of funky stuff lurks in there – crumbs, dust bunnies, and other unsavory things.
So, how to make your sex toys last longer? Try wrapping them in a soft cloth or storing them in a cloth bag. (Yeah, you should have kept those dust bags that came with your toys – they were there for a reason!) Now, if you're feeling fancy and want to give your toys the royal treatment, consider investing in a storage box specifically designed for sexy gadgets.
But, and this is a big BUT, avoid using plastic bags to store your toys. Those pesky chemicals can leak into your playthings over time, and that's no bueno.
💡 PRO TIP: Store your sex toys with a few silica gel packets to absorb any excess moisture. That way, your toys will stay dry and free of mold or mildew, and you can keep your sexy time worry-free!
Play Nice, Play Long: Treat Your Sex Toys Right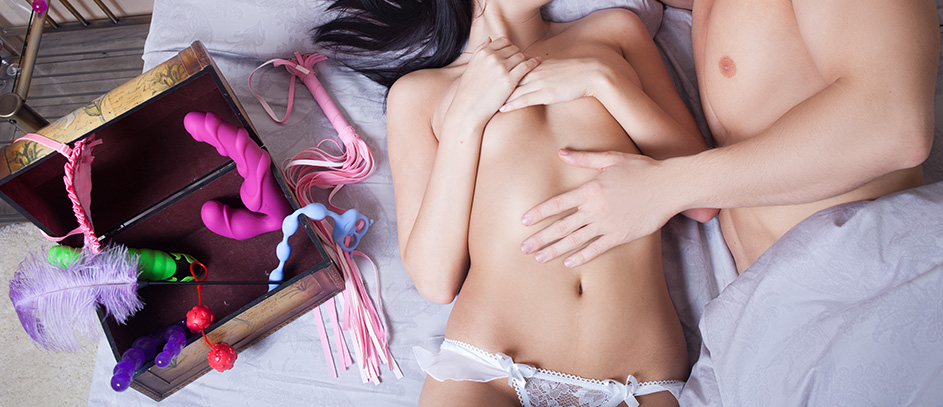 Alright, naughty ones. It's time for me to tell you about how to extend the life of sex toys with proper use. From lubes to batteries, I've got the tips you need to keep the pleasure coming for years.
1. Slip and Slide: Choosing the Best Lube
When it comes to using lube with your toys, there's one big no-no you need to avoid. Whatever you do, never pair silicone toys with silicone lube. Why? Well, because the two substances rubbing against each other can actually cause the silicone on your toy to wear away or even change shape. And that's a surefire way to decrease the lifespan of your precious toy.
What's the solution, then? Water-based lubes or coconut oil are both fantastic alternatives. And if you want to take things up a notch, try out those gel-like water-based lubes for an extra buttery experience.
So, go ahead and make the best out of the slippery, slidey goodness that is lube. Because honestly, everything is better when it's nice and slick.
2. Wrapping Your Toys (In a Condom, That Is)
Are you ready to play safe? Because when it comes to using certain types of toys, you'll want to make sure you're covered – literally.
Now, here's the deal – some toys just can't be fully disinfected, which means you must take extra precautions. That's where condoms come in. They're the perfect way to keep things clean and safe when playing with certain gadgets.
For instance, jelly toys can be particularly risky since they contain some not-so-great chemicals called phthalates. So, yes, you can have fun with that giant jelly dildo, but remember to use a condom because nothing's more important than pleasure – except maybe, well, health.
3. Save the Batteries for Later
Batteries – without those little powerhouses, our toys would be just sad, lonely objects. But the thing is, if you want to keep those playmates buzzing for as long as possible, you need to take the batteries out when you're not using the toy.
Yeah, yeah, I know it requires effort. But think of it this way: leaving your batteries in can cause them to break down and potentially ruin your toy. At the same time, batteries will lose their power more quickly if you leave them in, meaning you'll have to buy replacements more often. And who wants to spend their hard-earned cash on batteries?
Also, let's not forget about the dreaded scenario of you chasing that all-time climax only for your vibrator to lose its strength and eventually die out midway, leaving you high and dry (or is it hard and wet?). So, how to make your sex toys last longer? Give those batteries a break, and take them out when you're not playing. Trust me, your toys will love you for it, and you'll be able to enjoy endless hours of pleasure.
✍️ Lola Lovegood recommends: I've had my fair share of broken and worn-out toys, and it's not a fun experience. One thing that has really helped is keeping them stored in a cool, dry place. Heat and moisture can cause damage to some materials, so I make sure to avoid leaving them in direct sunlight or in the bathroom where the humidity is high. Instead, I store them in a drawer in my bedroom that doesn't get too hot or cold.
How to Extend the Life of Sex Toys: The Wrap-Up
There you go, darling! Now you're equipped with all the knowledge about how to make your sex toys last longer. With these tips, you'll be able to make sure your sexcapades are always as thrilling as the first time you tried them out. So let your imagination run wild, and don't forget to give your toys the lovin' they need to keep you happy and healthy for a long, long, time!
FAQs
Uh-oh, just using water won't cut it when it comes to cleaning your sex toys! To keep those toys squeaky clean, use a gentle soap or a special toy cleaner. Don't risk any pesky bacteria or icky germs lingering around.
Don't let your sex toys mingle like a bad Tinder date! Keep them separated by wrapping each one in a cozy cloth or keeping them in their own individual bags. This not only prevents contamination but also adds a cute touch to your toy storage.
Hey, hey, put down those harsh chemicals! You definitely don't want to use anything abrasive or irritating on your sex toys. Stick to gentle soaps or specialty toy cleaners to keep your toys in tip-top shape and avoid any unwanted discomfort during use.