❯
Sex Ed
Oct/09/2023
Last Update: October 11, 2023
257
7 min read
Going Exclusive: 101 on Dating Just One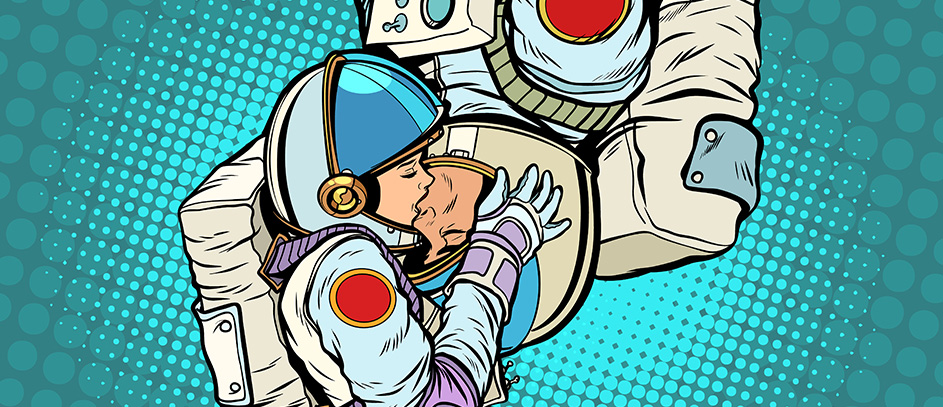 Well, well, well, my daring lovebirds, are you ready to dive headfirst into a realm where exclusivity isn't just your ordinary two-step? (wink!) It's your sassy guide, Lola, here to zest up the chatter about being all in with that one special partner.
Hold your horses, though; exclusive doesn't translate to monotony between the sheets! Oh no, my sweet cherubs, we're embarking on a jaunt through the naughty, the exhilarating, and the utterly delectable avenues to keep that flame alive and the bed, well, let's just say, in perpetual motion! Eager to uncover the clandestine and plunge into a universe where fidelity and naughtiness dance a sultry tango? Let's make exclusivity sinfully delightful! (Wink!)
Defining the Deal: What Exclusive Dating Looks Like
Alright, sugarplums, exclusive dating? It's like frolicking in a hidden orchard, where just you and your partner have the golden keys! It's far from plain vanilla; it's the whole ice cream sundae with a cherry on top! We're talkin' secret glances, inside jokes, and that feeling of, "Oh la la, this is our little world!"
Rules? Honey, We're Painting Outside the Lines!
Now, loves, while we are painting outside the lines, there are a few brush strokes to keep in mind! Communication is your golden brush – use it to paint your desires, your boundaries, and your oh-so-naughty fantasies! Be open, be honest, and, most importantly, be your fabulous self!
More Than a Tango, Less Than a Marriage!
Ahh, the delicious limbo of exclusivity! It's a bit like tangoing through a meadow of wildflowers – more committed than casual dating, yet not quite a full-blown matrimonial mambo! You're agreeing to dance only with each other, exploring every rhythm, every beat, without slapping a label on it just yet!
Unraveling the Mystery: Exclusive vs. Relationship!
Oh la la, here's where it gets spicy, my loves! So, you're exclusive, but does that mean you're in a relationship? Not necessarily! Think of it as savoring the appetizer before diving into the main course. You're tasting, teasing, and keeping the mystery alive while deciding whether to feast on each other for the long haul!
Unlocking Pleasures: The Perks of Playing With Just One Partner
So, we're diving into exclusivity, and oh, the treasures we'll find! When it's just you and your partner, the depth you can reach is… well, let's keep it PG for now. (Wink!) Taking a deep dive into each other's desires and fantasies – now, isn't that just a rollercoaster of discovery and sheer delight?!
1. Exploring Every Nook and Cranny… Yes, Every Single One!
Oh la la, when it's an exclusive party of two, every inch of the landscape transforms into a map leading straight to Ecstasy Island! Uncovering those hidden gems, those "Ah, right there!" moments – it's like hitting a jackpot of boundless pleasure. Trust me, sweethearts, familiarity in this realm doesn't breed contempt; oh no, it cultivates anticipation and a connection that's dynamite!
2. Custom-Crafted Pleasure: Stitching Every Sigh and Shiver
Here comes the curveball – personalization! Exclusivity brings along the sheer delight of tailoring every caress, every whisper, every tantalizing tease. Mastering the nuances, the rises and falls of each other's yearnings, and designing moments that are a mirror reflection of the duo – it's not just about having your cake and devouring it; it's about savoring every bite with a smirk!
3. Spilling the Beans: Strutting Down Kink Lane With Swagger
Alright, my darlings, time to put the cherry on this saucy sundae! Exclusivity isn't just your safety net – it's your golden ticket to let your freak flag fly! With trust thicker than thieves, it's your chance to toe the line, venture into the wild unknown, and maybe – just maybe – throw in a couple of ropes and cuffs. All for the thrilling ride of love and heady pleasure! Hold onto your hats; it's gonna be a whirlwind!
Stoking the Flames: Cranking the Dial in Exclusive Romps
Sweethearts, let's spill the tea. Even the most smoldering rendezvous can find themselves in a rut. It's akin to shaking your tail feather in those killer heels – utterly divine, but oh, how the toesies crave a switch-up! But hold your horses, my little love muffins, 'cause I'm armed with the spicy deets to keep those flames flickering and the headboard rattling!
Spicing Up the Same Old, Same Old: Break Out the Disguises, Hunnies!
Is there anything more tempting than slipping into a secret alter ego? Nada! Diving headfirst into that wardrobe and fishing out some risqué get-ups can morph a run-of-the-mill evening into a tale of irresistible adventures! Be it a wicked nurse or a fiery buccaneer, it's high time to suit up and breathe life into those clandestine cravings!
Wheeling in the Playthings to the Boudoir: The Options are a Riot
Ah, basking in the sheer delight of toys! From the buzzing comrades to the teasing tethers, the sky's the limit. Toss a new companion into the equation, and behold the fireworks and mercury rising! Believe your girl Lola; a sprinkle of buzz and a dash of tethering can propel you miles!
✍️ Lola Lovegood recommends: Let's set the ball rolling with the Doxy Extra Powerful Die Cast. This tiny rascal is all about cascading tingles down every nook and cranny - now that's what I call a sizzling samba! On deck, say howdy to Lovense Dolce, a saucy playmate proficient in serenading every sweet note - a bona fide conductor of euphoric symphonies. And for my audacious pairs, diving into We-Vibe Sync 2 is a must - it's akin to a passionate pas de deux, steering both of you lovebirds towards cloud nine! (Wink, wink!)
Time to Trailblaze, Lovelies: Adventure's Calling!
Ever fancied a change of panorama? Sure, the bed's cozy – but ever gotten frisky on the kitchen counter? Or maybe under the canopy of stars on the balcony? Mixing up your love locales can inject a bit of thrill into your close encounters!
Lola's Tips and Tricks: Releasing the Wild and the Wonderful
1. Dare to Share: Communication Is Your Best Playmate
Okay, my passionate playmates, let's spill the first gem from Lola's trove – yak, yak, and yak some more! Unleash your spiciest daydreams and your most forbidden cravings. We're crafting a song of sighs and secrets that's all your own. So, sweethearts, let those words flow as lusciously as the vino!
2. Role Reversal: Star in Your Own Risqué Tale!
Second tip coming your way, darlings, is all about unleashing that inner thespian! Tinker with the dynamics of control, delve into dominance and submission, or just swap roles for an evening. We're weaving a tale where the climax is utterly mind-blowing, and the plot twists have you teetering on the edge of the bed – or should I say, seat!
3. Surprise, Surprise: Unboxing the Delight of the Unforeseen
Surprises are the zest of existence, my loves! Cook up a mischievous surprise for your partner – perhaps a spontaneous tryst, a naughty little token, or a fresh move that'll have them starry-eyed! It's all about keeping them on their toes and their pulses racing – whether between the sheets or beyond!
💡 PRO TIP: Never, and I mean never, honey, underestimate the sizzling power of anticipation! Spin a web of mystery and eagerness throughout the day. Toss out flirty texts, murmur forbidden promises, and sprinkle a path with sultry surprises. By the time you both tumble into the sheets, the tension is gonna be through the roof, and the release? Absolutely mind-blowing! We're talking the whole enchilada - igniting the appetite, fanning those smoldering embers, and allowing that blazing passion to envelop you both completely!
4. Tasty Little Treats: Combining Your Bedroom and Culinary Skills
And for our grand finale – but certainly not the least bit inconsequential – let's turn up the heat with some zesty flavors! Toss in some mouthwatering morsels, aromatic oils, or maybe even a smidgen of whipped cream into your intimate escapades. It's all about tantalizing those taste buds, a sensory voyage, leading you to relish each other in the most sumptuous and scrumptious ways conceivable!
"Don't you forget, my darlings, sticking to one another is akin to conquering the intricate dance of allure; it's diving deep into each other's concealed cravings, sprinkling a bit of the unforeseen, and ensuring every tryst is a kaleidoscope of novel tingles!"
Exclusive Dating for Two, Please
Well, my sizzling sweethearts, the time is nigh to go exclusive! Remember, that doesn't put you in the same category as the ol' ball and chain. Oh, no – it just means you two are comfortable enough to be your most kinky self around each other. And, from where I'm standing, that's hotter than a jalapeno.
So, grab your partner and make a deal to keep surprising one another. From there, it's all about laughing, exploring, and enjoying.
Here's to a life less ordinary and a love more extraordinary! Until we meet again, yours truly. (wink)
FAQs
Not on my watch! I have too much wisdom to share to let that happen. Just dive into my posts if you find yourself lacking ideas for your next… activity. (Wink) But seriously, honey, it's all about your willingness to play, explore, and dip into naughty waters together. Work on that, and the rest will follow!
There's no rulebook, sweety! It's up to you and that handsome hunk or sultry siren to decide. My experience? A hot new outfit now, a romantic date next, and non-stop curiosity in the boudoir should do the trick.
Oh, hon, that happens more often than you imagine! And, lucky for you, it's something a sizzling hot convo can solve. Just spill all your secret desires and allow your partner to do the same. There's a good chance your kinks can blend and mix until you create a hot new game that is tailor-made for you two!