❯
Sex Ed
Oct/06/2023
Last Update: October 6, 2023
341
8 min read
Sensual Play Sheds the Pounds Away! How Many Calories Do You Burn During Sex?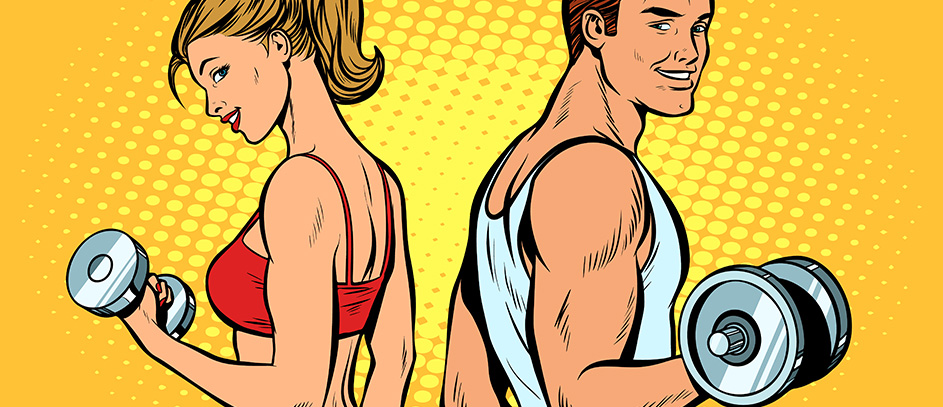 Welcome, one and all, to Lola's Little Lair of Lewdness. I had a feeling you were coming over, darlings! After all, I've been expecting you. Wink
Wait, hold on a minute.
Is that…
Did you lose some weight?
My stars, you look stunning! I bet I know what it is! You had a whole lot of fun with your Significant Other this weekend, right?
No?
Well, the next time you put on a few extra pounds, you might want to consider a bit of sex for a neat belly trimming. Believe it or not, you're bound to lose some weight the more you engage in sexual activity. But how many calories do you burn during sex, exactly? Ah, that's what you're here to find out, my sweet slim-jims.
Oh, and I can now wink uninterrupted! Wink. I mean, you really did surprise me there! You're thinner than Scarlett (but don't tell her I said that!).
What's Your Position on Weight Loss?
"I generally don't like posers. What I do like, though, is poses. Lots and lots of them. Give me a pose over a poser any day of the week."
Believe it or not, how many calories you burn will depend on the sex position. And you don't have to believe cute little Lola's word on that. I myself have learned it from reading the data provided by a nutritionist and a fitness expert.
When you think about it, sex is technically a form of exercise. Granted, it counts as moderate, light exercise most of the time. Though, the way some couples do it, you'd be surprised it wasn't categorized as an extreme sport.
But no, this is my adorable little corner, and we're talking about that smooth, sensual, silky kind of sex. The crisp but still mellow bottle of merlot after a hearty meal.
So, enough foreplay. Let's get busy with it, babes! Wink.
On a Mission to Get Fit
The humble missionary position is everywhere. It's a variant most couples engage in, and for good reason. I love it when I get to look at my partner in the eyes while we're spending that steamy night getting slimmer for our summer shorts.
Now, there's one snag with this particular position. Namely, the person on top, i.e., the thruster, will shed more calories than the person on the button, i.e., the taker. According to the source I've cited for you, lovely dears, the thruster will burn about 143 calories, while the taker will lose only 44.
That does make sense. The thruster is engaging a lot more, moving their hips and glutes about. But there's a trick to how the taker can also lose weight. All they have to do is squeeze their tushy with each thrust. Oh, and thrust back. Wink.
Barking Up the Right Tree
Ah, we're at doggy style. That used to be Richard's favorite position, though I'm not sure if he's changed his mind since.
So, what about losing calories here? Well, here's the breakdown, babes:
Thruster: around 151 calories with regular speed, 211 if they pick up the pace;
Taker: roughly 98 calories on all fours, 118 if pinned against the wall.
The taker situation here is interesting. See, when they are on all fours, not too many muscles move actively. But while they grab at the wall for support, they activate their biceps, triceps, laterals, and even the glutes.
Getting a Leg-Up on the Competition
Here, we have a position that offers a bit more equity when it comes to calorie loss. The thruster here will burn around 127 calories, with 116 for the taker.
I know you're an intelligent bunch, kittens! You know that the taker has their legs in the air here. Therefore, they are moving their calves, hamstrings, and quadriceps actively. Sure, it's tiring, but the results are nothing to be giggled at. Though, if you have the right look, they might be something to be wink-ed at.
A Wild Ride to Slimville
Oh, how I adore riding! And I know more than a few women (and men, mind you!) who enjoy the cowgirl/cowboy hoedown. At this point, the thruster burns no calories at all, considering all they do is lie there and enjoy the ride. On the other hand, the taker does all the work here, so naturally, they shed all the pounds.
Depending on the riding speed, the top partner can burn anywhere between 122 and 192 calories. Not half bad, considering the low numbers in the prior positions!
Now I'm the Small Spoon
Interestingly enough, darlings, people assume that this position burns the least number of calories. But that's not the case. In fact, the big spoon can burn 113, while the little spoon melts away 103 calories from this close encounter alone. With some added hip thrusts, the big spoon's numbers get up to 173!
It just goes to show you, darlings, that you can never judge a position by what's under the covers. Wink.
💡 PRO TIP: The number of calories burned here seems small, I agree. If you want to increase it, I recommend some yoga. It helps in more ways than one.
Low-Cal Bed Meal: Non-Sexual Acts That Trim That Chub
"Sure, sex is great, but have you ever tried cuddling?" is a sentence that probably nobody said, ever. But it kind of does fit here, my sweetcakes. See, you don't have to have actual intercourse to melt the fat away – other intimate acts will also do the job!
The Kiss of Life
A single kiss will… probably not make you fit and fine, let's be honest. But a good make-out session will definitely work its magic beyond arousal. When two people go at it, locking lips like there's no tomorrow, they can each burn close to 90 calories, some experts claim.
Foreplay Fat Melting
Remember when I said "enough foreplay" earlier in the article?
I lied.
Wink.
There's never enough foreplay, sweety. It's the subtle little art of seduction that builds to a breathtaking orgasm. And how good can foreplay really be? Well, good enough to slim you down by a rate of 25 calories per 15 minutes.
Rub-a-Dub-Dub
Now, I know that you know that everyone knows how well-known massages are at arousal. Vlad adores them, and I have to say I enjoy them from time to time as well.
Not only is a massage perfect for getting you and your S.O. in the mood, but it's also a decent calorie incinerator. In under an hour, a single back massage will get rid of at least 80 calories.
Do a Little Dance!
"Well, of course, dancing sheds pounds, Lola! It's physical activity!"
Yes, dear, I know that full well. But I'm not talking about the tango or foxtrot or even hip-hop. I'm talking about slow-dancing, gentle sways, or playful skips around the room.
But what about those calories? Well, a neat little bedroom dance sheds around 170 of them in about 30 minutes. I call that effective and kind of hot. Wink.
✍️ Lola Lovegood recommends: Try a bit of roleplaying as your intro to intercourse. However, make sure to pick roles that require some physical activity.
It's Good for What Ails Ye: Other Health Benefits of Sex
As a natural function of our bodies, sex is meant to feel good. But it's also designed to keep us fresh and fit. Health experts across the planet have written thousands of pages on just how healthy sex is. Your dear Lola will try to summarize all of those in a few paragraphs. Wink.
Healthy as a Horsey
Lads and ladies who have sex more frequently tend to produce more specific types of antibodies that strengthen the immune system. Or, to put it simply, the more you do it, the better you fight illnesses. So keep it up!
Way Too Much Pressure!
Believe it or not, having sex frequently lowers systolic blood pressure. Yes, sex, the act itself – not masturbation, fantasy, or dry humping. Honest-to-goodness sex!
My Heart Goes Out to You
Gentlemen, do you like being alive? Would you prefer NOT to have a heart attack pop up spontaneously? Then I recommend enjoying the dirty dance at least twice a week. Your heart will be as healthy as a gymnast!
Pain, Pain, Go Away
When we orgasm, our body releases more of a hormone called endorphin. It is responsible for overriding any other heightened sensation, even pain. A boom-boom here, a woohoo there, and your migraine is gone. And yes, Lola speaks from personal experience.
Prostate Can't Wait
Unfortunately, prostate cancer affects thousands of men on a yearly basis. But studies have shown that the more dudes get hanky-panky or even a single-tug, the less likely they are to develop prostate issues, cancer very much included.
From Ah! to Zzz…
We sleep better after sex. That's a fact. And it's not just because we tire ourselves out (well, I know I do, wink). There's also the release of the hormone prolactin. It actually soothes us and enables us to sleep soundly.
Chill Pill Thrill Mill
If you're stressed and overwhelmed, sex can be the answer. Thanks to its release of dopamine, the "feel-good hormone", our body can relax in some of the tensest situations. In other words, sex is a great tension reliever.
Make It Fit to Be Fit: Sex Calorie Reduction Summed Up
Calorie by calorie, bedroom boot-knocking will reduce that bit of extra you're building up for the winter. If you need a fun way to lose weight and just exercise won't do, don't be afraid to do what I do: increase your sexual activity with your S.O. It will quite literally benefit both of you in the long run.
FAQs
Darling, you can never lose weight through anything "alone". Sex does help, but don't forget to eat balanced meals, sleep properly, and take care of your health.
Sure! Lots of people are doing that, and it seems fun and effective.
You might have certain genetic problems or aren't physically active enough. Or it could just be that your diet choice isn't the best.