❯
Sex Ed
Sep/06/2023
177
8 min read
Oh, La La! Spice Up Your Bedroom Fun With Sexual Roleplay for Beginners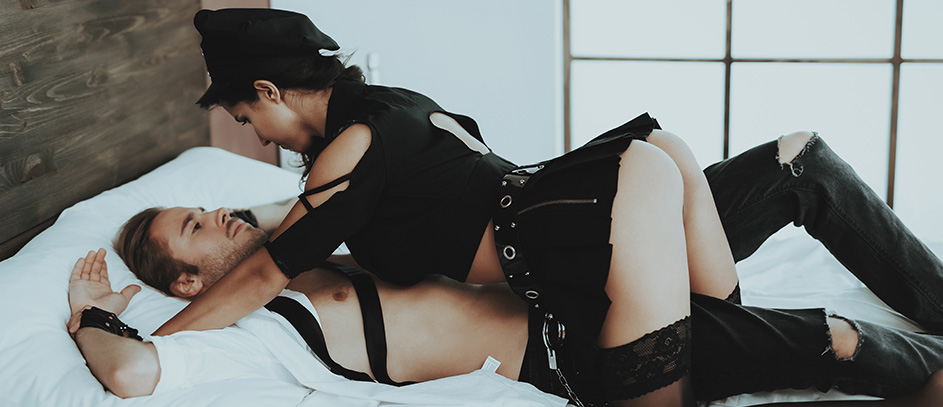 Hey there, all you naughty kittens and frisky foxes! Are you ready to turn up the heat and slide into a world of tantalizing temptations? Fasten your garter belts because today, we're delving deep into the steamy world of roleplay!
I know, I know – dipping your toes into uncharted waters can be a bit nerve-wracking, but don't you fret, my dears. I'm here to hold your hand (or whatever else you prefer, wink) as we explore roleplaying tips for beginners that will transform you into a bedroom virtuoso in no time!
If you've ever dreamt of playing doctor with your lover or maybe even getting a little "handsy" as a handyman, you've come to the right place! From sizzling scenarios that'll leave you hot under the collar to teasing transformations that'll make you beg for more, I'll be your seductive guru as we venture into the realm of sexual roleplay for beginners. Trust me, darlings, once you start, you'll be hooked and craving seconds (or thirds, or fourths…).
So, are you ready to let your inner devil or angel come out to play? Let's dive in and get this sexy show on the road!
Naughty but Nice: Establishing Ground Rules
Darlings, before we dive headfirst into the intoxicating world of sexual roleplay for beginners, it's essential to remember that a little preparation goes a long way in ensuring a pleasurable and satisfying experience for everyone involved. So, let's take a moment to talk about some practical tips that'll have you and your partner feeling comfortable, confident, and ready to unleash your seductive inner personas.
Communication Tips for Roleplaying Bliss
I know discussing the nitty-gritty of your fantasies can feel like dancing on a tightrope in stilettos, but trust me, sweetie pies, it's worth every wobble! By being open with your partner about your roleplaying desires, you'll create a safe space for both of you to express your kinkiest dreams and avoid any awkward surprises (nobody wants to be caught off-guard by a naked cowboy, am I right?).
So, if you're looking for roleplaying tips for beginners, remember this golden rule: communication is key! Take a deep breath, grab your partner, and share your fantasies with the confidence of a burlesque dancer in a feather boa. Before you know it, you'll both be raring to go and ready to unleash your inner seductresses and Casanovas.
Finding the Perfect Plot Twist to Ignite Your Passion
Now, before you can transform into that sultry secretary or frisky firefighter, let's talk about picking the perfect scene and role for your carnal capers. Because, darlings, choosing the right setting and character can be as delightful as licking whipped cream off your lover's…well, you get the idea!
Step 1: Fantasies Unleashed
First things first, my dears – take a moment to explore your wildest fantasies. Don't be shy! Let your imagination run wild like a stallion in a field of satin sheets. Once you've identified a few tantalizing scenarios that make your heart race and your cheeks flush, it's time to share them with your partner. Remember, communication is hotter than a jalapeño in a sauna!
Step 2: Two to Tango
Now that you've spilled your sultriest secrets, invite your partner to do the same. Listen closely, and don't judge, sugar plums! This is the time to support each other and discover what really revs your engines. As you follow these roleplaying tips for beginners, you might find out that you both dream of the same steamy encounter!
Step 3: Role Roulette
With your fantasies laid bare like a buffet of naughty hors d'oeuvres, it's time to pick your scene and role! Choose something that excites both of you and makes you tingle with anticipation. Don't worry about nailing the role like an Oscar-winning actor – just have fun and let loose! Remember, darlings, practice makes perfect, and the more you explore, the more you'll discover what really turns you on.
✍️ Lola Lovegood recommends: Feeling nervous about your acting skills? Crafting a sultry alter ego allows you to step outside of yourself and fully embrace your chosen character, making the fantasy even more immersive and deliciously daring. Just think about your character's personality traits and backstory, and even give them a name. You can go as far as creating a costume or wardrobe that represents them.
When Sexy Meets Safe: Establishing Boundaries
Sweetie pies, let's get serious for a moment. Even though we're all about having a fabulously naughty time, it's crucial to remember that safety and consent are the foundation of any steamy roleplay. So be careful to read through these roleplaying tips for beginners:
Have a Heart-to-Heart Huddle. Before you don your sexy costumes and assume your risqué roles, sit down with your partner and have an open, honest conversation about your limits, desires, and any potential no-go zones.
Create the Green Light List. Make a list of all the things that get you both excited and eager to explore. This is your "green light" list, filled with tantalizing activities and scenarios that will make your toes curl and your hearts race.
Make The Red Light List. Now, it's time to talk about the things that make you uncomfortable. Create a "red light" list of activities, scenarios, or phrases that are off-limits. This ensures that both you and your partner know what's out of bounds, keeping your roleplay encounters safe, consensual, and oh-so-pleasurable!
Come Up With Safe Words and Signals. Finally, agree on a safe word or signal that can be used during your steamy escapades to pause or stop the action if things become too intense or uncomfortable. This is your safety net, ensuring that both of you feel secure and confident in your erotic adventures.
"Communication is key, and it's especially important when you're delving into the deliciously taboo world of kinky roleplay. So take a deep breath, open up that dialogue, and get ready to discover all the wild and wonderful ways you can explore each other's bodies and minds!"
Crafting the Perfect Ambiance for a Night of Erotic Roleplay
Setting the scene for a night of steamy roleplay is an art form that even Picasso would be jealous of! As roleplaying rookies, you'll find that creating the perfect ambiance is essential in letting your fantasies run wild. So, let's explore some roleplaying tips for beginners that'll turn your boudoir into a sensual wonderland!
When it comes to lighting, think soft and sultry. Trade those harsh overhead lights for something a bit more romantic, like candles, fairy lights, or a dimmer switch. The right lighting can make all the difference in setting the mood.
Next, transform your space to reflect the fantasy you're bringing to life. This could mean draping your bed with luxurious fabrics, adding some cheeky props, or even rearranging the furniture to make room for your carnal capers. A little effort goes a long way, and your partner will surely appreciate the extra touch of passion.
Last but not least, darlings, let's not forget about the soundtrack to your seduction! Whether it's sultry jazz or sensual R&B, the right music can set the tone for your night.
💡 PRO TIP: Want to make your roleplaying experience even more thrilling? Try leaving your partner little notes throughout the day, hinting at your chosen scenario or role. This tease will build anticipation, making your eventual rendezvous even more electrifying.
Ready, Set, Action: Navigating the Highs and Lows of Your Roleplaying Romp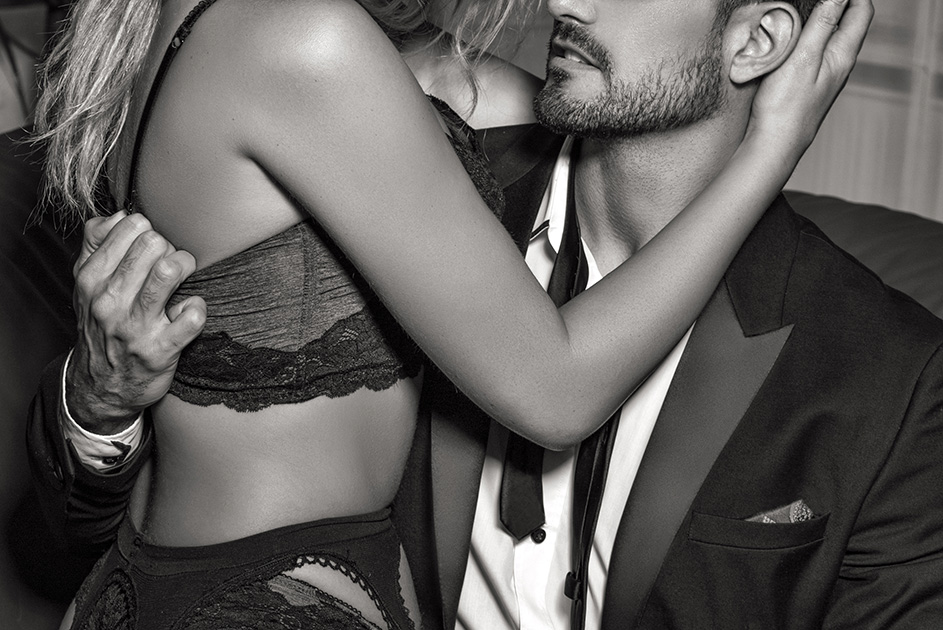 Darlings, let's chat about how to start roleplaying with your partner without tripping over your own stilettos (or garter belts, if you catch my drift). I've got some roleplaying tips for beginners to help you navigate the act itself with the finesse of a seasoned lover!
Embrace the Silly
First things first, my lovelies, feeling a little silly is as natural as a feather tickler on a Saturday night. But don't let that stop you! Embrace the absurdity, and remember that you're both in it together, exploring unknown waters of passion and pleasure. It's like learning to dance the tango – there might be a few missteps, but with practice, you'll be gliding across the dance floor of desire like nobody's business.
Laughter Is the Sexiest Aphrodisiac
Speaking of missteps, giggles are bound to happen as you explore sexual roleplay for beginners, so let them! Laughing is not only good but downright sexy. After all, what's hotter than sharing a sense of humor and intimacy with your partner? So, go ahead, giggle away, and enjoy the connection that laughter brings to your lustful liaisons.
Dirty Talk Delights
Oh, honey, it's time to put those naughty words to good use! Don't be afraid to talk dirty and express your desires during your roleplaying romp. Whether you're whispering sweet nothings or barking commands like a drill sergeant, let your words weave a tapestry of titillation that'll leave you both breathless and begging for more.
First-Time Flirts: Beginner-Friendly Fantasies to Ignite Your Roleplaying Passion
Oh, boy, do I have a steamy surprise for you. I've teamed up with my dearest friends, the utterly ravishing Scarlet Delight and the ever-so-dashing Richard Turbo, to bring you a sinfully delicious list of roleplaying scenarios perfect for sexual roleplay for beginners. Trust me, naughty nymphs, we've had our fair share of fun between the sheets, so we know a thing or two about spicing things up!
Teacher and student: A classic scenario filled with lessons in sex and discipline.
Boss and secretary: Power dynamics and office flirtations make for a steamy rendezvous.
Doctor and patient: Explore the sensual side of "playing doctor" and indulge in a little TLC.
Strangers at a bar: Start your evening with mystery and intrigue, ending in newfound passion.
Police officer and suspect: A little cat-and-mouse chase might lead to cuffs (wink, wink).
Room service attendant and hotel guest: Deliver more than just breakfast in bed with this scenario.
Firefighter and rescued victim: Save the day and ignite a flame of desire.
Personal trainer and client: Get hearts racing and muscles pumping with a workout session for two.
Photographer and model: Capture the allure of seductive poses and teasing glances.
Royalty and loyal subject: Bow down to your regal lover and cater to their every whim.
Roleplaying Tips for Beginners: The Sensual Send-Off
Darlings, as we bid adieu to this whirlwind of sensuality and exploration, let's remember that there's no right or wrong way to indulge in your fantasies. And with my roleplaying tips for beginners, you and your partner are well-equipped to embark on a journey filled with pleasure, passion, and exhilarating discoveries. So, stay curious, keep experimenting, and most importantly, have fun, my dearest lovebirds!
FAQs
Fear not, my love! The key is open communication and compromise. Share your fantasies, listen to your partner's desires, and find common ground that will tantalize you both.
That's perfectly fine, darlings! Roleplaying isn't for everyone, and that's okay. The important thing is that you tried something new and learned more about each other's desires. There are plenty of other ways to keep the fire burning in the bedroom!