❯
Sex Ed
Sep/08/2023
Last Update: September 8, 2023
254
7 min read
How Long Can You Leave a Butt Plug In? A Guide to Rear Entry Entertainment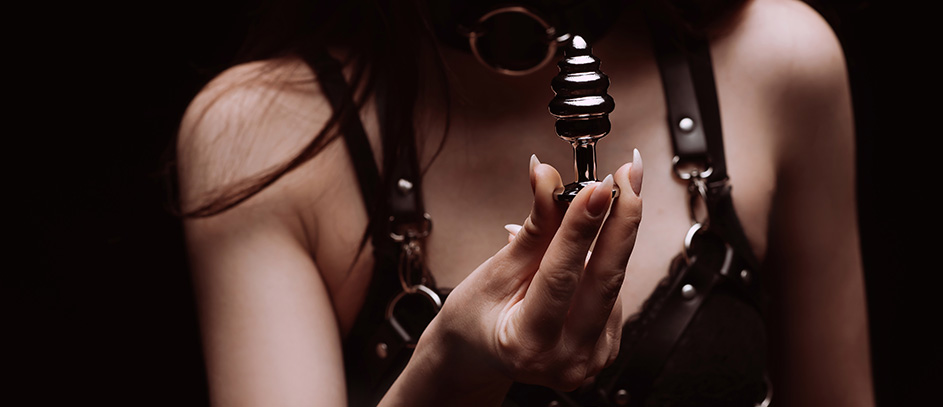 Lola's back, babies! That's what an eager partner says when they are referring to my rear end, with a butt plug safely wedged inside. Wink. That same partner would often ask, "How long can you leave a butt plug in?" with an extra "Doesn't it hurt?".
Now, you lovelies know full well how much the four of us at PleasureMeNow love rear ends. Heck, Vlad has written an entire article about how much he loves anal play! And both Scarlett and Richard have explored their own southern caverns thoroughly.
But enough about last Thursday. We're here to figure out how long a butt plug can stay inside a tushy. Thanks to my experience, as well as some info from medical experts and sex toy manufacturers, I've compiled a neat little article that may help you sweetlings figure out the bliss of butt stimulation!
How Long Can You Leave a Butt Plug In: Myth vs. Fact
Now, obviously, when we google "how long can you leave a butt plug in", we get plenty of results. However, not all of them are accurate. So, I've compiled a little list of common data points that the Google Gods push onto us to see which ones are true.
Lube Only Once
Myth or Fact: MYTH
Lots of people assume that they only need to apply lube once, just before insertion, and that it would be enough. This is absolutely not true!
Whenever I want to have long-term anal fun, I always, ALWAYS reapply lube whenever it dries up. Without it, I risk harming my sphincter and even my bowels, depending on the depth.
Oh, It Will Gape, Baby!
Myth or Fact: MYTH
OK, it is true that the anus will gape with certain types of plugs more than others. And it's also true that wearing a plug for a long time will result in a big gape that lasts for a little while.
But that's the key phrase: it will last ONLY for a little while. The human anus usually retracts back to its original shape after it's been stretched open without much damage.
Keep It Under 4 Hours
Myth or Fact: MYTH
Most doctors recommend using the butt plug for two to three hours, four at most. This recommendation is also the most common myth I've personally come across online. Obviously, it's not completely true.
Normally, when people recommend using a plug for several hours at a time, they do it for beginners. And if you're just starting out, that's perfectly fine. In fact, it's desirable; it's always best to start slow and small. But I'll touch on that more later.
You Can't Wear It in Public
Myth or Fact: MYTH
People tend to talk users out of wearing plugs in public due to one of two reasons. Firstly, they assume that the toy will fall out, and secondly, they claim that commuters may see it through the clothes.
Obviously, neither of these two reasons is entirely accurate. A toy may fall out while we move, but that's easily fixed with a harness or tight underwear. Furthermore, we can always buy a toy designed to stay inside us while we strut our stuff.
Next, there's the "Aha, I see it!" issue. Once again, I recommend a simple solution: get a butt plug model with a thin base that blends with the clothing. Nobody will notice!
FATALITY!
Myth or Fact: MYTH
No, wearing a butt plug throughout the day will not be fatal. As long as you stick to the instructions and follow safety guidelines, you'll be fine.
💡 PRO TIP: While a butt plug won't literally kill you, Scarlett does have some killer butt plugs to recommend for anyone eager to try. Check her list out, and let us know if any of them made you squirm with excitement! Wink.
Poof! Bye-Bye, Poop
Myth or Fact: FACT
Yes, my naughty little angels, wearing a butt plug will make you want to poop more. I mean, it kind of has to since it's stimulating a muscle so close to the bowels; it's no wonder that it will trigger a reaction or two. Or should I say, a reaction known as Number Two? Tongue wag.
But you don't have to worry, my lovelies. There is technically nothing wrong with the issue of pooping more because of plugs.
A Pain in the Butt (Literally)
Myth or Fact: FACT
As fun as anal play is, my lovelies, we have to face one fact: the anus is made for exiting, not for entry. It doesn't self-lubricate, and a finger will struggle to get in. Therefore, expect that your first few attempts will be like crawling through a tight cave. I'll explain a little later how we can turn a bit of pain into a lot of pleasure. Wink.
It Makes Anal Sex Easier
Myth or Fact: FACT
Practice makes perfect, sweethearts. If you take the time to improve your butt-play skills, you'll become an expert in two shakes of a cat's tail! And yes, that cat tail can have a plug for its basis. Wink.
Anyway, both me and Vlad, seasoned experts in anal exploring, had a learning curve to tackle. At first, it was, "Nngh, it fits nicely". Next time, it was, "Ooookay, get the big boy next". And within days, anal sex itself was easy!
Discomfort Is Gone with Practice
Myth or Fact: FACT
Don't be shy to admit it, hon. It's always a bit uncomfortable the first few times you have the tiny toy tucked up the tush. But again, practice makes perfect. You shouldn't rush it – ease yourself into it, and soon, you will ease the toy into you.
Some Lubes Are Better for All Day Wear
Myth or Fact: FACT
If I need my lube to last longer without reapplying, I will pick oil and silicone-based products. Now, I don't have to remind you, sweeties, that each plug requires a different type of lube. The wrong kind will damage the toy and even your anuses.
"Sometimes, exploration takes us to places we don't expect to find. And more often than not, we find tons of pleasure if we stray from the path and take that back alley."
Brass Tacks (or Lack Thereof): Butt Plug Instructions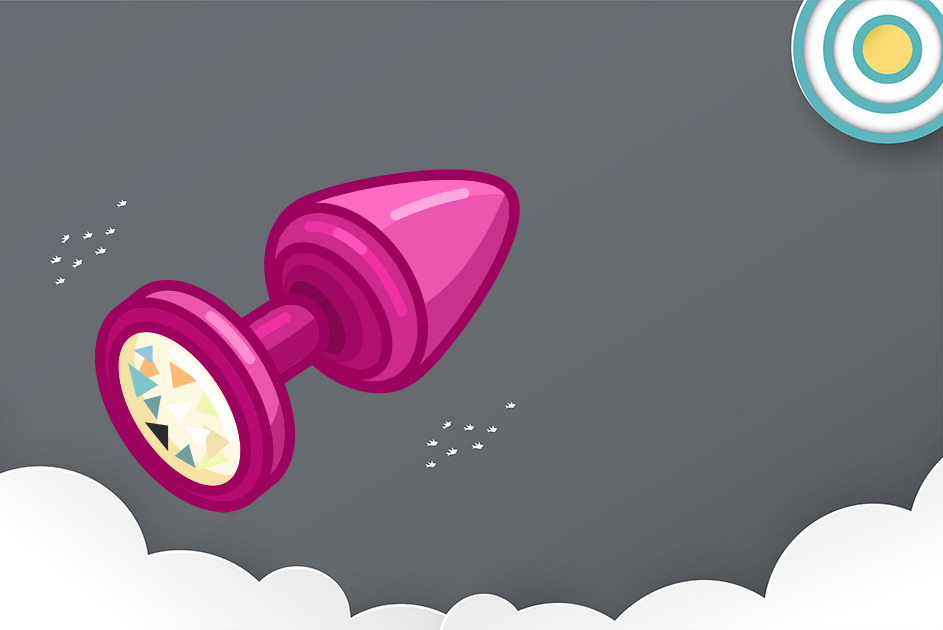 OK, now we're getting to the good stuff. So, how exactly should someone use a butt plug throughout the day?
Well, here are a few key instructions for smooth, safe slide-ins:
Always apply lube;
Pick the right plug;
The T-bar base is the best base;
Start with a "lower setting";
Use a harness or tight underwear.
The first instruction is simple: lube helps the toy enter more easily without chafing. Also, pick a plug with a T-bar base, as it applies minimal pressure when you sit down.
In terms of picking the best plug, you can opt between metal and silicone. From my humble little experience, silicone is more comfy than metal and more flexible. The downside is that you can only use water-based lubricants.
Now, what do I mean by "lower setting?" Well, when I was starting off, I did rounds of 15-20 minutes. Then I wore a plug for half an hour, then one, then two, etc. It's all about patience, sweety.
Oh, and why the comfy undies? Well, if they're too tight, the little buddy will chafe, of course. Wink.
✍️ Lola Lovegood recommends: This list of instructions might seem small, but there's a good reason. I've written an article about proper anal training a little while ago, and I believe it can greatly help you train your butt play!
A Dream-Come-True or a Nightmare Manifest? Wearing Plugs During Sleep
Should you wear your butt plug to sleep, I hear you wonder.
The answer is no.
Why, you ask? The inside of the anus has no pain receptors. So, if something goes wrong while we're asleep, we won't even feel it. And do you know what the results are of interior colon damage? Well, ulcers and anal tears, for instance. Not fun!
Relief Mid-Strain: Can I Pee With the Plug Inside?
OK, so peeing and butt plugs. Generally, I always advise taking it out. After all, when people pee, their pelvic muscles relax. That means the sphincter also relaxes. What comes next? Well, it loosens its grip. Need I go on?
If you must insist on keeping it inside, you're in luck because Lola has a solution for you! Simply press on the base while you're using the little lovelies' room. Otherwise, it might be a better idea to just pull it out.
A Few Words at the (Rear) End
And there you have it, my sweeties! Leaving the butt plug in is definitely an option. But listen to your girl Lola for a moment here. Always make sure to use the toy safely. Your health matters more than sexual pleasure. Follow that simple rule, alongside the brief instructions I have provided, and you'll have no problem enjoying hours upon hours of feeling filled to the brim.
FAQs
Every butt plug has its own cleaning. Whatever it may be, do it immediately after use. Dirty and unwashed plugs can be harmful to your health.
Absolutely! My own partners would often use a plug with a vibrating option; they would control the remote and stimulate me in public. You can do that with your partner too!
Absolutely not! Butt plugs are designed by professionals. They are by far your safest anal play option. Anything improvised might cause injuries.
It depends on the toy. If it's made of metal, you can heat it up or cool it down for some extra intense sensations. If it's a vibrating toy, fiddle around with speeds and intensity levels.