❯
Sex Ed
Sep/10/2023
237
7 min read
Clit-iquette 101: Your No-Fail Guide to Clit Sucking!
Well, hello again, you naughty pleasure seekers! Ready to unravel the mystery that's got everyone's tongues wagging – or should I say, tongue-tied?
Ah, the illustrious clit! Some call it the holy grail of female pleasure, while others treat it like it's the Bermuda Triangle. Lost, much? If so, don't worry, sweet cheeks; I'm here to set the record straight.
Or do you think you know how to suck a clit? No matter the case, my darlings, we're diving deep into the nuances, the do's, and the oh-my-God-don't-ever-do's of this intimate art. And it's going to be a wild, wet ride! Wink
Understanding the Clitoris: Anatomy 101
Now, I know some of you are like Christopher Columbus – thinking you've just discovered something when you're actually just lost. But fear not, Lola's got your back… and your front.
First things first, the clit isn't some elusive unicorn hiding in the forest of love: it's more like a pleasure button just begging to be pushed – or in this case, sucked. Located right at the top of the vulva, this little jewel is your gateway to clit sucking nirvana. Hell, it's so important, it's got a hood!
Still can't find it? Honey, it's not Narnia! Look for a small, sensitive bump above the opening to Wonderland, also known as the vagina. Yeah, you're getting warm… warmer… Bingo!
Once you spot this sweet spot, you're well on your way to becoming a clit sucking aficionado. Trust me, your love life's about to go from "Meh" to "Oh yeah, right there!" faster than you can say, "Where the hell is the clit?" Wink
To Lick or Not to Lick: Techniques That Make or Break
We've located the treasure, and now it's time to dig in. I mean, you wouldn't just randomly push buttons in an elevator and expect to get to the penthouse, right? So, why do you do the same instead of learning how to suck a clit properly?
The A-Z of Tongue Twirls
Oh, the many ways your tongue can dance! Start with gentle strokes – a teasing flick here, a delicate lick there. Think of it like warming up an engine; you don't wanna go full throttle right away, darling!
Now for the advanced course. Once she's humming like a finely tuned instrument, switch up the tempo. Fast, slow, soft, firm. Keep her on her toes, or she'll get bored – and let's be honest, a bored clit is a sad clit.
Circular motions, side-to-side swipes, and even a little ABC action. Spell out your love letters, one lick at a time! Tongue tired? Just remember, this isn't a sprint; it's a marathon. And just like any good athlete, feel free to tag in a substitute. Fingers, anyone?
When in Doubt, Ask Her About the Route
Look, you're not a mind reader. If you're not sure what's working and what's failing, ask!
Between moans or gasps, a simple "Like this, baby?" can save you from clit sucking disaster. But don't just stop at verbal cues; her body will talk if you listen. Quivering thighs, arched backs, and clenched hands – these are the signs of a job well done.
"In essence, sucking a clit isn't some ancient, mystical secret; it's a beautiful blend of technique and communication."
Toys, Tools, and Terrific Twists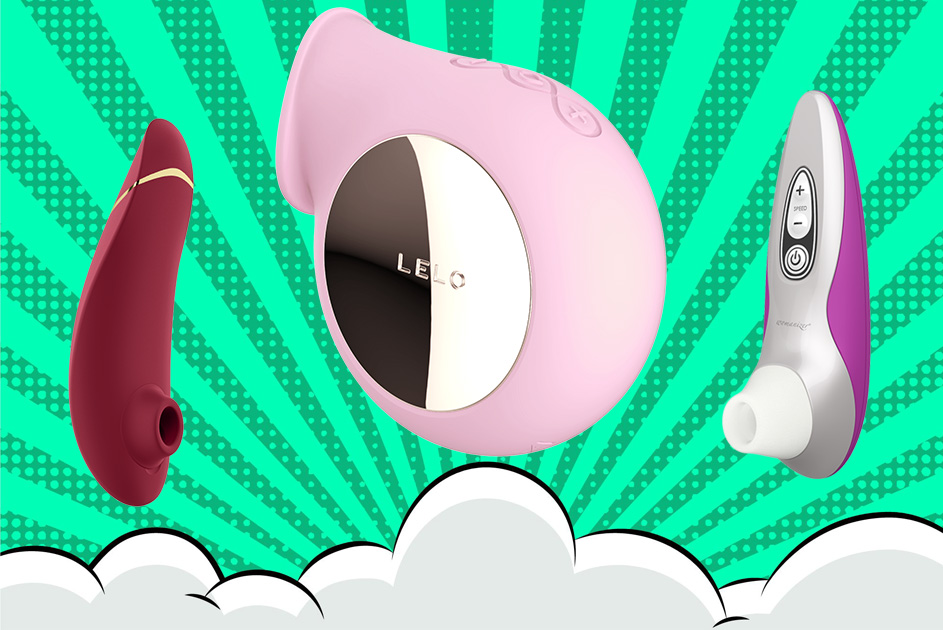 Look, I adore a skilled tongue as much as the next gal, but let's be honest, even the best chefs use more than one spatula, right? Introduce a silicone buddy or two to the mix and watch her go from "Oh, that's nice" to "Oh my GOD, where have you been all my life?".
So, how about some clit-sucking toys designed to mimic the real thing? With pulses, vacuums, and sometimes even a little twirl, these gadgets know how to kiss the spot like a French lover. You hold one of these babies while you're doing your tongue gymnastics, and you'll have her seeing stars. Literally.
Vibrators, Pumps, and Magic Wands: A Shopping List You'll Thank Me For
Time to open up that wallet and invest in some heavy artillery. Clitoral vibrators come in all shapes and sizes – eggs, bullets, wands, oh my! The constant buzz not only supplements your tongue-twirling efforts but also gives her clit a whole new sensation to dance to.
Now, the magic wand is the queen bee of the toy kingdom: strong enough to rev her engine yet versatile enough for some soft love taps. Use it solo or as your wingman in the clit-sucking adventure; either way, it'll get you VIP access to her O-zone.
✍️ Lola Lovegood recommends: My go-to fave toys? First up the Womanizer Pro40. Yeah, the name might sound like a cheesy '80s band, but this toy's suction tech is cutting-edge. If you're more into buzzing than sucking, the LELO Smart Wand 2 is your vibe. It's like the Beyoncé of clit toys - multi-talented, elegant, and it gets the job done.
The Don'ts: How Not to Ruin the Moment
Honey buns, listen up! You've followed my tips, and now you're practically a clit-sucking virtuoso. But wait, don't go popping the champagne just yet. Even the best maestros can hit a sour note. So, let's dish the dirt on those cringe-worthy mistakes that could make your crescendo come crashing down.
Ouch! That's a No-Go Zone: Mistakes to Dodge
Teeth. I mean, seriously, who invited them to this party? Unless she specifically asks for a little nibble, keep those chompers away from her tender bits. Remember, you're aiming for clit sucking, not a cannibal feast.
And for the love of all that's holy, ditch the jackhammer tongue. A clit is not a construction site! Too much pressure can send her from ecstasy to "exit, stage left" in a heartbeat.
Also, if you're channeling your inner vacuum cleaner, stop it right now. The clit is not a piece of lint to be sucked up, sweetie. Moderate suction is the spice, but don't make it the whole damn meal.
Timing is Everything, But Hurry Up
Look, I'm all for the slow burn, the tease, the sexual simmer. But darlings, don't mistake a slow build for an eternal slog. If she's giving you the cues and you're still acting like a tortoise in a marathon, then it's time to pick up the pace. The anticipation might be delicious, but let it stew too long, and you're headed for a lukewarm letdown.
The Do's: Surefire Moves That'll Have Her Singing Praises
Alright, my sweet hedonists, you've sidestepped the booby traps; now it's time to bring out the big guns – or should I say, the right tongues? Let's switch from what not to do to what you absolutely, positively should do to make her shake, rattle, and roll.
Pay Attention, Boys and Girls: The Moves That Always Hit the High Notes
One word: rhythm. Once you find a beat that has her gasping, for heaven's sake, stick to it! Think of her clit as the drum and your tongue as the drumstick. Keep the rhythm, and you'll soon hear the sweet music of her moans.
Another thing – variety! Yes, I know I said to keep the rhythm, but you can't dance to the same tune all night, can you? Alternate between long, slow licks and some fast, feathery flicks. Think of it as the chorus and the verse in your clit-sucking anthem.
💡 PRO TIP: Now, hold onto your knickers for this little nugget of wisdom - temperature play. Oh yes, a warm tongue is nice, but have you tried alternating it with something cold? Think a chilled glass dildo or an ice cube. Use it sparingly, though; we're aiming for a slight temperature contrast, not a polar expedition. wink
Clit Tricks From Lola's Own Playbook
Oh, have I got some special moves for you. First, the "Seesaw": lick her from bottom to top, then apply a tiny bit of suction as you go back down. Trust me, it's a crowd-pleaser.
And don't forget the "Double Trouble", where you use your finger to gently press on the area below her clit while your tongue works its magic up top. It's like surround sound for her pleasure.
The Last Lick: Wrapping Up Your Journey to Clit-Sucking Stardom!
Well, you sassy sex gods and goddesses, we've reached the end of our clit-sucking rollercoaster, and what a ride it's been! From locating the clit (it's not a hidden treasure, folks) to the do's and don'ts that'll make or break your performance, we've covered it all. If you've been taking notes – and I hope you have – you're primed to graduate magna cum laude in the art of sucking a clit.
So what are you waiting for? Go out there and put your newfound wisdom to the test! May your tongue be swift, your toys abundant, and your partner vocal. Class dismissed, you clit-sucking virtuosos! wink
FAQs
Ah, the rookie mistake! So many people think "harder and faster" is the magic formula. Uh-uh, honey! Every clit is like a snowflake – unique and sensitive. So slow down, Tiger, and pay attention to her reactions.
Oh, lube is always welcome to the party! It's like the ice in your cocktail; makes everything smoother. My fave? A water-based cherry-flavored lube. It's natural, it's long-lasting, and it makes your moves glide like butter on hot toast.
Body language, sugar! If her back arches and she's gripping the sheets like she's holding onto a rollercoaster, you're on the right track. No audible feedback? A little check-in never hurts. Ask if she likes what you're doing – communication is sexy, ya know?