❯
Sex Ed
Oct/02/2023
Last Update: October 2, 2023
557
7 min read
The Art of Edging: Teasing Till You're Pleasingly Pleased!
Darlings, have you ever danced dangerously close to that tantalizing tipping point, only to be yanked back, breathless and craving another go? And no, I ain't gabbing about that devilishly tempting chocolate treat you eyed the other night. We're venturing into the sizzling realm of edging – a seductive shimmy and shuffle that promises to catapult your climaxes to the cosmos.
Believe you me, when I say my whole gang here is giving it a whirl, I don't just mean they're testing the waters. They're plunging deep, ready to surf the surge but not quite seal the deal… just yet. Got your ears perked up? Buckle up, sugar, 'cause you're in for a rip-roaring ride.
Heating Up the Lab: The Steamy Science Behind the Big Tease!
Alright, you saucy science sleuths! Whether you're donning or ditching that lab coat, brace yourselves, 'cause we're about to dive deep into the tantalizing tango of neurotransmitters and – hold onto your hats – those tempting tingly bits! Ooh la la!
Now, teasing yourself to the edge and hitting the brakes ain't just a flirty game of peek-a-boo with your goodies. No, sugar, you're mixin' up a heady brew of dopamine and oxytocin. This slow-burn boogie amps up those feel-fab chemicals, so when the dam finally breaks – boy, it's like a firework that's been itching to light up the sky!
But that's not all, sweeties. By dancing this tantalizing tango with your senses, you're not just playing push-and-pull – you're tuning those neurons to crave and savor the sweet symphony of pleasure. It's like cranking up your body's pleasure radio to pick up those sultry stations you never knew were jamming out!
So, if you reckon you're just having a cheeky roll in the hay, think again. You're enrolling yourself in the university of sensuous science, and trust me, you won't wanna play hooky from this class.
Teasing to Please: Why Taking It Slow Cranks the Heat Way Up
Listen up, sweet cheeks! While you might reckon edging is just a wild goose chase for that seismic shiver, it's the spicy detours en route that really jazz things up. So, let's peel back the layers of this slow-cooked seduction recipe, savoring every tantalizing morsel.
1. Endurance Enthusiast: Not a Sprint, But a Sensual Odyssey
First off, when you're dabbling in this delicious game of delay, you're not just playing – you're shaping up to be the bedroom's ironman or ironwoman. It's not just about stretching out your own thrills; oh no, darling. You're gearing up for a pleasure-packed marathon, making sure both you and your partner get the grand tour.
Forget the quick sprints; think of a languid, lustful long haul. Hot diggity, who knew stamina could be this steamy?
2. Sensory Symphony: A Feast of Feels
Skating on that precipice, every whisper of touch, every shiver and shimmy is cranked up to eleven. It's not just living life in HD; it's feeling every pulse, every beat in 4K. Your body? Well, it's like a live wire, turning even the gentlest of nudges into waves of whoa.
3. Mindful Mingling: Brain Games and Pleasure Lanes
Bet you didn't see this coming, huh? When you tease those senses, your noggin gets in on the action, too. Dancing on that scrumptious edge, your brain jumps into high gear, like it's had a double espresso shot and is ready to boogie!
4. Ties That Bind: Beyond the Tease Lies Trust
Hang on tight, you smitten kittens! Edging is the ultimate couple's trust exercise. This sensual samba of waiting and wanting builds a bond thicker than the thickest glue. It ain't just about the physical – it's like doing a trust fall, but instead of the ground, you're diving into an ocean of deep connection and closeness.
"Edging, darlings, is like holding onto the final chorus of your favorite song – you've felt the rhythm, now let the anticipation of that climax give you goosebumps."
The A to Z of Edging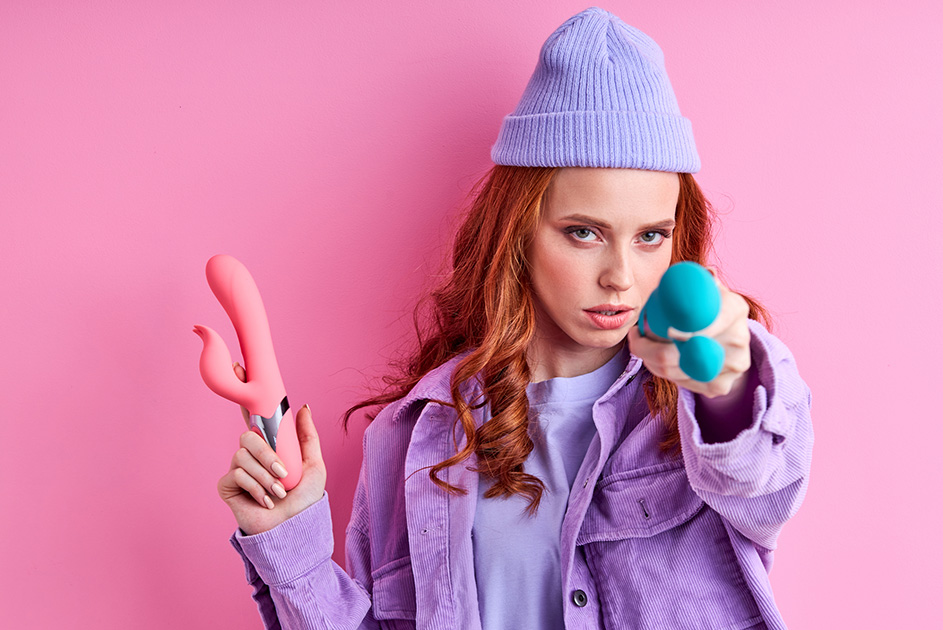 Hey, you fiery foxes and broncos! You've just tiptoed into the sultry shallows of the edging game, and now? Well, it's about time to plunge into the thrilling abyss. Fasten your seatbelts, you love birds; we're venturing into sizzle city!
1. Kick-off: Crafting the Ambiance and the Attitude
Now, before you tread this spicy path, it's crucial to align your mojo (and all your bits) just right. Fire up those scented candles, pour some bewitching oils, and let those sultry beats serenade your senses.
Bear in mind: your brain's your sauciest playground, so treat it with care! Murmur those naughty plans to yourself – something like, "Prepare for a ride, and trust me, it'll be worth the wait". A dash of self-flirtation? Oh, it's the cherry on top!
💡 PRO TIP: Ever thought of jazzing up your solo sessions with some killer beats? You got it; curate a playlist that kicks off with sultry melodies and smoothly cranks up to more fiery rhythms. As you're teetering on that tantalizing tightrope of pleasure, let the tunes play puppeteer. If the beat mellows, you mellow; as it fires up, you ride that wave. And here's the juicy part: an unexpected track swap might just throw you for a loop in the best way.
2. Ascend the Slope, But No Summiting
Think of edging as having the world's richest truffle on your tongue but resisting the gulp. Revel in each caress, each brush, till you're inches from the precipice.
And then? Pause. Inhale. Let the surge ebb just a smidge. You're playing a daring game of chicken with your own sensations!
It ain't about withholding, darling; it's all about the wait. Like nursing an aged whiskey rather than guzzling it. The tension, the crescendo, the… oh my, where was I?
3. Gadgets Galore: The Playthings That Amp Up Your Edging Antics
Feeling a tad adventurous, are we? Well, butter my biscuit, it's time to pop open that toy box! If you reckon your digits are sly, just wait till you bring some buzzy pals into play.
Those tweakable vibes? Oh, they're a godsend for folks aiming to dial in their climb to cloud nine. For our gents, think of cock rings as your co-pilot, juicing up sensations and making sure you milk every last second. And ladies, ever taken a spin with a clit sucker? It's like riding the wave of bliss, keeping you teetering just so.
✍️ Lola Lovegood recommends: Babes, when it comes to riding that wave just shy of the shore, there are some toys that can seriously up your edging game. First up, the Lovense Lush 3. This isn't your grandma's vibrator! With settings that range from a sultry whisper to an earth-shaking roar, it's perfect for teasing yourself closer...and then pulling back at the last second. And let's not forget about the Hitachi Magic Wand. This beauty is like having a lover's finger, but with batteries - and trust me, it knows just how to dance along your most sensitive spots.
Oops, I Did It Again: Navigating the Tricky World of Edging Mistakes
Sweethearts, let's be real: in the throes of passion, things can get a tad… slippery, if you catch my drift. Edging is a captivating tango, and sometimes, we misstep and tumble (or tremble) right over the edge. But, darlings, worry not; your Queen's got you covered!
Overzealous Vibing: Ever cranked that toy up to 11 when a sultry 6 would've done the trick? Honey, moderation is the spice of life – and edging! Ease into it; you're seducing yourself, not trying to break a land-speed record.
Mind Wandering to Tomorrow's To-Do List: Mmm, nothing screams sexy like thinking of laundry. Said no one ever. If you find your thoughts straying, anchor yourself back with some dirty talk or fantasizing. After all, you wouldn't want to be caught with your mind down, would you?
Rushing the Process: This isn't fast food, love; it's gourmet edging! Enjoy the sensations. The pleasure plateau is a delicious place to be. Why rush to the main event when the appetizers are so delectable?
Remember, sweet peas, practice makes perfect. And if you 'accidentally' peak a bit too soon? Well, there's always round two – or three or four.
On the Edge of Adventure: Your Turn to Dive Deep!
Alright, you scintillating tease, the ball's in your court (or should I say your bedroom?). We've strutted down Pleasure Lane, and now it's your time to shimmer and shine on the precipice of passion. Remember, darling: it's not just about the destination but the steamy, winding road that gets you there.
So, as you stand on the brink, poised for pleasure, remember: the edge is just the beginning. Dive in, keep it naughty, and most importantly, have fun. Now go get 'em, tiger, and make your Lola proud!
FAQs
Well, buttercup, just like our choice in undies, one size most certainly does not fit all. Edging is a sensuous journey, and everyone's roadmap is a tad different. It's all about finding what makes your toes curl and heart race. And the exploration? Oh, it's half the fun!
Darling, while edging does have its saucy moments in the BDSM world, it's like a good chameleon, fitting into various erotic landscapes. Think of it as the little black dress of the pleasure world – versatile and suitable for any occasion!
Ah, diving into the nitty-gritty, eh? Here's the tea: there's no stopwatch to pleasure. Some like a short, sweet tease, while others prefer a drawn-out, dramatic play. Listen to your body, and when the drumroll feels right, let the cymbals crash!