❯
Sex Ed
Sep/21/2023
Last Update: September 22, 2023
187
8 min read
Lay Low, My Lewd Ally. The Most Popular Sex Toy Hiding Places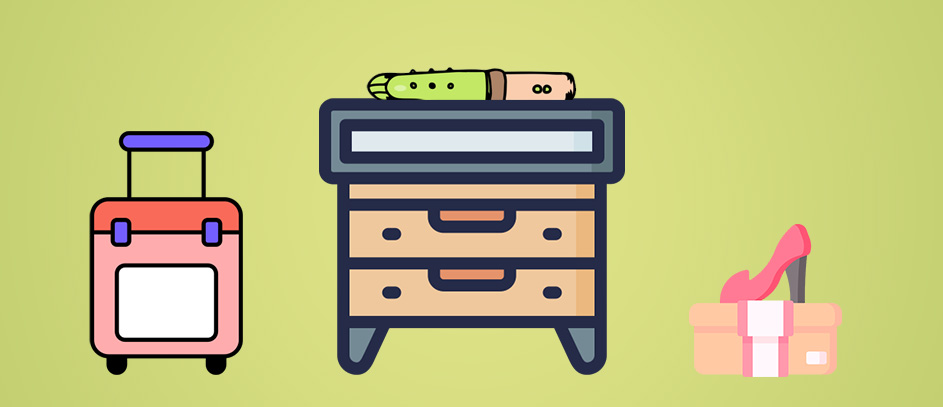 You're back to your Lola, darlings! Oh, I knew you'd come back; I just knew it! You can't hide from me forever, you sexy little rascals, you. Wink.
And with that smooth transition, let's talk about hiding your sex toys. I remember being young and exploring my body, and sometimes I needed a little help. So, when I was finally able to, I bought my first vibrator. But I was still living with my folks, and if they found out about it, woe is me! With that in mind, I had to get creative and start hiding it. In no time flat, I became an expert hider. Three toys – not one of them found, to this day!
Therefore, I'm here to help you lovely ladies and darling dudes stash your own staffs and squeakers, your plugs and peggers. I'm here to recommend the most popular sex toy hiding places, all for your own piece of mind, lewd as it is. Wink.
💡 PRO TIP: Hey there, darling! Just a quick aside before we move on. If you want to be discreet and have as little trouble with hiding your toys as possible, try to own only two or three that you really need. Butt plugs, vibrators, prostate massagers, you name it!
Single Toy Spots
We've all gotta start somewhere, love. Owning just one sex toy is fairly common, plus it makes it easier to hide. Now, depending on what kind of gadget you have to tickle your fancy (or your privates), you can try one of these specific hiding spots.
It Does More Than Brushing
Let's say you have to hide a bullet vibrator or a similar thin, tiny toy. Well, why not try a hairbrush?
OK, I have to be a bit specific here, darling. What you'll need is a hollow, plastic round brush, like the ones used for curling.
Why a brush? Firstly, nobody will suspect that you're hiding a sex toy there. Secondly, a brush is an item you'll use daily. Therefore, it will always be close at hand – close enough to take the toy out and have some fun. Wink.
Lock, Stock, and Two Stuffed Socks
A sock drawer rarely holds more than just socks. Some of my lovelies might hide away their money in a folded pair of soft linens. Others might use them for jewels or other small valuable items. Therefore, if you have a toy that's small enough, just wrap it in some folded socks. Just like the brush, it's hiding in plain sight!
Feminine Needs Indeed
Let me address just the ladies for a moment here. We have our needs, you and I. We tend to have a tampon box (or a maxi pad box) open somewhere. And though it might be open, as it often is, it's still the perfect sex toy hiding spot.
Why yes, I will tell you why that's the case; you don't even have to ask. Wink. See, even if we leave the box out in the open, in our bathroom or bedroom, even if a guest or a family member runs into it, they won't touch it. After all, who goes rummaging through someone's tampon box? They know what's normally inside, and they have no need to grab anything from it.
Hey, That's Private!
An old movie cliche involves hiding a gun or a flask of whiskey in a hollow book. Nowadays, you can buy gag gifts that look like hollow books but specifically hold flasks. I know that Richard has one in his home. He keeps it next to his little boxes of all the products he's purchased.
Anyway, you can make your own DIY hollow book perfect for stashing away that strapon or that set of anal hooks. Make sure to mark it as something incredibly boring to read, like "History of Taxation" or "Snail Keeping Almanac" or something.
Extra Stuffing
I have about seven stuffed bears in my bedroom. I love them all to death, especially Sparkles! Scarlett got it for me a couple of years ago when I wasn't feeling my best, and it's the bestest bear ever!
It's also the only bear that doesn't have a bullet vibrator or anal beads in its stuffing.
When you have just one toy, it won't take up a lot of room. So, one way you can keep it out of sight is to slide it into a stuffed animal. That way, it's not there for anyone to see, plus the stuffing keeps it cushioned inside. Even if someone grabs your stuffed toy and squeezes, they will feel the stuffing around the toy and assume there's nothing else in there. It's a bear-able solution. Wink.
Quenching the Thirst
Here's a bit of a curveball for you, my sweet sex birdies. Why not hide your toy in a gym water bottle?
I mean, think about it! Lots of bottles are not transparent, so nobody can see what's inside. Moreover, they have a wide finish. The toy will just slide inside, no problem. But most importantly, it's again hiding the toy in plain sight. Who assumes that a water bottle will hide a vibrator or a cock ring?!
Getting Crowded!
"They say that two's great, but three's a crowd. To be honest, I always saw it differently. With sex toys, two's great, three's a decent start, and four or more is dedication."
OK, my advanced darlings, Lola has reached you. I know that you're like Richard, Scarlett, Vlad, and myself. You probably own more than a few gadgets. So, here are a few hiding spots you can consider.
The Old Faithful
Let's be honest – nobody keeps shoes in shoeboxes nowadays. In fact, not even we at PleasureMeNow do it. Vlad keeps his Nendoroids there, Scarlett has two boxes for jewelry alone, and Richard… well, he uses the shoebox to keep smaller boxes in.
There's really not much to tell here, my sweetlings. Take a shoebox, put some toys in it, stash it in a closet or under the bed, refuse to elaborate, leave. It's that simple! Oh, and if you can, use more than one box. You'll need it. Wink.
Drawn to Desire
Dresser drawers, bed drawers, and even a few kitchen drawers – all excellent spots to hide away plugs, dildos, and a ball gag or two. Now, there is a danger here, sweety. If you're not careful in choosing the right drawer, someone may open it up and stumble across your magic stick. To spare yourself some blushing and stutters, just pick a drawer that you know people won't have access to, like the ones under your bed or at your bedside table.
Packing Heat
Here's an innovative solution for you. Stash away your toys in a suitcase that you're not using and keep it on top of other suitcases.
Broadly speaking, suitcases have the most space when it comes to hiding places. Your little silicone brigade will feel right at home behind a zipper and a lock mechanism.
Just like tampon boxes, nobody rummages through your suitcase when they're visiting or even staying for a few days. And if you need to travel? Simply take the toys out and store them somewhere temporarily. Or bring a few with you, just in case. Wink.
"Oh, I Keep It for Insurance…"
The shoeboxes are neat and all. But consider the following:
Smartphone boxes
Headset boxes
Hairdryer boxes
Juicer boxes
Coffee machine boxes…
You get my drift, right, darling? If you have any product package around, keep a few toys in it and place it somewhere hidden from view. If anyone asks why you're keeping the package, you can use the old "warranty requires returns in full packages or no refunds" excuse. It isn't always accurate, but it sounds plausible enough to trick people.
Seasonal Package
Here's an idea one of my friends suggested. She has two main sections of her closet. The bottom section is the one where her current clothes go. All the items that are not fit for the season go into the top section.
So, what does this have to do with sex toys? Well, she stashes her small collection between clothing items in the top section. They're close enough to reach but still hidden from everyday view. Plus, with her clothing being so soft and smooth, the toys are in the cleanest environment ever!
When You've Got to Go…
Last but not least, the perfect spot to hide multiple toys is the bathroom. Most people I know just stuff a small box or bag with toys and then place it in a cupboard behind other items. That's good enough, but the only issue is that they aren't really close at hand. Of course, it's also where all the cleaning products often are. So you can easily rinse your little friend off once you're done. Wink.
✍️ Lola Lovegood recommends: No matter where you keep your toys, my dears, always clean them both before and after use, especially if you're keeping them in your bathroom. Mold, mildew, insects, and various smells can ruin your toy, and that's something you'll want to avoid.
Hide-and-Go-Deep: Sex Toy Hiding Spots Summed Up
And there you have it, cuties! You can always hide away a sex toy, no matter how big or firm it is. All you need to do is make sure that it's in a dry, cool place and that it's close enough for you to reconnect with it whenever you feel the boom-boom blues.
FAQs
No. Some of the toys you have might be made out of plastic or silicone. Depending on the material, you will need a different type of hiding spot.
Try to retrace your steps. Where do you normally store them? When was the last time you played with yourself? It's possible you may have just put them somewhere in the middle of the act and forgot about it.
When in doubt, just stash it under your mattress. The space underneath is huge, plus the mattress is soft on both ends, so you won't damage the toy.