❯
Sex Ed
May/05/2023
397
8 min read
The Sneaky Peep Show: Is Your Sex Toy Spying On You?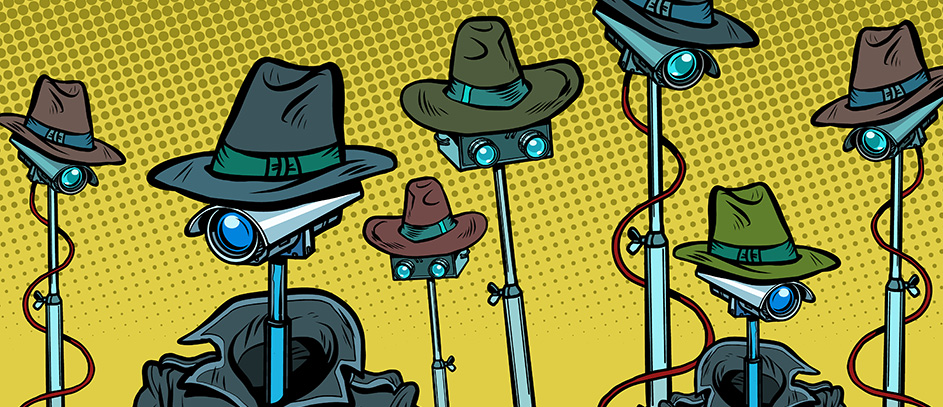 Well, hello there, you orgasmic aficionados! It's your favorite pleasure enthusiast, Lola Lovegood, and I've got a scandalously spicy question for you: is your sex toy spying on you? Now, as a devoted connoisseur of all things naughty, I can vouch for the undeniable pleasure a good sex toy brings, whether it's a solo romp or a steamy group affair. But can a sex toy spy on you?
Imagine the shock, the betrayal, the… intrigue?
As a self-proclaimed Queen of the Sluts, I've had my fair share of lascivious liaisons with an array of tantalizing toys. However, recently, a little birdie whispered in my ear that maybe, just maybe, our beloved buzzing buddies might be hiding a saucy secret. Yes, my dearest deviants, I'm talking about the pulse-quickening fear of being ogled by our very own sex toys!
So, I set out on a tantalizing trek to unveil the naked truth, diving headfirst into the oh-so-decadent world of sex toys, salacious secrets, and digital peeping Toms. Strap in because we're about to discover if your bedroom bliss is more Fifty Shades of Surveillance than a sultry sanctuary!
The Not-So-Secret World of Smart Sex Toys
In our sultry search to answer the question, Is your sex toy spying on you?, we need to take a deep, hard plunge into the deliciously wicked world of smart sex toys. Gone are the days of simple battery-operated buzzing buddies; we've entered a new era of orgasmic innovation!
"Can you imagine a sneaky stranger taking control of your most intimate plaything without your permission?"
The Rise of Teledildonics: Connecting Lovers From a Distance
First, let's explore the tantalizing realm of teledildonics! These lusty, long-distance love machines are bridging the gap between separated sweethearts, ensuring that no one is left high and dry, no matter how far apart.
Could your sex toys be spying on you while you're sinfully serenading your faraway flame? Or even worse, an obsessive ex or creepy stalker hacking your vibe for their twisted pleasure?
As "teledildonics" – those thrilling, internet-connected sex toys – grow in popularity, so does the risk of someone hijacking our pleasure devices and the steamy data they collect. Darling, it's only a matter of time before someone with naughty intentions pokes their nose into our bedside secrets!
Vibrators With a Mind of Their Own: the App-Controlled Revolution
These brainy beauties are obediently responding to your every swipe and tap, turning your naughty nights into wickedly interactive escapades. But with all this technologically-tinged titillation, is your sex toy spying on you?
The main concern isn't someone hacking the sex toy itself – usually, they'd have to be within a 10-foot reach. No, the real issue is that app on your phone, where security breaches are more likely, and users have more control.
The Dark Side of Pleasure: the Risks of Smart Sex Toys
As we delve deeper into the question Is your sex toy spying on you?, we must bravely venture into the twisted world of sex toys turned stalkers. And oh, my fellow kinksters, the truth is naughtier than your wildest fantasies!
Data, Data Everywhere: The Information Your Sex Toy May Collect
Would you believe your trusty sex toy might be hoarding a treasure trove of tantalizing tidbits about your most intimate indulgences? From how often you get down and dirty to the steamy settings that send you over the edge, these buzzing buddies could know more about your desires than even your most trusted confidant! Now, imagine if the data collected by our high-tech passion gadgets exposed our sexual preferences or bedroom partners!
Breaches, Hacks, and Leaks: Naughty Bits in the Wrong Hands
As with any gadget that tickles our digital fancy, your sex toy could fall prey to the sinister side of cyberspace. In 2017, a company called Standard Innovations had to settle a nearly $4 million lawsuit when users claimed their We-Vibe 4 Plus couples vibrator kept tabs on their playtime. Naughty! They agreed to stop recording users' personal info and destroy the data already collected.
So, can a sex toy spy on you? Well, it appears they can land in the naughtiest of hands.
Tattle-Tail Plugs: The Story of One Infamous Sex Toy Data Leak
The story of one scandalous sex toy data leak had everyone buzzing in 2017 when a well-loved remote-controlled butt plug was caught with its pants down! Security researchers found that anyone within Bluetooth range could potentially hijack the device or sneak a peek at its steamy secrets. Your sex toy might just be a gossiping little minx!
Protecting Your Privacy in the Bedroom (and Beyond)
Don't fret, my lascivious lovelies! Even if your sex toy is spying on you, there are sultry solutions to protect your privacy in the boudoir (and everywhere else your desires lead you). We deserve to unleash our wildest fantasies without any peeping Toms intruding on our pleasure!
To Connect or Not to Connect: Weighing the Risks and Benefits
Can a sex toy spy on you? Yes. So, when it comes to our wickedly smart sex toys, it's crucial to weigh the risks and rewards. Sure, the allure of app-controlled ecstasy is hard to resist, but is it worth sacrificing your privacy?
If you're worried about a device's security, check the manufacturer's website. Look for specifics like "We encrypt everything" and see if they require account creation.
Encrypt Your Moans: Tips for Securing Your Smart Sex Toy
If you're ready to tango with the tech-savvy temptresses of the sex toy world, take a few steamy steps to safeguard your passion playground. Use passwords that would make a dominatrix blush, keep your devices updated, and say "no" to features that don't tickle your fancy. Remember, it's always better to play it safe when it comes to your sex toy potentially spying on you!
💡 PRO TIP: If you're craving the thrill of smart sex toys without leaving a digital trail, here's a saucy little trick for you: keep it simple! Instead of connecting your toy to an app or Wi-Fi network, take advantage of its built-in settings and functions. This way, you can still experience earth-shattering orgasms without worrying about your device collecting data on your naughty escapades.
Safe and Sexy: Privacy-Conscious Sex Toy Brands to Trust
For those who crave privacy with their passion, there are sex toy brands that prioritize your discretion. So, put on your detective hat and seek out companies that understand the importance of keeping your secrets safe. With these trustworthy toys, you can bask in the ecstasy of your naughty exploits without thinking, Is your sex toy spying on you?
✍️ Lola Lovegood recommends: If you are looking for a steamy playdate without worrying about peeping Toms or data breaches, let me share my personal favorites with you! For a brand that values your privacy almost as much as your orgasms, check out Lelo. Their luxury toys are designed with security in mind, and they will leave you panting for more. Another gem is the Satisfyer, which is as focused on your privacy as it is on satisfying your every whim.
Communication Is Key, Even With Your Toys
As we've explored the tantalizing question, "Could your sex toys be spying on you?" it's important to remember that communication is key, even with your toys! Whether you're indulging in some solo self-love or diving into the deep end with a partner (or more), here's how to keep the sexy chatter alive.
Open Dialogue With Partners About Smart Sex Toy Usage
A steamy, open dialogue with your partner about smart sex toy usage is a must. Chat about the possible risks, rewards, and preferences when inviting these frisky gadgets into your playtime. After all, we want to ensure that everyone's pleasure boat is sailing in the same direction!
The Importance of Setting Boundaries and Respecting Privacy
Can a sex toy spy on you? It might, so make sure everyone's cool with the level of risk. Also, if you part ways with a partner you shared a device with, change all associated emails and passwords. Safety first, then let the kinky fun begin! (wink)
The Future of Sex Toys: Staying Safe in an Increasingly Connected World
The future of sex toys is a thrilling, ever-changing landscape, with a world of sensual connections at our beck and call. As we welcome new erotic innovations, let's never lose sight of the significance of staying safe and guarding our privacy. Could your sex toys be spying on you? Remain informed and ready to rumble as you continue your adventure through the pleasure revolution.
Avoiding the Big O's Big Brother: Playing Safe in a World of Pleasurable Intrigue
As we reach the oh-so-satisfying end of our sizzling escapade into the question, Is your sex toy spying on you?, let's not forget to dive headfirst into our kinks without fear! There's no reason to shy away from the throes of passion as long as we're in the know and vigilant.
The power of being informed and proactive is like the perfect aphrodisiac for safeguarding our most intimate rendezvous. By staying on top (or bottom, or sideways) of the latest tech and privacy matters, we can continue to revel in our deepest desires with unwavering confidence. Can a sex toy spy on you? Knowledge is the ultimate turn-on, my dearest deviants!
All in all, keep playing but play smart and safe. Venture into the awe-inspiring realm of sex toys and naughty gadgets, but always remember to take the essential steps to shield your privacy. With a touch of care and caution, you can bask in all the wicked fun while keeping your secrets under lock and key (or handcuffs).
FAQs
Oh, honey! While it sounds like a kinky plot twist in an erotic thriller, it is a possibility. Make sure to keep your devices updated and use strong passwords. A little precaution never hurt anyone, except maybe in a consensual BDSM scenario! (wink)
First, take a deep breath (or a swig of something strong) and then disconnect the toy from any devices it's linked to. Contact the manufacturer and report the issue. Remember, even in the heat of the moment, your privacy is a priority!
Fear not, you adventurous lovebirds! Keep the fire burning by staying informed about potential risks and taking necessary precautions like using strong passwords and updating your devices. That way, you can focus on the pleasure instead of worrying about prying eyes!
As much as we'd love to say yes, the truth is nothing is 100% secure in this increasingly connected world. But don't let that put a damper on your fun! Stick to reputable brands and take precautions to keep your playtime as private as possible. After all, the show must go on, but only for the right audience!