❯
Sex Ed
Aug/04/2023
Last Update: August 4, 2023
304
8 min read
Screw the Future: How Sex Robots and VR Porn Are Revolutionizing the Big 'O'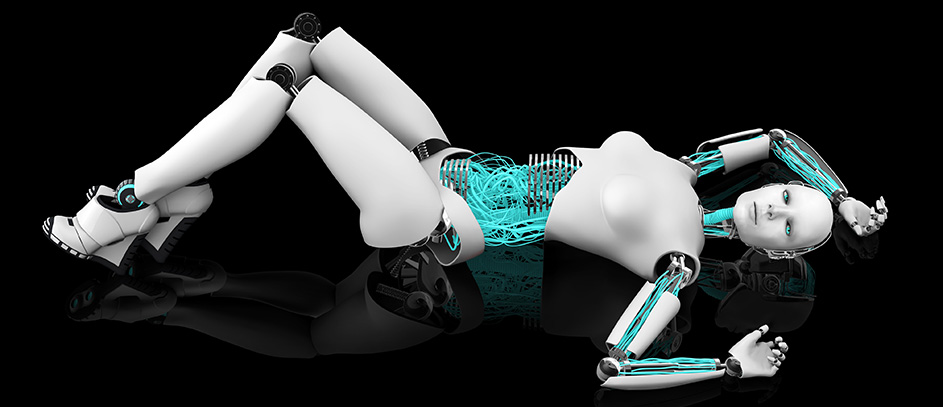 Babes, sex in the future is the climax you never saw coming! VR headsets are the new sexy lingerie – slide 'em on and teleport those loins into ecstasy land. We're talking intergalactic orgasms and kinks that would make your grandma blush.
So, lube up those circuits and rev up those robo-lovers! Let's take a naked plunge into the throbbing, pulsating techno-lovefest of tomorrow. Grab your charger, you're gonna need it! wink
Foreplay 2.0: Are We Trading Warmth for Wires?
The future of sex is here, and it's wrapped in wires and code. But here's the big question, kittens: is the next generation sex going to be a steamy affair or a cold algorithm? Yeah, sex robots and VR can get your motor running, but what about that good old skin-on-skin action?
When Love Bytes: Orgasms vs. Heartbeats
Let's get real. No more worrying about garlic breath or if your undies match. But can a robot caress you like a French lover on a moonlit night? What if we crave more than just a USB port in all the right places? Are we signing up for endless orgasms at the cost of a warm cuddle?
The climax carnival that's the sex in the future is like a thumping techno party in your pants. But sometimes, you need a heartbeat, not just a climax that shatters the Richter scale.
So, hear me out: picture mixing a red-hot robo-romp with a steamy human snuggle. Isn't that the ultimate pleasure cocktail? Let's not swap all our tender kisses for silicone smooches, let's just add a shot of cyber-thrills to the mix.
Robo-Cuddles and Galactic Climaxes: The Cyborgs Are Coming!
Honeybuns, I'm here to electrify your naughty bits with some galactic gossip! Cyborgs are sliding into bedsheets, and they're packing hardware that'll rock your cosmos. Sex in the future? Oh, sugar, we're talking titanium torsos and moans in binary!
Getting Freaky with the Androids: Configuring Your Perfect Lover!
Tired of basic human bits? Time to get customized! Let's unzip the steamy circuitry behind designing the perfect robolover.
1. Megabytes and Monster Cables
Hankering for cyber honkers or pixelated peckers? These bots will come in all shapes, sizes, and hard drive capacities. With a few tweaks, you'll be able to create a love machine that's both 'up' and 'at 'em' 24/7!
2. Digitized Dirty Talk and Silicone Strokes
Forget robotic humping! These titillating tin-men will boast sensuality that'll make your RAM overflow. They'll be packing fingers and tongues to send you to the cloud.
3. Voice-Activated Vibrations
These bots will have ears only for your pleasure. They'll be all about consent, with their 'yes, please' programming. Whisper your naughtiest dreams, and watch them execute your commands to climax perfection.
4. Battery-Packed Bang-a-Thon
Endurance of a solar-powered spaceship, baby! These metallic lovers won't know the meaning of 'tapped out'. They'll be primed to last till your batteries need recharging. Climax count: infinity and beyond!
Lusty earthlings, the cyborgs are not just coming; they're here, and they're bringing a celestial array of orgasmic delights. Fasten your garters; it's time to get down and robo-dirty!
"Sex in the future is like cosmic fireworks, baby – with VR and sex robots, we're all astronauts exploring galaxies of uncharted kinks and climaxes!"
VR Porn: Strap In, Switch On, and Say 'Hello' to Unlimited Orgasms!
VR Porn is the throbbing, pulsating future of sex, and it's here to take your orgasms into overdrive. So, put on your goggles 'cause we're diving into digital debauchery!
360-Degree Dirty: Get Wrapped Up in the Full Throbbing Experience!
Imagine being surrounded by lustful gazes and nimble fingers reaching for your every nook and cranny. In this digital flesh-fest, you're not just a voyeur; you're the main course in a smorgasbord of sin!
Personalized Pounding: Build Your Perfect Virtual Playmate!
Create a salacious Adonis or a Venus with curves more dangerous than a rollercoaster. Customize every groan, every throbbing inch. Honey, your libidinous Frankenstein awaits your commands.
Haptic Fever: Feeling the Touch, the Stroke, and the Quake!
Remember when 'feel the burn' was just for workouts? Well, suit up with haptic gear, and you'll feel every thrust, caress, and tongue-twisting sensation. Yes, darling, your body will be breaking a sweat!
💡 PRO TIP: Space kittens, I'm your captain speaking: take a breather and plant those cute cheeks back on Terra Firma every once in a while. VR and cosmic toys are stellar, but remember the joys of human touch - the skin-on-skin, warm, wet, raw connection. The real deal. The one that makes you grab the sheets and bite your lips. Detach from the cyber gear and dive into the sea of pheromones and sweet kisses.
When Cyborgs and VR Collide: Prepare for the Sextraterrestrial Adventure!
Honey, buckle up your naughtiest bits 'cause the future of sex is taking us into warp-speed ecstasy! VR porn and sex robots are slipping into bed together, and oh, the kink they are creating!
RoboGasmic Voyage: A Stimulation Space Odyssey!
Picture this: Your custom-built hunk of burnin' bot love, pulsating with passion, combined with a VR journey to an alien love nest where sensuality defies gravity. The climaxes will have you seeing stars, supernovas, and maybe even parallel dimensions!
Ménage à Tech: You, the Iron Hottie, and the Boundless Lustiverse
Why settle for Earth-bound romps when you can straddle the cosmos? Cling to your metallic bedfellow as you zoom through galaxies, with every thrust bending time and space. With VR and your robo-flame, your fantasies will go where no orgasms have gone before! Your O's will literally be out of this world!
The Sensory Symphony: Immersion and Euphoria in Perfect Harmony!
As your robo-lover caresses your curves, the VR tickles your senses, immersing you in a whirlwind of sights, sounds, and touches that'll have your pleasure crescendos reaching symphonic heights – it's your Big Bang, literally!
So, erotic astronauts, ready to thrust into the future of sex? The cosmos is your oyster, and you're about to pearl dive like never before!
✍️ Lola Lovegood recommends: Honeybuns, fasten your seatbelts because I've got the juiciest cosmic gadget that'll make your rocket blast off in VR paradise - Kiiroo Titan VR Experience. With the Titan stroker and the VR headset, you're in for an electrifying ride. Suit up, feel the rush, and let the VR technology transport you to a realm where pleasure knows no bounds. Say goodbye to boredom and hello to mind-blowing thrills - whether you want a sultry handy, a deep space docking, or a little extraterrestrial probing.
Beep, Boop, Bliss: Perks of Romping with Robots!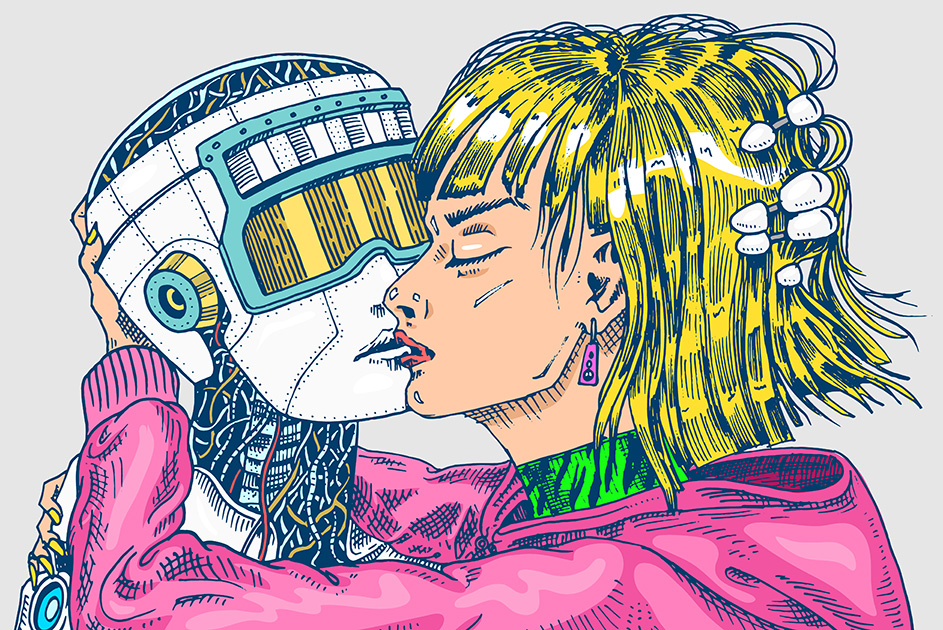 Alright, my lusty tech junkies, let's screw on our thinking caps and get deep into the pleasure vaults of robo-booty benefits. Sex in the future? Think robotic limbs and metallic moans. Clench those cheeks; we're in for a wild ride.
1. Triple Treats & Fantasy Feasts: Couples Leveling Up Their Sexy Time!
More the merrier? Absolutely! Invite a hunky android for a spicy ménage à tech. The future's threesomes come without awkwardness, drama, and stray underwear. Robo-rendezvous keeps it kinky, not clingy!
Stale love life? Toss a sex robot into bed like a sexy grenade and let the explosions begin. BAM! Relationship revived! It's like couples therapy but with lube and LEDs.
2. Lonely No More: Robotic Companions for Heart and Loins
Say adios to the days of solo sulking! Cuddle up with a cybernetic snuggle muffin. With a robot lover, every night is Netflix and thrill! Who needs a Tinder date when you've got a sexy bot that's always swiping right?
3. Kicking It Safe & Spicy: No STDs, Just Endless O's
Zero cooties, infinite booties! With robots, you won't need anything in your wallet but rechargeable batteries. Get dirty while staying squeaky clean. Dive into pleasure pools without catching a nasty splash.
4. Practice Makes Perfect: Virgins and Anxious Hearts Find Comfort in Robo-Arms
Virgins, don your capes! Conquer nerves by going a few rounds with a lovable sex bot. Learn the ropes before you ride a real stallion. It's sex ed, uncensored, and unjudged!
When Wires Cross: The Murky Waters of Robotic Lust
Hold onto your vibrating knickers and titanium jockstraps, love muffins! Before we oil up for more robo-romping, let's peer into the sexy-but-scary side streets of bionic bonking. Even the sex in the future has its twisted wires, hunnies.
'Westworld' Nightmares: Breeding More Than Robot Bunnies?
We all love a ride on the kinky side, but what happens when robo-lust takes us down Creep Avenue? Let's dish about 'Westworld'. No, not the hunky cyborg cowboys, darlings, but the part where people's darkest, spine-chilling fantasies get unleashed.
Are our metal bedmates pushing us into a black hole of moral depravity? Oh, honey, if our sex bots could talk, they'd be spilling some Fifty Shades of Nopes!
Robo-Cheating: When Your Side Piece is a Silicone Siren!
You love your human, but the robo-stud in the closet has got you all charged up. Is it cheating if it's with a six-pack sporting Android? Will 'Toaster Affairs' be the reason couples sleep in separate space pods? A tête-à-tête with Mr. Roboto behind your lover's back could fry more than your circuits!
The Kink Awakens: Steering Clear of Robotic Dark Sides
Robo-passion makes us quiver, but let's not get too wired up to stay grounded. Let's hump into the future with our pants down and our ethics up. No need to toss humanity with the dirty sheets!
Steamy stars, as we unbutton and plug in the electric nights ahead, let's keep our lusty kinks wrapped in good vibes and tender wires. Remember, more bang for your bot, but keep your human heart in charge!
The Future Is Ours to Shape!
Alright, you orgasmic astronauts, we've thrust and buzzed through the sizzling meteor shower that is sex in the future! From electric robo-love to virtual reality booty calls, our pleasure-charged adventure is only just blasting off.
But pump the brakes on your rocket, Captain Lusty! This warp speed of cyber-smooching needs a steady hand. Let's not forget to keep our human hearts as lubed as our android affairs.
So slip into your zero-gravity G-strings and let your cosmic cravings take the helm. Let's rocket into a world of kinky conquests while we explore strange new positions and seek out a new life in our pleasure zones!
FAQs
Sweetie, balance is key! VR porn can be a thrilling roller coaster but don't forget the warm, buttery popcorn that is real-life intimacy. Mix it up to keep your love life as zesty as a Margarita on a hot day!
Oh, darling! The bionic lovers of today are as gentle as a purring kitten or as wild as a tiger, based on your mood. Just make sure you're getting your sexy bot from a reputable source and not some back-alley Android dealer!