❯
Sex Ed
Aug/15/2023
Last Update: August 15, 2023
738
8 min read
Hang Tight, Lovebirds: Sex Swing Positions for Gravity-Defying Climaxes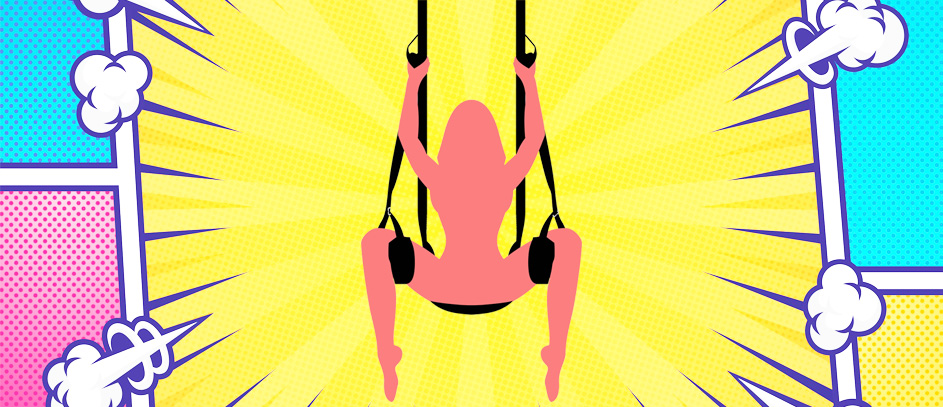 Hey, my lusty love-aviators! Let's talk about flying without leaving the bedroom – and no, I'm not talking about dreaming. Say hello to my new obsession – sex swings! I've been spreading my wings (and legs) in exhilarating sex swing positions that defy gravity and decency!
Hold onto your butt plugs, 'cause this ain't your mama's rocking chair. I'm soaring, scoring, and occasionally snoring (it's exhausting work!) in the orgasmic jet stream. Fasten your seat belts; we're about to get some serious air… between the sheets!
Sex Swings 101: The Skinny on Getting High
Sex swings are like playgrounds for adults who never outgrew the fun. These contraptions support you in a variety of sex swing positions to take your pleasure to the next level. Or should I say, altitude?
There are mainly three types of sex swings. First, the door-mounted type, which is fantastic for those impromptu "I need it now" sessions. Hang it, bang it, simple!
Second, the classic sling-style swing that's perfect for slow, sensuous nights where you want to explore every nook and cranny. And third, the self-standing sex swing – for those of you who like it hardcore with no strings attached (to the ceiling, that is).
Each type offers different perks and, boy oh boy, the possibilities are endless. Whether you want a wild night with your partner swinging like a lust-crazed pendulum or just fancy trying some acrobatic sex swing positions by your fabulous self, there's a swing with your name on it.
"Darlings, sex swings are like roller coasters for your genitals – once you buckle up, you're in for the ride of your life, with twists, turns, and climaxes that'll make you scream louder than a banshee in heat!"
Not Your Grandma's Rocking Chair: Setting Up a Sex Swing Without the Neighbors Noticing
Listen up, my lusty acrobats! The setup process is as essential as the kinky sex swing positions you're about to try. Trust me, you don't want to come crashing down mid-thrust! So, let's get down to the nitty-gritty.
First, scout your love lair like a horny Indiana Jones. You need space, baby – for all the somersaults and cartwheels you'll be doing in those outrageous sex swing positions. If you're hooking up to the ceiling, find a beam as sturdy as a Chippendale's abs, and please, for the love of all things naughty, no drywall heroics!
Now, how high do you want to go? Your swing should be as flexible as your morals on tequila night. Do you fancy being swept off your feet or prefer having them firmly on the ground while you bounce? The choice is yours.
Now, for door swingers, make sure that door's as solid as a bouncer at a strip club. Don't need no Kool-Aid man incidents! Thin walls? Slap on some Barry White, and let him take the blame for all the groaning.
✍️ Lola Lovegood recommends: When choosing your aerial love chariot, always check what it's made of. I'd wrap my divine behind in silk if I could, but for your sex swing, nylon and leather are the titans of trust. They won't let you down when you're reaching for the stars. Remember: a well-built swing is like a good lover - sturdy, dependable, and can handle all your kinks.
Accessories, Darling!
Get yourself some lovely cushions, stirrups, or even a blindfold. All set to heighten your senses and make those sex swing positions extra spicy. And keep a bottle of lube within arm's reach – nobody likes a dry flight!
Lastly, before you go full Tarzan and Jane, give that swing a test ride (clothes on, folks!). Make sure it's secure. After all, the only bang we want is the sexy kind.
And there you have it – your runway is clear for a take-off into the orgasmic skies! May your screams reach the heavens and your neighbors remain clueless. Godspeed, you filthy animals!
15 Mind-Blowing Positions for Sex Swing
Hold onto your butts, my libidinous skydivers, as we're about to get airborne with positions for sex swing that'll make your toes curl, and your neighbors move!
1. The Floating Lotus: A Spiritual Awakening (of Your Private Parts)
Sit cross-legged and entwine with your partner as the swing rocks your holiest of holies into tantric bliss. The swing's motion rocks you into a rhythm that'll have your chakras aligning and your loins singing hymns of ecstasy. Namaste, right there! You'll be chanting ohm-my-gods instead of ohms.
2. The Pendulum Pile-Driver: Because Who Doesn't Love a Bit of Whiplash with Their Orgasm?
This position has you lying back in the swing with your legs sky-high while your partner plunges like they're digging for gold. Swing like a wrecking ball into Ecstasyville – Population: you. Oh, there go the bed sheets… and your sanity.
3. The Flying Squirrel: Go Nuts in Mid-Air
The Flying Squirrel lets you store more than nuts. Straddle your partner mid-air, and tail-flick your way to Nuttopia. You'll be hoarding orgasms like winter's coming.
4. Reclining Missionary: A Classic Dish with a Swingin' Twist
Lay back in the swing, gripping the straps like you're holding onto your sanity. Meanwhile, have your partner slide in, penetrating like a boss. They can also clutch the straps for some additional va-va-voom. The swing might wobble, but it won't be the only thing shakin'!
5. Doggy Style: Howl at the Moon, You Naughty Puppies!
Sprawl face down in the swing like a sexy pancake. One strap around the chest, the other around the belly. Add some leg stirrups, and you're set. It's time for your partner to enter like a wolf in heat.
6. Queening: Bow Down to the Royal Yumminess
Here, one royal partner sits regally in the swing while the loyal subject underneath either kneels or lies down for an oral Shakespearean soliloquy. Recite "To lick, or not to lick?". Spoiler: always lick.
7. Booty Play: Strap in for an Ass-tronomical Ride!
Slip those legs through the middle strap and hold onto the top straps like you're riding a rocket to the moon. Thrusters, engage from behind!
8. Swinging 69: A Tale of Two Tongues
One partner lays in the swing, straps cradling their back, booty, and heels. The second partner bends over like they're searching for treasure. And oh boy, they find it! Both go down to Pleasure Town.
9. Open Up: Welcome to the Oral Oasis
One partner straps in their limbs and reclines, while the other falls to their knees, ready for an all-you-can-eat pleasure buffet. Bon Appétit!
10. The Bounce: Hover Like a Sex Helicopter
Time to hover like you're in a steamy chopper rescue scene. Your legs are in stirrups, and your partner beneath you, his stick up and penetrating. You control the altitude while they enjoy the ride. And what a ride it will be!
11. Teabagging: Steep Those Balls in the Steamy Cup of Desire!
Your partner lays on their back like a thirsty carpet. Your knees or thighs are supported by the swing's leg straps. Time to steep your balls into your partner's mouth, swirling them like an exotic tea blend. Sip away, lovers!
12. Suspended Doggy: Like Floating on Cloud Nine!
Darlings, this is ecstasy suspended in mid-air. Lie with your tummy over one strap, chest over the other. Let's have that swing as comfy as a hammock in the Bahamas. Your partner grabs your hips or thighs and pulls you in. Use your free hand to treat yourself, or just float there like a blissful starfish.
13. The Tug of War: Hold Tight, It's Gonna Be a Bumpy Ride!
Sit on that hanging sex chair, legs apart like a randy pirate. Have your lady straddle your thighs and mount your mast while clutching those swing straps like a lifeline through the stormy seas of pleasure.
14. The Chair: Take a Seat in the Throne Room of Ecstasy!
Sit on the floor, legs stretched out and hands back like you're lounging in the Caribbean sun. Adjust the sex swing straps to have your partner's booty hovering over your crotch. They can hold onto the straps, feet in stirrups, and you can delve into the untamed waves of ecstasy. Add some spin and bounce, my wild dolphins!
15. The Skydiving Sensation: Dive Into Pleasure at 15,000 Feet!
Imagine your lady, face down, suspended in mid-air as if she's freefalling through the clouds, with the sex swing cradling her like a parachute. Have her spread her arms and legs, embracing the wind of ecstasy. Now you, my dashing pilot, stand between her open thighs, take control of her hips, and prepare for a sensationally smooth landing.
💡 PRO TIP: Choose a salacious playlist, and get that swing in sync with the beat. As you're lost in the ethereal rhythm of sex swing positions, let the music be your guiding force. It's a multi-sensory overload that'll leave you gasping and begging for an encore.
No Broken Bones, Please: How to Swing Safely and Cuddle Like a Pro After
Honeybuns, so you want to try some fabulous positions for sex swings and have a romp of your life. But darlings, safety is sexier than a fireman in a thong! Check your swing's weight limit and, for heaven's sake, ensure those straps and bolts are secure like Fort Knox. Don't need any crash landings on Planet Orgasm!
Also, flexibility has limits – don't channel Cirque du Soleil if your body screams, "Nah, sis". And aftercare, sweetlings? Nothing's cozier than cuddling like love-drunk pandas after a swinging sex-fest.
Wrap each other in blankets, share sweet nothings, and bask in post-orgasmic bliss. A little tenderness goes a long way.
Get Swinging, My Kinky Friends: The Sky's the Limit
Avast, my orgasmic astronauts! We've rocketed through the galaxies of sex swing positions, and now it's time to take off the training wheels. So straddle that swing and make sweet seismic waves in the jungle of desire. Keep one eye on safety and the other on climaxing constellations.
Spread those love wings and fly high! To infinity and beyond, you kinky space rangers!
FAQs
Oh honey, when dipping your toes into the luscious ocean of sex swing positions, I recommend the Reclining Missionary. It's like the classic missionary, but in the air. Soaring and scoring, baby!
Gorgeous, a well-made sex swing is like a strong lover with arms of steel – it's got you! Just double-check the weight limit. Your voluptuousness deserves to fly high and mighty!
Why, yes, you sexual eagle! Solo flights can be as thrilling as duets. Get creative with your toys and explore positions for sex swing that makes your solo play a sky-high adventure.