❯
Sex Ed
Oct/25/2023
Last Update: October 25, 2023
184
7 min read
A Moment on the Lips, a Failure Without Tips: 18 Ways to Improve Your Kissing Game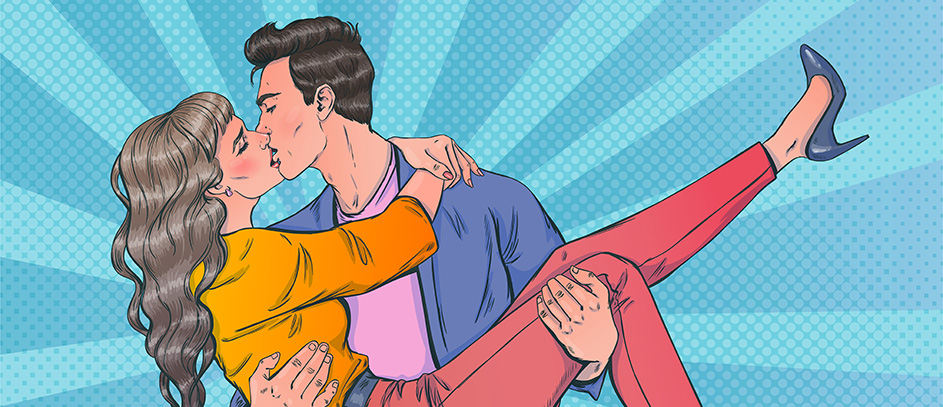 You know, my lovelies, sometimes I can't help but think that certain people (not all! Just some) kind of lost their way when it comes to intimacy.
No, really! Hear me out!
Often, your dear old Lola hears complaints from close friends and family members about how they've "lost the magic". Obviously, part of that is from growing old. But alarmingly, I hear it from young people as well, even from my colleagues Vlad and Scarlett.
Now, you know me. I love helping out. As I was listening to their problems, I came to one conclusion: they're all missing the basics. And what's more basic than kissing, my dears?
With that in mind, let us explore the gentle smooch, sweet readers, and see just how we can make it just a dash spicier and smoother than usual. I have with me some 18 different tips for that. So, pucker up, and let's begin!
Mmm, I Can't Wait Any Longer! List of Ways You Can Make Your Kisses Infinitely Better
#1: Consent Is Key
OK, so here's an easy one, lovelies. If your partner isn't in the mood for a kiss, do you still push onward?
Sure, a surprise kiss can be saucy and even downright hot. But me, for instance, I prefer when someone asks shyly, "Lola, can I kiss you? I so want to kiss you now". Not only does it show that you yearn for the partner, but that you're willing to respect their mood.
#2: Make Sure You Want Me
Consent works both ways, lovelies. If there's no chemistry with the person you're about to kiss, don't just kiss them because they expect you to. Remember, dear, you have the right to say No.
#3: Location, Location, Location
I'll use a personal example here, sweethearts. You know how I like to get all close and personal every now and again. (Wink)
One of my former partners once took me on a long, long hike. After we had reached the top of the mountain, it was already around 10 PM. The stars were shining so bright, and the view from the hill was breathtaking. It was THEN that he kissed me.
Another partner couldn't hold it in, so he gave me a smack on the lips at the Wendy's parking lot.
Remember, babes, always choose the right time and place for that special kiss that your partner will tell people about for generations.
#4: Make Me Moan With Minty Macking
Believe it or not, having a fresh breath can be your gateway to finding true love, not just super-exciting oral hanky-panky. I can safely say that nobody at Pleasure Me Now likes kissing people with a bit of a whiff about their mouths. Good hygiene is about the sexiest thing you can do for any partner.
#5: Ask Before You Bask
OK, so you have your partner's approval, and the mood is good, but the kiss is still a bit off. What do you do then?
Well, do what I've been advised to do when I was still a teenager. Give your partner a kiss, then step away and slowly discuss it. "I liked the lip-biting but not the tongue flick. What did you like? Did you maybe dislike the slurp?". Of course, make sure to do it smoothly and without being too pushy.
#6: Watch Before You Clutch
"But what if my partner says one thing and does another?". Oftentimes, folks don't really know what they want. If that's the case with your own partner, darlings, it's time to use your inner sleuth.
Pay extra close attention to how your partner reacts. Do they moan when you give them a little bite? Do they pull back? Keep all of your senses peeled, and you'll learn soon enough.
#7: Nice and Simple, Lip and Dimple
How does a fire start, my lovelies? With a small ember, of course. You light it up, then slowly fan the flame, and before you know it, a big, warm, crackly fire is lit.
The same goes for kisses. Always start off slow, with gentle pecks scattered about. Then, do whatever feels natural, without any pressure or force. It will definitely drive your partner wild. That's a Lola Guarantee right there. (Wink)
#8: No-Pickey the Hickey
Yes, yes, I know, hickeys have their own time and place. But based on my experience, they don't really improve kisses. If anything, they make them regress in quality.
With that in mind, only go with the hickey if your partner explicitly asks for it. Otherwise, stick to the classic kiss. It'll do you good in the long run.
#9: Face Explorer
Ah, finally, some cutesy stuff!
I used the subheading "face explorer" because of how slightly chaotic it can be. Try to kiss your partner slowly all over their face, but pick random spots. It's unexplored territory; you're trying to pinpoint the sweet spot and having fun along the way.
#10: Face Mapper
And this here, my sweetlings, is the advanced version of the Face Explorer. See, instead of kissing random cute little spots on your partner's face, follow along a path. For example, I love kissing my partner from the side of their chin to their temple, each kiss a few millimeters apart. If you're inexperienced, I recommend trying different paths every time you two are kissing just to see what works.
💡 PRO TIP: This may sound odd, but some people need kissing practice. Now, obviously, you can't practice without a partner. However, if you can afford a sex doll, Richard has some recommendations for you. It's a good enough substitute.
#11: Keep It on the DL, My BAE
When in public, sweet kiss enthusiasts, try not to go for making out or open-tongue kissing. Sometimes, there's a lot more fun in keeping it hush-hush and subtle. For example, you can give them a little smooch on the tip of the nose or the forehead if you're on public transport. When you're walking hand in hand, give their wrist a quick peck.
#12: Don't Slip and Slide, Zip and Hide
Hollywood likes to show us tons of tongue action. And don't get me wrong, I enjoy good tongue action every now and again. But when it comes to kissing, as I've already explained, less is more.
Instead of using your whole tongue, keep it on the leash. Let it sniff around the other tongue, touch tips, and then retreat. Explore your partner bit by bit, and never overstay your welcome. The more your tongues wrestle in passion, the more saliva you'll both produce. That can be kinky, but if you're just trying to enjoy the moment, it's a buzzkill.
#13: Gentle Tugs Result in Hugs
Once again, Lola has to criticize Hollywood. When we see passionate kissing on screen, it usually comes with couples biting and pulling on the upper or lower lip of their partners.
Teeth hurt. Too much teeth is never a good idea. Instead, my lovelies, what you want to do is just gently tug on the lip. A soft pull, then let it go. It's fun, easy to do, and incredibly sexy.
Nothing hurts more than an ill-placed kiss upon your lover's lips.
#14: The Progression Bar
Some of you cute little sex kittens love pouncing for the big kill at once. But I know a lot of you enjoy the thrill of the hunt. How does that look, kissing-wise? Well, you first give your partner a smooch, then you pull back, bask in their needy face, then go for another small kiss. This back-and-forth can last as long as you need it to. But once they are so into it that they want nothing more than to bury their face in yours, THAT is when you land a big one on their lips. The process may be long, but the payoff is amazing. (Wink)
#15: Guiding and Gliding
Awww, honey, is your partner a bad kisser? Well, whatever you do, don't chastise them. In fact, I think the better option is to help them become more skilled and secure in their lip game. Give them soft, sweet instructions and always ask for progress. Never be too critical, but never lose sight of your goal. By the end of a few sessions, your partner will be the best kisser you've ever had.
✍️ Lola Lovegood recommends: Try to combine kissing with some dirty talk. I can vouch that it's a combo made in heaven. (Wink)
#16: Lip Balm Is a Must
There's nothing inherently wrong with kissing chapped lips. But just to be safe, as well as healthy, you will need a bit of lip balm to keep things rolling smoothly.
#17: From Mild to Zesty
OK, so this next bit is for my advanced little kittens who know how to kiss. What do you do when lip-locking becomes stale and predictable? Well, mix it up. Try to introduce different types of kisses. Surprise your partner and nab them in an unexpected way. Use your lips in ways they would never predict. Trust me, it works like a charm!
#18: Keep Those Eyes Closed
Honestly, there's really no need to look at your partner while you kiss. When you do, your vision is distorted, and they look like one of those silly little toys that Scarlett always finds at flea markets (those things are sometimes quite disturbing, I've got to admit).
A Sensory Delight: Rounding Up the Kissing Advice
And that's all there really is to it, my sweeties! Apply these 18 tips, and your kissing game will never fail. In fact, knowing you talented cuties, I'm sure you'll soon come up with a list of tips of your own. (Wink)
FAQ
It's ok. Everyone messes up. Just talk it over with your partner, and when you're ready, try again.
Then try again, baby. Kissing isn't a science. It takes time and experimentation to get it just right, plus it always evolves.
Expect a dedicated article on that soon, babes.