❯
Sex Ed
May/28/2023
Last Update: May 30, 2023
452
8 min read
Thigh-High Pleasure: A Definitive Guide to Scissoring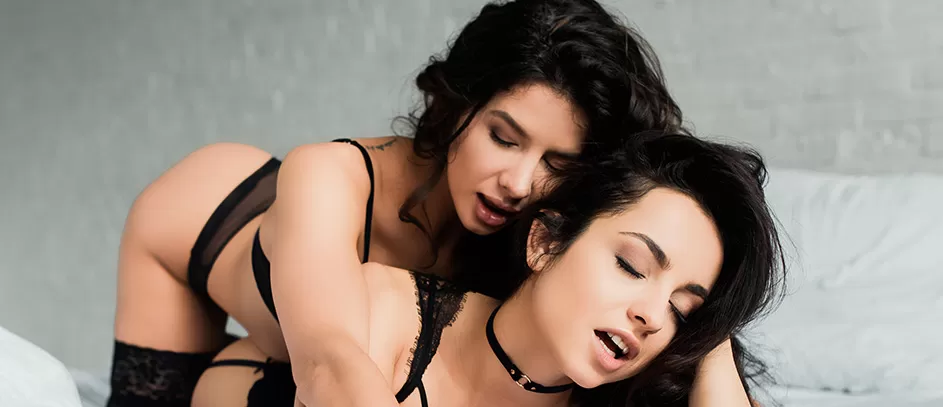 Well, hello, my sultry scissor sisters and brothers! Lola's in the house, and things are about to get scintillating. I'm here, with a wicked smile and an insatiable hunger, to serve you the most delectable guide to scissoring.
You might be wondering, what's all the hubbub about this thigh-tangling tango? Well, imagine two sets of thighs, locked in a sexy scissor grip, grinding and sliding in a rhythm that'll make you see stars. Oh yes, honey, it's as electrifying as it sounds.
Whether you're dipping your toes or are a seasoned pro, I've got the juicy tips on how to do scissoring that will have you panting for more. So, buckle up, and let's dive into this ocean of thigh-loving ecstasy. It's about to get deliciously wet!
Scissors for All: Demystifying the Participants of Scissoring
I hear you asking, "Lola, what is scissoring exactly? And more importantly, who can slide into this toe-curling dance of delicious desire?". Well, get ready, because my essential scissoring guide is about to cut through the mystery.
You see, the terms "scissoring" and "tribbing" are often used as bedroom synonyms, creating a little playful confusion. To clear the misty air, tribbing is the saucy act of two vagina-owning love bunnies rubbing their luscious lady gardens together in an erotic dance of pleasure, and it can be performed in an array of enticing positions. Now, scissoring, my dears, is simply one tantalizing position in the grand ballet of tribbing.
Trimming the Edges Off
Though it's commonly thought of as a divine dance of dueling deltas, scissoring has evolved to include so much more. It's not strictly about rubbing our pleasure palaces together. Oh, no, no.
It's become a much broader, bolder, and sassier concept. The playground has expanded to thighs, butts, hips, legs, arms, faces, and even fists.
Not Gender Inclusive
Sounds fun? Damn right, it is! And who's invited to this thigh-clenching fiesta? Every delicious body reading this!
Not just for the ladies, scissoring is an open party for all – whether you identify as straight, gay, bi, trans, non-binary, or just simply pleasure-seeking. It's an erotic adventure with a ticket for anyone ready to experiment with the exciting, the thrilling, and the thigh-quiveringly fun. If you've got a playful spirit, a flexible attitude, and an insatiable lust for something more, then congratulations, babe – you're invited!
And because of its beautiful blossoming into something delightfully gender-neutral and genital-agnostic, scissoring is now in the same sexy league as humping, grinding, straddling, and rubbing.
"Scissoring, darlings, is the euphoric symphony of skin-on-skin contact, however, and wherever you fancy!"
From A to Thighs: How to Do Scissoring
Alright, lovelies, we've waded through the shallow end of the pool with "What is scissoring?". Now it's time to make a splash and dive deep into the juicy details.
Getting Into the Right Position
And this isn't a one-position-pleasure-palooza, oh no! It's an erotic symphony that resonates with a versatile rhythm.
Can you do it lying down? Absolutely. Sitting up? Oh yes. How about against a sturdy wall while your heart races with daring delight? Go for it, my fearless voyagers!
Although your imagination is the only limit, here are the four most common positions you can try when first venturing into this mysterious and slippery territory.
1. The X-Rated X
Our guide to scissoring starts with the classic position: both partners recline, one leg each over the other's body, forming that enticing X shape we all know and love. Your bodies are open for exploration, your hands free to wander, and your gazes locked in a shared, passionate dance.
2. Spicy Missionary
Next up, we have a knee-trembler: one of you reclines with one leg up in the air while the other straddles a thigh, providing support for the partner's lifted leg. Feel the throbbing heat as you grind against each other. This position isn't just right by name, it's oh-so-right by nature.
3. Lap Up the Pleasure
Here's the third scrumptious scissoring spot. One partner gets cozy with legs slightly spread while the other straddles a thigh, leaning back to ride the wave of desire. This lusty lap dance provides the kind of friction that'll have you biting your lips.
4. T-Time Temptation
Onto the next delicious morsel in our guide to scissoring: the erotic T-formation. One partner lies flat while the other saddles up perpendicularly. This close, intimate position offers adjustable pressure and a view that's better than high-definition porn.
💡 PRO TIP: A pearl of wisdom from your queen of the sheets - scissoring is like a sexy tango; it's all about the rhythm and finding what makes you and your partner sway in euphoria. Remember, it's not just about clashing in a frenzy but also about slowing down, exploring, and finding those oh-so-sweet spots. So, experiment with pressure, speed, and movement. Because sometimes, the tiniest shift can turn an 'oh' into an 'OH MY!'
Talk, Moan, Repeat
Knowing how to do scissoring involves not just body language but also dirty talk. So, whisper your naughty needs, moan your salacious satisfaction, and gasp your displeasures. This isn't a library, it's a pleasure-fueled carnival, and your voices are the main attraction.
The More, the Merrier
Scissoring is an all-you-can-eat buffet of delight, so don't forget to bring your favorite toys to this thigh-clenching party. Add a vibrator for some extra buzz, a dildo for additional depth, or a blindfold for heightened senses.
✍️ Lola Lovegood recommends: Toys can turn scissoring from a simple snip-snip into an unforgettable explosion. First off, my pleasure trove would be incomplete without the Lelo Lyla 2 vibrator. It's sleek, it's powerful, and it adds an extra layer of sensation that can make scissoring feel like you're riding a wave of pleasure. Also, there's the Doc Johnson Double-Ended Dildo. Shaped to perfection, it can fit into the scissoring equation like a missing piece of a very, very enjoyable puzzle.
Shear Do's and Don'ts: Navigating the Scissoring Landscape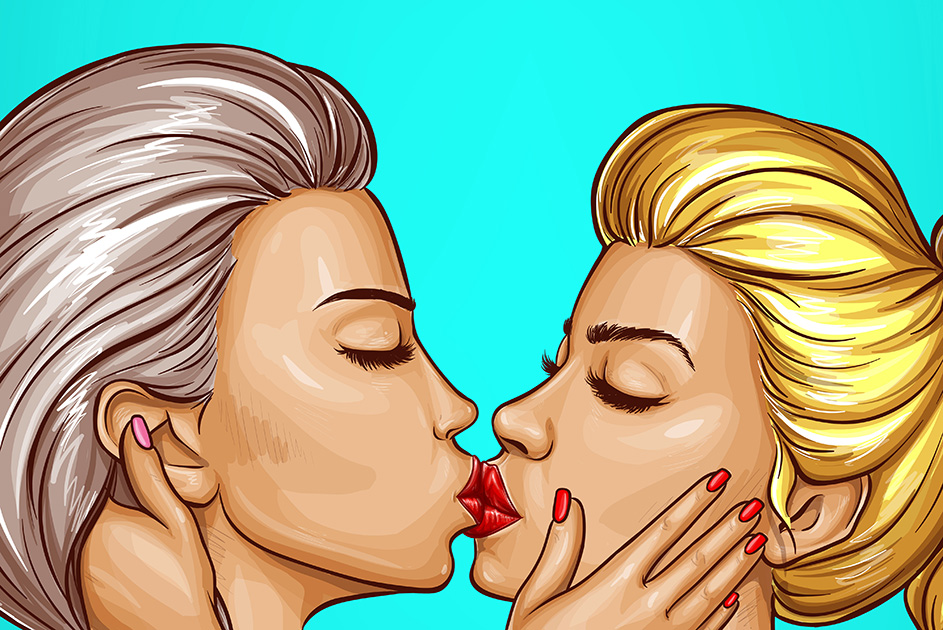 The Yes, Yes, Yes
1. Cutting to the Chase
Rule number one in my essential scissoring guide is comfort. If you're not as snug as a bug in a rug, then it's a no-go zone. Scissoring is an erotic dance, and every dancer needs to feel comfortable in their shoes.
2. Lubing Up the Blades
Lubrication is your best friend, wingman, and secret weapon all rolled into one. A good dollop of quality lube can turn a regular scissoring session into a slippery, slidey ecstasy ride. So, lube up and let the good times roll.
3. Finding Your Pleasure Map
Remember, my guide to scissoring isn't a blueprint but a suggestion. You're the cartographer of your own pleasure map. So, find those positions that hit your sweet spots.
4. Scissorobics: Flex Those Limbs
Remember, scissoring can feel like a yoga class with orgasms. So, stretch those sexy limbs and make sure you're as supple as a well-oiled love machine. You don't want a cramp cramping your style.
5. Tease Before Please
Learning how to do scissoring isn't just about the main event. A good teasing session can rev your engines, escalate the anticipation, and drive you to dizzying heights of pleasure.
The No, No, No's
1. No Mind-Reading Here
This isn't a magic show, darlings. So, don't assume you're a mind-reader. If you're not sure whether your partner is enjoying it, ask! Keep in mind that consent and comfort are sexier than any lingerie.
2. Ignoring the Surroundings
Don't treat your surroundings like a forgotten third wheel. A comfortable, intimate environment is the stage for your erotic performance. On the other hand, an awkward location can turn a sizzling session into a fizzle.
3. Pain Isn't Gain
Don't play the martyr. If something hurts, it's not a good kind of hurt. Scissoring isn't about enduring pain, it's about basking in pleasure. So, if your body's ringing alarm bells, listen to it and hit the brakes.
4. It's Not One Size Fits All
Scissoring is often viewed as an acrobatic act in the carnal circus, requiring a good dose of core strength, a sprinkle of upper body power, and a generous scoop of hip flexibility. And here's the raw truth: it's not a position that fits all body combinations. It's like wearing a hat – some styles just don't sit right on every head.
But darlings, in the grand boudoir of life, there are so many other delicious positions to explore! So if scissoring isn't your thing, don't fret! There's a whole menu of sexy moves out there just waiting to satisfy your appetite.
Safety First: Steering Clear of Scissoring Scare Stories
In the thrilling, sensual saga that is Lola's essential scissoring guide, protection plays the heroic bodyguard. Think of dental dams, condoms, and other accessories as your very own secret service, minimizing the risk of those sneaky STI villains gatecrashing your pleasure party.
Playing Safe in the Fertility Casino
Now, onto pregnancy. Sure, the risk is lower than a solo flying pig sighting, but it's not quite at unicorn levels. So, if you're having sexy fun with someone who can hit the baby-making jackpot, take precautions to keep your fun strictly pleasure-focused.
Check-Ups: Your Sexy Health MOT
Think of your regular sexual health check-ups as your bedroom's MOT. You wouldn't drive a car that's not roadworthy, right? So, ensure your love vehicle is in top-notch condition with regular check-ups, too. Stay sexy, stay safe, and keep on scissoring, you sexy beasts!
More Than Just a Cut-and-Dry Affair
And there you have it, my naughty adventurers, the end of my essential scissoring guide. But remember, darlings, scissoring isn't just a cut-and-dry affair. It's the VIP ticket to Pleasureville's most exclusive, thigh-tangling, toe-curling dance party. And with open minds, dirty talk, safety sexy-fied, and a spark of kinky curiosity, this guide to scissoring will have you twirling on the dance floor of delight.
So strap on your dancing shoes, my lovelies. Your erotic tango is just getting started. Keep scissoring, and stay fabulous!
FAQs
Oh, sweetheart, there's nothing wrong with you! Learning how to do scissoring can be a bit like trying to salsa dance without any lessons – you might step on a few toes. But hey, awkward is part of the fun! Just relax, laugh it off, and keep trying. Every new dance step takes practice.
Absolutely, darling! Scissoring isn't an exclusive club for vulva owners only. It's about body contact, intimacy, and exploring new ways to give and receive pleasure. So yes, you and your penis are most welcome to the scissoring party!
There sure is! Just like in a real dance, position matters in the bedroom tango too. Pillows can be your best friends – use them for support. And never underestimate the magic of a good lube – it's like the fairy dust that makes the whole scissoring adventure smoother and more comfortable.