❯
Sex Ed
Sep/25/2023
Last Update: September 25, 2023
245
2 min read
Rev Up Those Engines, Baby! Lola's Useful Tips for Car Sex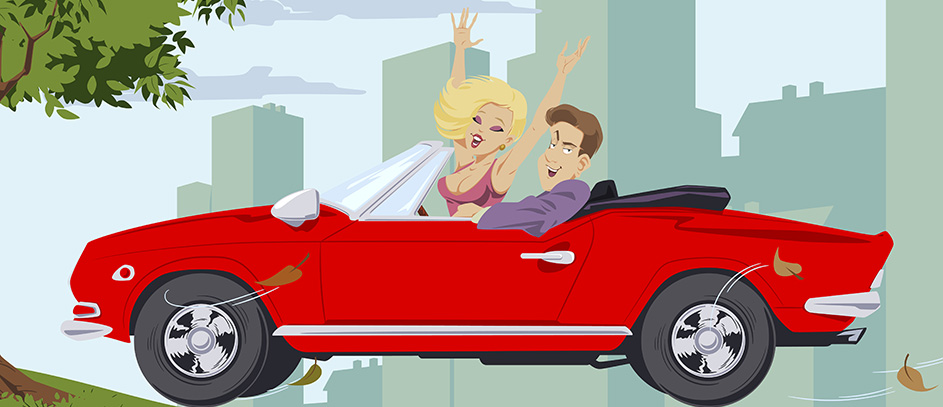 Mmm, that's it, baby. Slide it in. Oh, as hard as steel! Yeah, such a turn-on…
You know how to turn that car on with that hard key you just slid in, darling; that's a fact!
Wink.
OK, that was a bit of silly pun fun. But in all honesty, my sweetlings, combining the raw power of a car with the passion and sensation of sex results in pure bliss. Just imagine you and your significant other in the back of a lovely little hatchback or a roomy sedan. It's a starlit night. The crickets chirp their sweet little nothings while the clothes come off slowly, button by button. You're not exactly out in the open, but you're also not safely indoors. The excitement, the energy, the goosebumps!
Of course, not everyone is used to doing it in a four-wheeler. It even took me some time to get started. But hey, that doesn't mean you have to fly blind. Or, to use an appropriate analogy, never enter a stranger's car unless you come prepared. In this article, I will share with you some of the most useful tips for car sex that are guaranteed to turn your private time from a dull traffic jam to a thrilling, wild ride.
Yes, Car Sex Is Good for You!
Oh, darlings, I know what some of you are thinking. "Useful tips for car sex? But isn't car sex bad for me"? And yes, I know that a lot of experts talk about the potential harm that comes with car sex. But then again, harm can come from any type of sex, even self-play. We're not here to talk about that, sweethearts. We're here to stay positive.
So, what's so positive about car sex, you may ask? Well, here are a few benefits for you to consider:
It's a nice change of scenery;
You can do it anywhere, as long as it's not completely out in public;
There's a sense of urgency (i.e., the "fear" of getting caught);
The limitations make it more exciting.
My List of Useful Tips for Car Sex (to Drive You Wild)
Now, I'm a seasoned pro, dear. I've been around the gearbox, and I can handle some reclined seats. Wink. So, without further ado, let's figure out how you can make the best out of your automotive pleasure.
Tip #01: Pre-Plan the Passion
Before every trip, you need a road map. In this case, it means preparing as much as possible. Pick out a good location so that no nosey parkers will sniff you out. Plus, make sure that both you and your partner are ready for some vehicular vis-à-vis.
And yes, I know that pre-planning kind of ruins the surprise, the excitement. But if there is one thing I don't find sexy, it's getting cuffed for indecent exposure. Remember, darlings, safety first, in every sense of the word!
Tip #02: Location, Location, Location
This tip kind of plays into the last one. And like any other tip, it's the best part. Wink.
So, when I want to enjoy a bit of vroom-vroom boom-boom, I have to do it somewhere where me and my S.O. won't be rudely interrupted. Also, if it's hot outside, we might require some shade to cover our shapes. By picking the right spot, you and your partner will have an experience worth remembering.
Tip #03: Stock Up Before Your Big Drive
No trip is complete without packing properly, wouldn't you agree? So, what exactly do you pack when you're about to go 0 to 6 inches in several seconds?
Well, here's what I normally pack:
Condoms
Wet wipes
Handkerchiefs
Lube
Blankets
Pillows
Water (or a cold drink of my choice)
A USB flash drive with some MP3s
Toys (yes, more than one)
💡 PRO TIP: Okay, lovelies, now I know that most of your booty call cruises will be short and take you to nearby locations. Nevertheless, it's always a good idea to know how to pack a sex toy properly. You know, just in case a highway patrol stops you and decides to check what you've got stuck in your trunk. Wink.
Tip #04: Don't Fear Being Snug
Sometimes, during Lola's adventures, she played around in a nice, roomy SUV. But sometimes, she had to make do with a tiny Mini Cooper. And she's here, telling you in the third person, that being snug is a – OK.
In fact, I even recommend trying to have car sex with limited space. I mean, what's not to like? You're close to each other. You can't go anywhere but in your S.O.'s arms. And your bodies will sweat and slowly merge into one with minimal movement. Mmmmm, sounds delicious!
Tip #05: Gotta "Park" It the Right Way
Proper parking isn't just useful if you want to make it in a big, crowded city. You can also use it to your advantage if you've got an itch that only sedan sensuality can solve.
Now, I did cover this in my location section, but it bears stressing. See, it's not just about where you park, sweety. You also need to make sure the car is on a flat lot with no inclines. Plus, that e-brake must be on and the lights, if possible, off. Oh, and never opt for a crowded area, but that's a given.
Tip #06: Finding the Perfect Vibe
To me, the vibe is everything. He can be the cutest, hottest, most well-endowed man, but if we don't vibe, there's no magic.
To some, the car can be a bit…well, boring. But it doesn't have to be! Remember how I said to bring blankets and pillows along? You can also sprinkle a bit of scented oil or get a few rose petals on the seats. The car can be as fun and sensual as you want it to be, hon. Get creative, set the mood, and make magic happen. Wink.
Tip #07: Make That Engine ROAR!
OK, so being cozy and vibing to slow, snug sex is cool. I support it fully. But I know there are some of you lovelies who like it LOUD. Who like it REAL LOUD.
And that's the beauty of the car! If I need my boo to get wild and howl in pleasure, we can simply take the car somewhere private, where there are no people around. Sure, we can have fun at our apartment, but if we get too loud, the neighbors might knock at our door. But if we drive off to the woods or an abandoned street? Well, that's where our vocal cords let loose — and so do we.
✍️ Lola Lovegood recommends: Oh, are we still talking about the noise? Well, my darlings, let me give you a neat little reminder of what some of the most silent sex positions are. And yes, you can apply a few of these on the backseat of your car if the spot you're in isn't completely void of people.
Tip #08: Less Is More: Keep Some Clothes On
As fun as it is to get nude (the feel of skin on leather is amazing!), your dearest author, Lola, has to recommend staying partially, if not wholly, dressed. Here are some of the reasons why that's a good idea:
It's a challenge (and really hot);
It keeps your sweat off the seats;
If an officer knocks on the car window, it's best to have clothes on.
Tip #09: Make It Steamy, Literally
My lovelies, we all know what temperature play is. It's incredibly cool AND amazingly hot, depending on the toy, of course. Winks.
But you see, you don't need ice cubes, wax, or a durable toy to feel the sudden temperature change on your skin. When you're having fun in the car, do what I do: turn the A/C up (or down) and go to town.
Tip #10: Post-Cum Car Fun
Oh, did you get to the big finish? Passed the post? Feel like switching the engine off and letting the ol' faithful cool down in the garage?
Sweety, you can rest if that was a little too much for you. I get it; car intercourse can be overwhelming. But heed Lola's advice: the best kind of fun comes with a little after-race special.
Imagine this: You've just finished getting down and dirty with your partner. The passionate embrace took place, and the spiciness filled the crisp night air. And then you just…drive off.
Kind of a buzzkill, wouldn't you agree?
Instead, try this on for size. Once the sex is nice and done with, give your partner a neat, soft, sensual little cuddle. Maybe a nice little makeout session can help recuperate from all the high-octane hanky-panky. Or maybe just simple kisses or a soft neck massage. Those things can get stiff in the back of the car, let me tell you!
Apply the Brake! Don't Force Car Sex If You Don't Feel Like It
OK, now let's get a little serious for a moment. Regarding sex topics, I will only ever argue against doing something if, and only if, there's a chance someone can get hurt. For example, BDSM is clearly not for everyone, and neither are sex swings. So, unless both partners are into it, then don't do it.
The same goes for car sex. When you do it right, with someone who gets you on every level, it can be an experience you'll both remember. But if either of you feels uncomfortable doing the dirty dance in a vehicle, that's completely understandable. And by no means should you force yourself to try it. Remember, sweet sexual kitten, unless it feels good, it's bad.
Johnny, Take Us Home: Car Sex Tips Summed Up
So, did my little article entice you to try some rubber-burning, literal and figurative? Well then, buckle up, babes! I can tell that your next adventure will involve a bit less Netflix and a bit more cricket and bird sounds coming through the sunroof. Blended with the sweet moans of pleasure, of course. Wink wink.
FAQs
There are no rules. As long as it's a car and it can fit two people, it'll do the trick.
No! Even if your car is idling, you can still accidentally make it move during sex, and that is quite risky.
Technically, having sex in a car counts as public indecency, and that is still very much illegal. So be careful out there!