❯
Sex Ed
Jun/10/2023
333
1 min read
The Art of Gifting Good Vibes: How to Buy Your Girlfriend a Sex Toy She Won't Kick Out of Bed!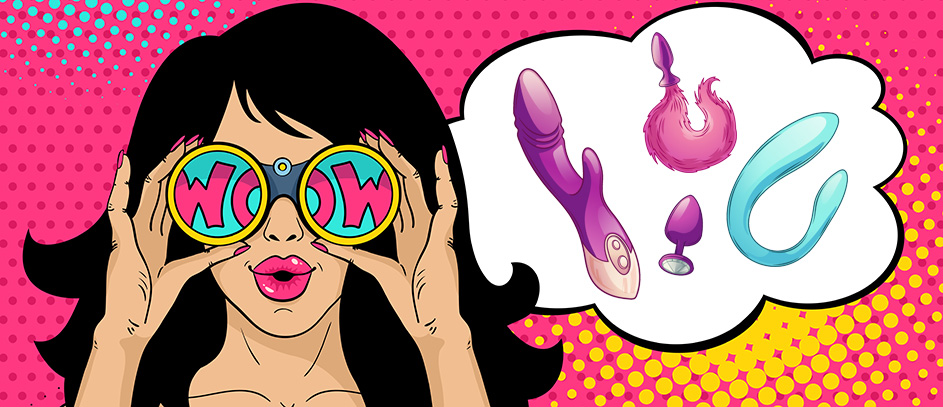 What's up, pleasure pioneers! It's your favorite tiny-donged sexplorer, Vlad the Not-Impaler, beaming straight into your sexy psyche with another joyride into the throbbing heart of sex-toy wonderland. Ever found yourself in a cold sweat, fretting over how to buy your girlfriend a sex toy? Well, worry not, my friends, you've just hit the jackpot!
So, let's plunge headfirst into this vibrating vortex of fun!
No Guesswork Allowed: Decoding Her Desires!
Alright, lads and lasses, now that you've decided to boldly go where many fear to tread, the first hurdle is figuring out how to discuss this subject with your lovely lady. Now, I know what you're thinking: "Vlad, how is this good advice? If I asked her what she wanted, it wouldn't be a surprise".
Well, it's simple. When it comes to knowing how to buy your girlfriend a sex toy, it's not about what you think she wants. It's about finding out what it is that she craves the most – and that's something only your lovely partner can tell you.
Talk the Talk: How to Discuss Sex Toys with Your Girlfriend!
Firstly, let's set the stage for some hot, honest dialogue. This ain't about making your ego bigger (leave that to your collection of penis pumps); it's about boosting her bliss. So, explore her fantasies, her sweet spots, her off-limits zones.
Start with a candid, respectful chat about her pleasure needs. Is she into slow and sensual, or does she prefer a wild ride? Does she crave external fireworks, internal tremors, or a tantalizing mix of both? Is she open to navigating the back alley, or is that a 'no trespassing' zone?
Basically, the secret to learning how to buy your girlfriend a sex toy is focusing only on her (and not doing your research on PornHub). So, dive into her desires like a miner searching for gold – because, trust me, the rewards will be just as precious.
A Toy for Every Joy: The Ultimate Sex Toy Catalog!
Alright, my thrill-seeking comrades, it's time to navigate the throbbing labyrinth of sex toys to buy your girlfriend. From standard shakers to eccentric earthquakers, the pleasure potential is as vast as the universe itself.
Vibrators
If you're scratching your head about how to buy her a vibrator, remember there's a whole smorgasbord of sensual options: clitoral, G-spot, rabbit, bullet – it's a veritable cornucopia of climaxes! Each of these buzzing beauties has its own unique appeal.
Clitoral vibrators deliver a focused buzz to her love button, while G-spot vibes seek out her inner treasure. On the other hand, bullet vibes are the covert operatives of the sex toy world, small, stealthy, and oh-so-effective. If you're wondering about how to buy her a sex toy with a little something extra, consider a rabbit vibrator, for double the fun. Or perhaps a vibrating egg or remote-controlled toy for some sneaky, hands-free frolicking.
Dildos
Next up, we have the steadfast dildos, the trusty Robin to every vibrator's Batman. These range from sizes so small they'd give me a run for my money to "Holy mother of Godzilla, is that thing even real?!".
If your lady is all about that lifelike feel, then realistic dildos might just be the way to go. Hell, you can even buy a willy-casting kit and gift her a real-life replica of your own proud member. On the other hand, if she's up for a ride on the wild side, thrusting dildos can make her hit those high notes. But if it's the elusive G-spot your gal is after, then curved or G-spot dildos are your best bet.
Anal Toys
When it comes to 'how to buy your girlfriend a sex toy', let's not skip the rear entrance. Anal toys are gaining ground faster than a rabbit in heat. We're talking about butt plugs that come in all shapes and sizes, anal beads that'll make her purr like a kitten, and prostate massagers (for you, not her, but while you're at it, why not?).
Kinky Gear
Now, for the Indiana Jones types out there, we've got kinky gear that'll make you say, "Holy leather, Batman!". I'm talking about nipple clamps that'll tweak her excitement, bondage gear for those tie-me-up, tie-me-down moments, and sex furniture that'll make your regular household items blush. If you're both up for a bit of spice or just dying to venture into the unknown, these could be the jalapeños to your margherita.
✍️ Vlad the Not-Impaler recommends: If you're pondering over 'sex toys to buy your girlfriend', here are a few that'll take you from zero to hero in the bedroom. First off, the Lelo Sila. This baby is a sonic clitoral massager that's as stylish as it is pleasurable. Then there's the Lelo Lyla 2, a small but mighty bullet vibrator known for its rumbly vibrations. And, if she's into penetration, the We-Vibe Chorus won't disappoint.
Size Matters, But Only to a Point
When deciding how to buy her a sex toy, size is an important factor to consider. Too small, and it might be like throwing a hotdog down a hallway. Too big, and it might be like parking a bus in a bike shed. You're aiming for the Goldilocks zone here, lads – the one that's juuust right.
Remember, bigger isn't always synonymous with better. A hefty toy might seem like a trophy, but it can be as terrifying as a lion in a mouse's den. A petite plaything, on the other hand, can be a stealthy ninja hitting all the right spots.
All in all, every lass is as unique as a snowflake in a blizzard, and what makes one scream in pleasure might make another whimper in discomfort. So, the best way to gauge the perfect size is to have a candid chat about her comfort and cravings. Or even better, embark on a shopping adventure together.
Her Love Language: Different Toys for Different Joys!
The point is to remember that you're shopping for her, not for you. So resist the urge to go for the biggest or most intimidating toy on the shelf. If she's new to this pleasure playground, consider starting with something small, like a bullet vibe or a petite dildo.
And, of course, when considering sex toys to buy your girlfriend, always go for body-safe materials like silicone, glass, or stainless steel. Choose wisely, and you'll be donning the cape of her carnal-caped crusader in no time!
💡 PRO TIP: If you're in a long-distance relationship, fret not! There are a plethora of sex toys designed just for you. The Lovense Lush 3 is a wearable, app-controlled vibrator that'll keep the sparks flying, no matter the distance. And let's not forget the KIIROO Onyx+ and Pearl 2, a set of interactive sex toys that'll make you feel like you're in the same room, even if you're continents apart.
The Art of Gifting Pleasure: How to Buy Her a Vibrator and Present It Like a Pro!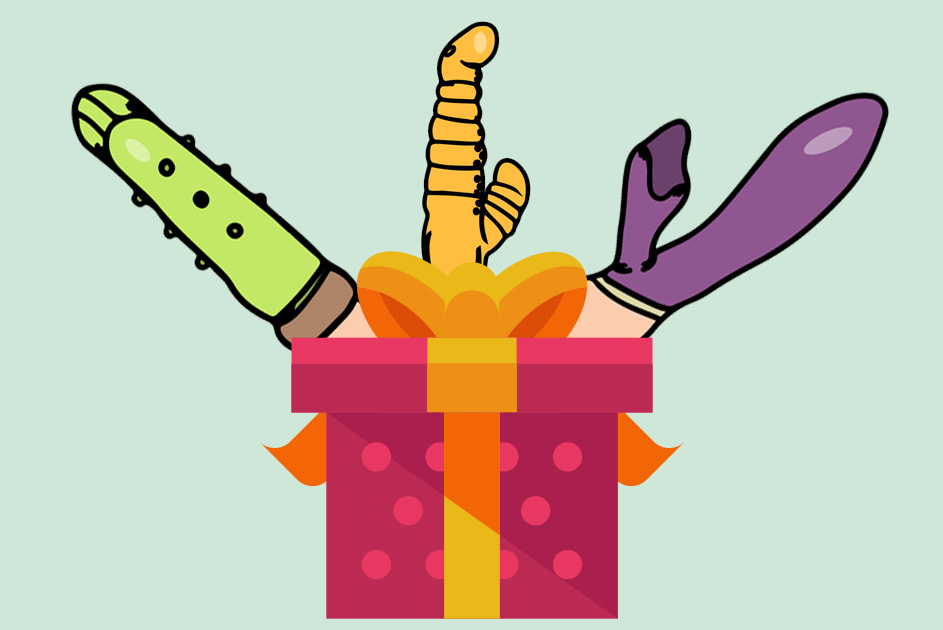 Alright, gents, you've nailed the 'how to buy your girlfriend a sex toy' part. Now, onto the grand finale: the unwrapping. Let's make this moment as memorable as the first time you saw a pair of boobies (and possibly less awkward).
First, when it comes to shopping, don't just snatch the first shiny thing that wiggles at you. Browse, compare, scrutinize reviews, and always shop from a trusted retailer. When it comes to sex toys, quality is king, and you don't want a jester.
"Remember, gents, picking the right sex toy for your gal is like real estate – it's all about location, vibration, and a healthy dose of communication!"
Next, think about the presentation. Wrapping it in a used sock and throwing on some duct tape isn't going to impress. Consider a classy gift box or a sultry satin bag. And no, a leftover gift bag from your birthday last year is not a 'classy gift box'.
As for the big reveal, don't just toss it over like you're passing the gravy at Thanksgiving. Make it an event. Set the stage. Light a few candles, crank up the Barry White, or pour a generous glass of bubbly. And timing, my friends, is crucial. Present it when you're both feeling relaxed and frisky.
Remember, you're not just handing her a sex toy; you're offering a ticket to Pleasureville, a chance to explore new galaxies of delight together. So, don't rush it. Let her savor the new toy and be there to revel in her excitement. A well-chosen sex toy isn't just a gift – it's a journey, so help her enjoy the ride!
Ready, Set, Enjoy: Why Her Pleasure Is Your Pleasure
Kudos, you randy stallion! You've officially cracked the code on 'how to buy your girlfriend a sex toy'. But let me tell you, this adventure doesn't end at the cash register. It's like a rollercoaster ride that's just left the station.
Buying a sex toy is not like picking up another pair of shoes or a necklace for her. It's a sensual present that can rev up her pleasure, inject some heat into your relationship, and, let's not beat around the bush, up your own satisfaction too. I mean, watching her hit the high notes is better than your team scoring the winning goal, right?
So here's to a future filled with steamy nights (and possibly even steamier days), explorations of pleasure, and orgasms that come in multiples. Because when it comes to how to buy your girlfriend a sex toy, the sky's the limit – or maybe your budget, but that's a story for another time!
FAQs
Welcome to the club, rookie! If you're thinking about 'sex toys to buy your girlfriend' for the first time, start with something simple and non-intimidating. A small bullet vibrator or a finger vibrator could be a great start. Remember, it's not the size of the boat, but the motion of the ocean!
Not at all, compadre! Sex toys are like the cherry on top of a sundae – they're an addition, not a substitute. They can add variety, increase pleasure, and even help you explore new facets of your sexuality. So, whether you're looking to spice things up or just want to try something new, remember, there's no shame in the game!
Ah, the safety dance! When pondering how to buy her a sex toy, add searching for reputable retailers to your list, and make sure the toys are made of body-safe materials. Silicone, glass, and stainless steel are great choices. Avoid any toys with phthalates, and always clean your toys before and after use. Pleasure should never come at the cost of health!